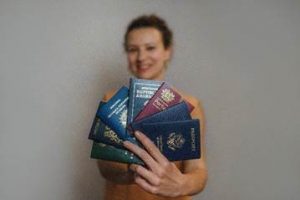 American Passport Tops the World's Best Passport List for First Time in 15 Years; Germany and Canada Round Out Top Three 
FORT LAUDERDALE, Fla. – (December 9, 2021) – Global Citizen Solutions, a data-driven immigration investment consultancy firm headquartered in Portugal with offices around the world, today announced the release of its first-ever, cutting-edge Global Passport Index. Conducted using a robust quantitative scoring system across several criteria and categories, the index evaluated not just how many countries a passport provides access to, but also the investment opportunities and quality of life indicators of each nation.*
The top 10 passports ranked in the Global Passport Index are:
United States of America
Germany
Canada
The Netherlands
Denmark
Sweden
United Kingdom
Finland
Norway
New Zealand
With a total score of 96.4, the United States emerged as the world's strongest passport, performing well in investment opportunities, quality of living and travel mobility. Indexes evaluated as part of the overall study included:
The Investment Index (U.S. Placed 4th): With a Gross National Income (GNI) of $66,080 and personal taxation of 37%, the U.S. is a "most favorable" option for investors.
The Enhanced Mobility Index (U.S. Placed 10th): A U.S. passport provides visa-free or visa on arrival access to 172 countries or territories. It is the third-highest country that is not a member of the European Union (EU), after Singapore and the United Arab Emirates (UAE).
Quality-of-Life Index (U.S. Placed 23rd): The U.S. ranks highly in many aspects related to overall quality of life including sustainable development, freedom, environmental performance, migrant acceptance, and happiness.
Each of the three indexes evaluated can be used as a standalone ranking where users can filter results for individual country statistics. The final list was developed in collaboration with senior STI analysts and is based on data from various institutions and multilateral organizations including The World Bank, the World Economic Forum and The Sustainable Development Report.
"The United States offers investors a developed and diversified economic market as well as access to the most advanced and lucrative consumer market in the world," said Patricia Casaburi, Managing Director of Global Citizen Solutions. "Given the popularity of investment programs in return for a green card, the U.S. has consistently laid out opportunities for economic success."
In the past, passport rankings have focused on the number of countries a passport grants the holder access to; however, other new and emerging factors such as the prospect of opening a business in another country have brought forth a renewed interest in the benefits of acquiring a second passport.
"This is one of the key reasons why the U.S. placed fourth on the Investment Index is because the country offers many attractive visa solutions for expats looking to invest in America, such as the EB5 Visa program and the E2 Visa program," Casaburi continued. "The U.S. Business Visa also allows citizens to spend 90 days in the country for business ventures."
For more information on The Passport Index by Global Citizen Solutions, visit https://www.globalcitizensolutions.com. 
About Global Citizen Solutions
Global Citizen Solutions is a boutique investment migration consultancy firm focused on finding the right residency or citizenship by investment program for individuals wishing to secure their future and become global citizens. From helping individuals find their dream homes or investment to providing successful immigration and relocation services, Global Citizen Solutions will guide clients every step of the way, offering the freedom, mobility, and security that comes with second citizenship or residency. With offices in Portugal, United Kingdom, Hong Kong, and Brazil, their multilingual team guides individuals and families from start to finish, providing expert advice concerning freedom, mobility, taxation, and security.
*Methodology – The Global Passport Index offers key insights to readers on topics including travel mobility, tax benefits when opening a business, and more. Using a robust quantitative scoring system, this methodology determines the attractiveness of a passport using three indexes: (1) Enhanced Mobility Index (2) Investment Index, and (3) Quality of Living Index. The United States ranked 10th in the Mobility Index, 4th in the Investment Index, and 23rd in the Quality-of-Life Index. Each index weighs 50% (Mobility) 25% (Investment) 25% (Quality of Life). The ranking ultimately allows individuals to see a comprehensive overview of mobility, investment potential, and country attractiveness.
###
Media Contacts:
Hemsworth Communications
Jillian Mushman / Shannon Coyne
954-716-7614 or [email protected]