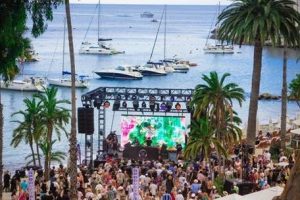 More than 4,000 Attendees Enjoyed Unforgettable Festival on Catalina Island, California
 with Renowned Headliners and Unique Artist Activations
Catalina Island, CA – (October 15, 2019) – Whet Travel, the innovative event company known for its popular Groove Cruise, Salsa Cruise, and other music-centric events at sea, recently added land-based music festivals to its wildly popular repertoire. In late September, the company's first-ever Groove Island immersive electronic music experience took place, welcoming more than 4,000 attendees for a weekend they will never forget. 
"Catalina Island captured my attention years ago and it was always one of my biggest dreams to bring the Whet Travel Team there, creating an experience that would showcase all the island has to offer," said Jason Beukema, founder and CEO of Whet Travel. "Groove Island combined the best electronic dance music, exciting activities, and volunteering opportunities into one unforgettable long weekend.  It wasn't easy, but it was incredibly worthwhile to see this dream come to fruition."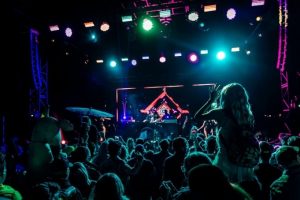 With nearly 40 artists including Sam Feldt, Andrew Rayel, Chus + Ceballos, Mark Knight, Oliver Heldens and Shiba San, the first annual Groove Island combined a diverse set of music with other experiences for guests, including comedy shows from Laugh Factory legends Lauren Compton and Jay Davis, pop-up magic shows from "Celebrity Magician" Carl Michael, a silent disco, glow yoga, six themed costume parties and more.
More than 70% of attendees had never been to a Whet Travel experience before.  The #IslandFam – which included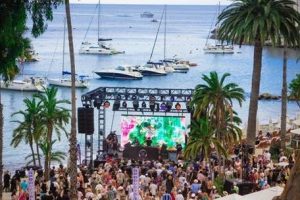 top influencers, reality TV stars (including Jasmine Goode, pictured right, from ABC's The Bachelor franchise) and music fans from as far away as China – reached Catalina by ferries, helicopters and private yachts. With a line-up of high-energy events located throughout the island, the festival created an extraordinary weekend and a lifetime of memories.
Groove Island's success raised the bar for destination music experiences. Working together with businesses and residents on Catalina Island, the Whet Travel team created a surge of tourism that filled the island's vacation rentals and hotels. When visitors weren't immersed in the festival's music and activities, they volunteered for the non-profit Whet Foundation's beach clean-up in partnership with the Catalina Island Conservatory, as a way to give back to the community that was so welcoming to them. This included taking shuttles to remote parts of the island where they removed trash – and even recovered an abandoned dinghy – ensuring Catalina Island was left more beautiful than when they arrived.
"This was the most challenging island experience we've produced in 15 years. Despite that, and unlike other unsuccessful events like Fyre Festival that came before us – we pulled it off seamlessly.  We are proud of what we've accomplished with Groove Island and look forward to our next two big events, the 21st anniversary of Salsa Cruise this December and our Groove Cruise in January," said Beukema. 
To relive The Groove Island experience, or view the complete event photo gallery, become a fan on Facebook and follow the event on Instagram. For all Whet Travel news, follow the company on Instagram, Twitter, and Facebook.
Editor's Note: Select images and video can be accessed here.
About Whet Travel
For the last 15 years, Whet Travel has curated and produced more half- and full-ship music cruises than any other independent company. Partnering with some of the cruise industry's most recognized and trusted brands, the revolutionary company has executed more than 50 wildly successful events including Groove Cruise, Motorboat, Zen Cruise, and Salsa Cruise, among others. Innovators since their launch in 2004, Whet Travel was named Inc. Magazine's #4 fastest-growing travel company in the country, has won the prestigious 'Charter Partner of the Year' award from Carnival and Norwegian Cruise Line, and has been featured in USA Today, Billboard, Forbes, and more.
###
Media Contact:
Samantha Jacobs
954-716-7614, [email protected]
This message was sent to [email protected]
Hemsworth Communications
1510 SE 17th Street, Suite 200A
Fort Lauderdale, FL 33316