Award-Winning PR Firm Hired as Public Relations Agency-of-Record for
New Luxury Real Estate and Vacation Destination, Opening Summer 2022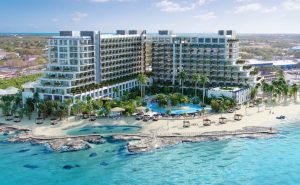 Fort Lauderdale, Fla. – (March 4, 2020) – Hemsworth Communications, an award-winning full-service public relations agency, today announced that it has been tapped as the agency-of-record for Grand Hyatt Grand Cayman Resort & Residences, a new world-class destination currently under development along the island's famed Seven Mile Beach. As part of a multi-year agreement with developers, Hemsworth will execute a phased PR program, introducing the resort's vacation residences to captivate prospective buyers, and promoting all aspects of the new destination resort to travelers seeking an unforgettable Caribbean vacation. 
"We're thrilled to be onboard with the Grand Hyatt Grand Cayman team, helping showcase the newest luxury real estate and vacation opportunity on the legendary Seven Mile Beach," said Samantha Jacobs, founder and president of Hemsworth Communications. "Our team has deep experience partnering with both new-build and existing resorts throughout the Caribbean to elevate their global awareness.  We look forward to leveraging our connections on behalf of this spectacular new property in one of our very favorite destinations!" 
Once it opens in summer of 2022, Grand Hyatt Grand Cayman Resort & Residences will feature 375 keys, including 167 condominium residences. Offering a sophisticated design coupled with the warm 'Caymankind' culture, guests will be able to enjoy a rich array of amenities such as six distinctive food and beverage venues, a destination spa, a state-of-the-art fitness center, three swimming pools – including an in-ocean saltwater lagoon pool, retail shops, a kids club and an eco-walk bridge. The resort is also planned to have 2000 square feet of indoor meeting and event space, including exterior terraces, which will make it the largest function facilities in the Cayman Islands. 
As the public relations agency-of-record for Grand Hyatt Grand Cayman Resort & Residences, Hemsworth will develop a media strategy focused on educating consumers about the property, drawing attention initially to vacation ownership opportunities before shifting into a leisure travel-centric promotion plan. This will include showcasing key development milestone moments through a series of press releases, tailored pitches and special events leading up to the property's opening, with brand partnerships, cross-promotions and more. 
For more information, visit HemsworthCommunications.com. Stay up-to-date on the latest Hemsworth news by following @HemsworthPR on Instagram or by liking the agency on Facebook at facebook.com/HemsworthCommunications.
About Hemsworth Communications
A dynamic, full-service agency, Hemsworth Communications is one of the fastest-growing, top-ranked agencies in the United States according to O'Dwyer's PR Report and one of PR News' Top Places to Work, recognized for its unique, forward-thinking company culture.  With three distinctive divisions – Travel/Tourism, Food/Wine/Spirits, and Franchising/Business Services – Hemsworth represents fresh, up-and-coming businesses as well as leading, renowned global brands.  Services include brand communications strategy, media relations, promotions, guerrilla marketing, social media, thought leadership and event planning.  Unlike traditional PR agencies, Hemsworth is dedicated to crafting customized communications programs that are infused with personal, passionate client service and positively contribute to each client's bottom line.
###
Media Contact:
Kayla Louttit or Allison Moraga, Hemsworth Communications
954-716-7614 or [email protected]
This message was sent to [email protected].
Hemsworth Communications
1510 SE 17th Street, Suite 200A
Fort Lauderdale, FL 33316