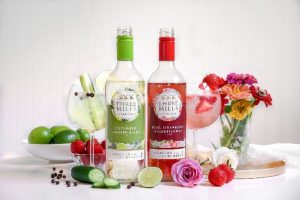 Award-Winning Global Firm to Amplify Brand Awareness for Three Mills Botanicals
with Strategic U.S. PR Push, Influencer Programming & More
FORT LAUDERDALE, Fla. – (August 3, 2021) – Hemsworth Communications today announced the continuation of its work with UK-based beverage company Broadland Drinks, leading the PR efforts for the U.S. launch of one of its most popular brands, Three Mills. Effective immediately, the firm is responsible for crafting Three Mills regional and national media relations campaigns, in addition to forging impactful relationships with retail partners and influencers to increase consumer awareness and drive sales for the new Botanicals line. Earlier this year, Hemsworth completed a successful PR and influencer marketing campaign for Broadland's New Zealand wine brand, Waipapa Bay Wines.
"We are thrilled to support our partners at Broadland Drinks, building exposure for another one of their fun, high-quality beverage brands," said Lacey Outten, director of the firm's food, wine & spirits division. "These refreshingly delicious beverages are certain to become everyone's favorite late summer sipper, and we are so excited to start sharing samples with our media and influencer friends before they officially hit shelves."
Crafted in the Broadland Drinks Norfolk winery, Three Mills specializes in refreshing alcoholic drinks, with offerings ranging from classic wine varietals to more innovative products such as their Fruit Fusions and Botanicals, which Hemsworth will be focusing on this summer.
Three Mills Botanicals are available in two flavors:
Rose, Strawberry & Elderflower: a juicy combination featuring delicate notes of elderflower and hints of rose water.
Cucumber, Juniper & Lime: a refreshing beverage featuring zesty citrus notes and the spicy aroma of juniper.
As vegan-friendly, low-calorie alcoholic options, the wines can be served on their own or as a spritzer or mixer. Prices per bottle range from $4.99 to $6.99.
For more information, visit HemsworthCommunications.com. Stay up-to-date on the latest Hemsworth news by following @HemsworthPR on Instagram or by liking the agency on Facebook at facebook.com/HemsworthCommunications.
About Broadland Drinks
Broadland Drinks is known for creating award-winning brands through trendsetting marketing tactics that address consumer needs for sustainability, authenticity and affordability, among other guiding principles.
For more information, visit www.broadlanddrinks.com.
About Hemsworth Communications
A dynamic, full-service agency, Hemsworth Communications is one of the fastest-growing, top-ranked agencies in the United States according to O'Dwyer's PR Report and in 2018, was named one of PR News' Top Places to Work, recognized for its unique, forward-thinking company culture.  With three distinctive divisions – Travel/Tourism, Food/Wine/Spirits, and Franchising/Business Services – Hemsworth represents fresh, up-and-coming businesses as well as leading, renowned global brands.  Services include brand communications strategy, media relations, promotions, guerrilla marketing, social media, thought leadership and event planning.  Unlike traditional PR agencies, Hemsworth is dedicated to crafting customized communications programs that are infused with personal, passionate client service and positively contribute to each client's bottom line.
###
Media Contact:
Hemsworth Communications
954-716-7614 or [email protected]