Innovative Initiative Offers Award-Winning Agency Resources to Hard-Hit Travel, Hospitality & Franchising Segments; Includes Pro Bono Support, Reduced Retainers, Flex-Pay Options 
FORT LAUDERDALE, Fla. – May 27, 2021 – Citing continued interest in its 'COVID-19 Public Relations Stimulus Program' launched one year ago, Hemsworth Communications today announced it will extend the initiative through Q2 2022.  Designed to provide quality global PR resources to businesses within the agency's core sectors of focus – Travel and Tourism, Hospitality (Food/Wine/Spirits) and Franchising – the stimulus gives a financial break to those impacted most by COVID-19 (coronavirus), helping them operate in a fiscally responsible way without sacrificing their communications strategy, media connections, awareness and exposure.
"As an independent and family-owned firm that is rooted in these industries, we have so much empathy for businesses reeling from the economic impact of COVID-19," Samantha Jacobs, founder and president of Hemsworth Communications, said. "While there is certainly a light at the end of the tunnel, we know that the rebound is not going to occur overnight and that the impact will continue to be felt by many well into 2022. We decided to extend our 'COVID-19 PR Stimulus Program' so that we can continue providing quality agency resources to businesses who view public relations as a vital part of their reactivation strategy, but may still be resource-challenged.
A year ago, at the onset of the devastating global impact of COVID-19, Hemsworth launched its initial stimulus program which included: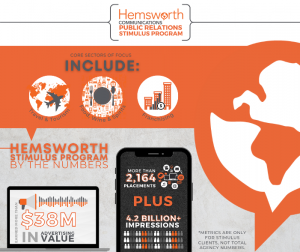 Upfront pro bono support for those who met specific criteria
Up to 50% reduced monthly retainers through 2021
A new "Flex-Pay" contract with deferred payment options
Tailored pandemic and post-pandemic strategic communications plans, with wanderlust-inspired "armchair" tourism campaigns, interactive virtual press conferences, at-home tastings and product sampling programs, multi-phased media relations initiatives and more.
The program immediately garnered global attention and businesses called on the agency for support, including, among others, Your CBD Store (one of the nation's fastest-growing CBD retail franchises), Cruise Barbados (the cruise division of the Eastern Caribbean island destination), Sweden-based Nordaq Water and Broadland Drinks (UK-based distributor of wine and spirits brands).  As an extension of the Stimulus Program, Hemsworth also tailored its programs for existing clients needing more flexible support. Throughout 2020, Hemsworth efforts for clients working within the Stimulus Program generated more than 1,261 editorial placements, more than 3.5 billion impressions and more than $32M in advertising value.
"We are deeply committed to serving as a long-term strategic PR partner that understands the sensitive nature of the landscape right now and can make a positive impact for our clients, without putting them in a situation that causes unnecessary financial strain," Jacobs said. "We are all-in on supporting businesses and brands in the way they need us and maintaining flexibility in the spirit of true partnership."
Hemsworth is now accepting requests for 'COVID-19 PR Stimulus Program' consideration, as well as hiring new team members at all levels to support the agency's growth.
For more information, visit www.HemsworthCommunications.com or email [email protected]. Stay up-to-date on the latest Hemsworth news by following @HemsworthPR on Instagram or liking the agency on Facebook at facebook.com/HemsworthCommunications.  
# # #
LINK to image. 
About Hemsworth Communications
A dynamic, full-service agency, Hemsworth Communications is one of the fastest-growing, top-ranked agencies in the United States according to O'Dwyer's PR Report and is one of PR News' Top Places to Work, recognized for its unique, forward-thinking company culture.  With three distinctive divisions – Travel/Tourism, Food/Wine/Spirits, and Franchising/Business Services – Hemsworth represents fresh, up-and-coming businesses as well as leading, renowned global brands.  Services include brand communications strategy, media relations, promotions, guerrilla marketing, social media, thought leadership and event planning.  Unlike traditional PR agencies, Hemsworth is dedicated to crafting customized communications programs that are infused with personal, passionate client service and positively contribute to each client's bottom line.
Media Contact:
Hemsworth Communications
954-716-7614 or [email protected]