HEMSWORTH EXPANDS LEADERSHIP TEAM, LAUNCHES NEW FOOD, WINE & SPIRITS AND FRANCHISING PR DIVISIONS
Top-Ranked Travel & Tourism PR Firm Poised for Banner Fifth Year in Business with Diversified Offerings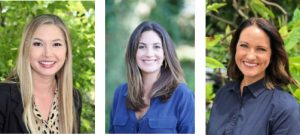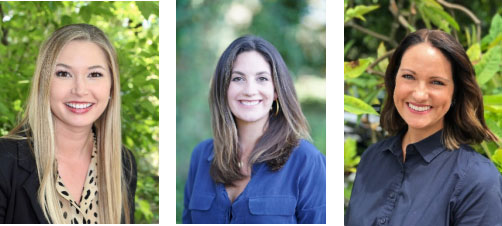 (Left to right, Carter Long, promoted to director of Hemsworth's travel and tourism practice in Atlanta; Lacey Outten, hired as director of agency's new Charleston-based Food, Wine & Spirits division; Lindsey Wiegmann, new director of travel and tourism in Fort Lauderdale)
Fort Lauderdale, Fla. – (January 29, 2019) – Hemsworth Communications, a full-service public relations agency with a growing portfolio of offices and clients, has positioned itself for what looks to be a banner fifth year in business. An emerging leader within travel, tourism and lifestyle PR – averaging 65% year-over-year revenue growth since launching in 2014 – the agency has diversified its leadership team with the appointment of four directors, two of whom will spearhead all-new divisions.
Effective immediately, Hemsworth features three distinctive, formalized service offerings:
• Travel, Tourism & Hospitality – led by Carter Long in Hemsworth's Atlanta office, who has been promoted to director, and Lindsey Wiegmann, who has been hired as a director in Fort Lauderdale. Long's experience includes the Zimmerman Agency, where she represented brands like Noble House Hotels & Resorts and Party City. Wiegmann joins Hemsworth from Hill + Knowlton, where she drove B2B and B2C PR work for Jarden Consumer Solutions, Deloitte's transportation/hospitality sectors and Red Roof. Previously, she worked in NYC and D.C.-based senior account positions for well-known agencies including Lippe Taylor, Ketchum, Marina Maher and MSL Group, managing PR for Kraft Foods, Gevalia Coffee, and Proctor & Gamble (Charmin, Puffs). Hemsworth travel clients include Air Partner, AmaWaterways, Best Western Hotels & Resorts, the Hospitality Sales & Marketing Association International (HSMAI) Foundation, Margaritaville, Massanutten, Sonesta Fort Lauderdale Beach and more.
• Food, Wine & Spirits – led by Director Lacey Outten, who was hired in Q3 2018 and is charged with further expanding Hemsworth's robust culinary client roster out of a new office in Charleston, South Carolina. Outten comes to Hemsworth from Phase 3 Marketing & Communications in Charleston and prior to that, specialized in F&B PR for The Reynolds Group in Atlanta, where she drove some of the city's most buzzed about launches and lead PR efforts for a James Beard Award-winning Chef. Clients include JWB Prime Steak & Seafood, Offerdahl's Gridiron Grill-off, Steelpan, Stems & Skins, Gatsby's Joint and more.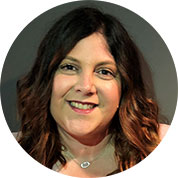 • Franchising & Business Services – led by Rachel Tabacnic (pictured left), who has been hired as director, and comes to Hemsworth with a wealth of personal and professional experience in the franchising world. Previously, Tabacnic served as an account director for a Cooper City, Florida-based lifestyle PR agency, where she managed PR for BRIO Tuscan Grille, Boys & Girls Clubs, iFLY and others. Before that, Tabacnic spent six years working her way up the ranks at Fish Consulting in Hollywood, Florida, where she specialized in franchise PR, leading the Dunkin' Donuts, Baskin-Robbins and Massage Envy accounts, among others. In previous agency roles, Tabacnic has represented Dairy Queen, Olive Garden, Benihana and Toll Brothers.
Tabacnic is joined by two new team members, Stephanie Davis and Adele Barreau, leading Hemsworth's charge into the franchise PR segment. That will include overseeing strategy for PuroClean, which Hemsworth recently won after a months-long bid process. PuroClean will serve as the flagship client of the new division, joining First American Bank, OASIS Travel Network and others.
"It's amazing to see how far we've come, and I could not be prouder of all that we've achieved over the last five years," said Samantha Jacobs, Hemsworth's founder and president, who was named one of South Florida Business Journal's 40 under 40 in 2018.
"Our foundation is in travel, tourism and hospitality, but our true passion is for leveraging our collective expertise, and relationships, on behalf of our clients, bringing new opportunities to the table on a daily basis," she continued. "Our team has roots in both the restaurant industry and franchising, so as we looked to diversify our business, this move was a natural progression. By bringing onboard such strong leaders within each of our three segments of focus, we are now well-positioned for what I know is going to be an incredible future."
For more information, visit HemsworthCommunications.com. Stay up-to-date on the latest Hemsworth news by following @HemsworthPR on Instagram or by liking the agency on Facebook at facebook.com/HemsworthCommunications.
About Hemsworth Communications A dynamic, full-service agency, Hemsworth Communications is one of the fastest-growing, top-ranked agencies in the United States according to O'Dwyer's PR Report and in 2018, was named one of PR News' Top Places to Work, recognized for its unique, forward-thinking company culture.
With three distinctive divisions – Travel/Tourism, Food/Wine/Spirits, and Franchising/Business Services – Hemsworth represents fresh, up-and-coming businesses as well as leading, renowned global brands. Services include brand communications strategy, media relations, promotions, guerrilla marketing, social media, thought leadership and event planning. Unlike traditional PR agencies, Hemsworth is dedicated to crafting customized communications programs that are infused with personal, passionate client service and positively contribute to each client's bottom line.
###