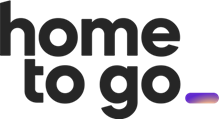 The vacation rental marketplace announces its plans to introduce a new line of curated search
experiences, called Modes, along with the beta test launch of its first AI-powered travel planner
FORT LAUDERDALE, Fla. – (May 10, 2023) – HomeToGo, the marketplace with the world's largest selection of vacation rentals, today announced further plans for the launch of HomeToGo Modes, a new line of curated search experiences that will make it faster, easier and more convenient than ever for travelers to find their perfect vacation rental. 
With the process of searching for vacation homes remaining largely unchanged over the past decade, HomeToGo Modes aim to streamline and simplify the vacation rental booking process by curating the product experience to specific use cases and types of travelers with the push of a button, requiring less effort to find the perfect vacation home. 
Capitalizing on its expertise in cutting-edge technologies that allow the company to update its products dynamically, HomeToGo is launching its first Mode – AI Mode – powered by Generative AI. With AI Mode, travel planners will be able to describe exactly what they're looking for and receive highly personalized recommendations, going far beyond what is currently possible with traditional online search.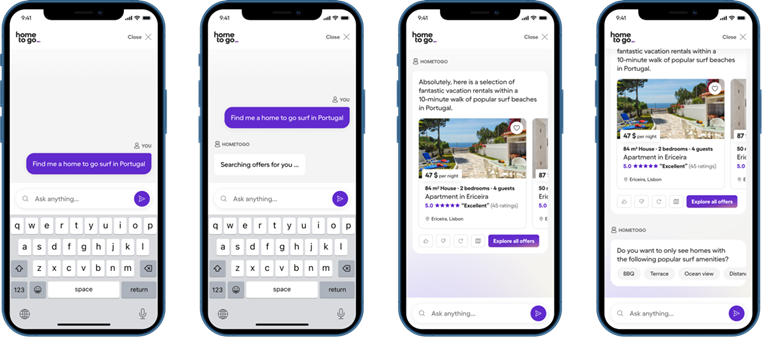 Whether travelers are looking for a surf getaway in Portugal or an affordable family-sized villa in Mallorca, HomeToGo AI Mode will bring a personal touch to help travelers find their uniquely ideal vacation rental easier and faster than anywhere else. 
HomeToGo AI Mode is currently in beta testing with plans to roll out to travelers soon. The launch marks the first-of-its-kind for HomeToGo, with the company planning to further expand its collection of Modes by updating and releasing more curated search experiences and specialized travel planning tools throughout the year. 
"HomeToGo is once again at the forefront of the travel industry with the launch of Modes, a truly groundbreaking approach to finding the perfect vacation home," HomeToGo Co-Founder and CEO Dr. Patrick Andrae said. "All vacation rentals are unique as are the travelers who stay in them, and it's time for the search and booking experience to match the individualism of our rentals and guests. We're so excited to launch this brand-new product line with our first Mode, the inaugural AI Mode. This new feature combines our deep expertise working with machine learning and our passion for delivering seamless, unparalleled experiences to our travelers. 

"In general, the HomeToGo approach to product development is dynamic. We continuously leverage new technologies and travel trends to update our products and features without needing to wait for big launch events. Because of this agile approach, summer travelers can already benefit today from our latest generation of power tools, such as Pay-What-You-See Pricing and Next Door Bookings, that provide our guests with complete price transparency and selection, further supporting our vision of making incredible homes easily accessible to everyone." 
Ahead of the HomeToGo Modes and AI Mode launch, HomeToGo introduced a suite of new power tools to uniquely cater to traveler needs this summer. These features include, amongst others:
Pay-What-You-See Pricing, including Taxes and Fees – With price transparency as a priority and already available in Europe, this filter is now launched for U.S. travelers. Pay-What-You-See Pricing lets travelers choose whether they want to view offers with or without additional taxes and fees, avoiding unwanted surprises later in the booking process. Pay-What-You-See Pricing is now available across all markets and sites. 

Nearly half (47%) of U.S. travelers say transparency is a highly important factor when deciding to book a trip.*


Next Door Bookings – Easily discover other available accommodation options at the same property with Next Door Bookings. Ideal for families and friends traveling as a large group, this feature helps find the perfect rental for additional travelers nearby without the need to open a map or split up too far.

The number of travelers searching for summer stays with 10+ guests has increased by 21% YoY on HomeToGo.**


Side-by-Side Comparison – Exclusively on the HomeToGo App, the Side-by-Side Comparison feature is the easiest way to compare multiple homes based on amenities that matter most, without having to scroll back and forth between offers. This product is perfect for the travel planner who likes to have all the details before making a final decision.

According to HomeToGo research, Price, Accommodation Type and Amenities are the factors that matter most to travelers when deciding which home to book.*** 
HomeToGo is continuously testing and upgrading the user experience across its platforms including the HomeToGo website and app – typically running more than 100 A/B tests in parallel. To learn more about the new and planned product upgrades on HomeToGo, visit: HomeToGo.com/about/product-features/#new-upgrades. To learn more about HomeToGo, visit www.HomeToGo.com. 
# # #
Media Note: Product images and concepts for editorial use can be found here.
About HomeToGo
HomeToGo was founded in 2014 with a vision to make incredible homes easily accessible to everyone. To pursue this vision, HomeToGo was able to build and constantly grow a trusted and easy-to-use technology platform that brings together property suppliers with travelers from all across the world.
HomeToGo operates a marketplace for vacation rentals that connects millions of travelers searching for a perfect place to stay with thousands of inventory suppliers across the globe, resulting in the world's most comprehensive inventory coverage in the alternative accommodation space. HomeToGo's marketplace is beneficial to both of its customer groups: Consumers who visit HomeToGo's websites gain access to the largest inventory in one place, and supply partners who use the platform's reach and technology solutions are better able to serve a wide range of customers and generate more high-quality demand. While HomeToGo SE's registered office is located in Luxembourg, HomeToGo GmbH is headquartered in Berlin, Germany. HomeToGo operates localized apps and websites in 25 countries.
HomeToGo SE is listed on the Frankfurt Stock Exchange under the stock ticker "HTG". For more information visit, www.HomeToGo.com/about.
Methodology:
*Findings are based on research conducted by HomeToGo among a general population sample of 3,000 respondents in total, in total, 500 per market (US, UK, DE, ES, IT, FR). To participate in this survey, respondents had to be 18 or older. The survey was conducted on 6 March 2023.
**Based on internal data observing searches on HomeToGo.com for stays with 10 or more guests between 1 January 2022 and 1 January 2023 with a check-in date between 21 June 2023 and 22 September 2023 compared with the same period the year prior.
***Findings are based on research conducted by HomeToGo among a general population sample of 500 respondents residing in the United States. To participate in this survey, respondents had to be 18 or older. The survey was conducted on 6 March 2023. 
Forward-Looking Statements
Certain statements contained in this release may constitute "forward-looking statements" that involve a number of risks and uncertainties. Forward-looking statements are generally identifiable by the use of the words "may", "will", "should", "plan", "expect", "anticipate", "estimate", "believe", "intend", "project", "goal" or "target" or the negative of these words or other variations on these words or comparable terminology. Forward-looking statements are based on assumptions, forecasts, estimates, projections, opinions or plans that are inherently subject to significant risks, as well as uncertainties and contingencies that are subject to change. No representation is made or will be made by HomeToGo SE that any forward-looking statement will be achieved or will prove to be correct. The actual future business, financial position, results of operations and prospects may differ materially from those projected or forecast in the forward-looking statements. Neither HomeToGo SE nor any of their respective affiliates assume any obligation to update, and do not expect to publicly update, or publicly revise, any forward-looking statements or other information contained in this release, whether as a result of new information, future events or otherwise, except as otherwise required by law.
Media Contact
Hemsworth Communications
[email protected]