World's largest vacation rental marketplace uncovers best parks for traveling thrill seekers on any budget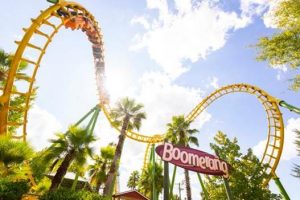 Fort Lauderdale, Fla. – (April 14, 2022) – HomeToGo, the marketplace with the world's largest selection of vacation rentals, today revealed the results of its 2022 Theme Park Index, ranking 30 theme parks in the U.S. based on affordability. Taking into account factors such as the cost of an admission ticket, parking and nearby vacation rentals, HomeToGo compared many of the most popular theme parks across the country to uncover both budget-friendly and top dollar options for those planning upcoming vacations.
"With summer on the horizon, we're excited to be able to offer travelers a helpful pricing guide for America's most popular theme parks so they can enjoy a fun-filled theme park getaway at any budget," said Caroline Burns, Head of PR and Travel Expert, HomeToGo. "While ticket prices have seen an overall increase, we're pleased that the index revealed that some of the best theme parks across the country are accessible for a fraction of the price compared to those in states like Florida and California."
Based on the cost of a one-day adult admission ticket, parking and HomeToGo's own data for nearby accommodations, here's a snapshot of the top rankings from the 2022 Theme Park Index: 
Most Affordable Theme Parks in the U.S. for 2022 – Ranked by Price
| | | | | | |
| --- | --- | --- | --- | --- | --- |
| Theme Park | State | Ticket | Daily Parking Rate | Median Nightly Accommodation Per Person | Total Cost Per Day |
| 1.     Tropic Falls at OWA | AL | $22.49 | Free | $72.67 | $95.16 |
| 2.     Quassy Amusement Park | CT | $39.99 | $10 | $57.77 | $107.76 |
| 3.     Wild Adventures Theme Park | GA | $49.99 | $15 | $43.60 | $108.59 |
| 4.     Worlds of Fun | MO | $34.99 | $25 | $44.69 | $104.68 |
| 5.     Six Flags Darien Lake | NY | $34.99 | $20 | $63.22 | $118.21 |
Additional key takeaways from this year's Theme Park Index include:
Most Affordable States: Amusement parks in Alabama, Connecticut, Georgia, Missouri and New York climb to the affordable peak of this year's ranking, whereas world-renowned parks in Florida and California are on the pricier side.
Best State for Theme Park Enthusiasts with a Sizeable Budget: Florida reigns supreme with the most theme parks on this year's ranking (7), followed by California (5). The average total cost per day among the featured theme parks in Florida is $217.37, compared to $256.98 in California.
Theme Park Brand with the Most Roller Coasters: Multiple (6) Six Flags parks are featured in HomeToGo's Theme Park Index, each boasting an impressive number of roller coasters, including Six Flags Great Adventure in New Jersey, which is home to the tallest roller coaster in the world and fastest roller coaster in North America.
Entry Prices Have Increased Compared to Pre-Pandemic: The average entry cost has risen 12% when compared to HomeToGo's 2019 Theme Park Index. This year's average entry cost is $74.51, whereas in 2019 it was $66.52. The park with the cheapest entry cost is Tropic Falls at OWA in Alabama, which has decreased its cost from $34.99 in 2019 to $22.49 in 2022.
For a complete breakdown of the methodology* and all 30 destinations in this year's Theme Park Index, read the full report at: https://www.hometogo.com/united-states/amusement-parks/#theme-park-index
For more information on HomeToGo, visit HomeToGo.com. Stay up-to-date on the latest news by following HomeToGo on Facebook Facebook.com/HomeToGo, Instagram @HomeToGo, and Twitter @HomeToGo. 
About HomeToGo:
HomeToGo is the marketplace with the world's largest selection of vacation rentals, listing millions of offers from thousands of trusted partners, including Booking.com, Vrbo and TripAdvisor. From vacation homes, cabins, beach houses, apartments, condos, house boats, castles, farm stays and everything in between, HomeToGo combines price, destination, dates and amenities to find the perfect accommodation for any trip worldwide.
Founded in 2014, HomeToGo operates local apps & websites in 24 countries across Europe, North America, South America, Australia and Asia-Pacific. HomeToGo also operates brands such as Agriturismo.it, AMIVAC, Casamundo, CaseVacanza.it, EscapadaRural, Tripping.com and Wimdu. To learn more, visit www.hometogo.com or download the HomeToGo app.
###
*Methodology: Park websites provided parking and ticket prices. Median nightly price per person to stay in an accommodation found on HomeToGo.com between the dates of May 1st, 2022 and August 31st, 2022.
Media Contact:
Hemsworth Communications
954-716-7614