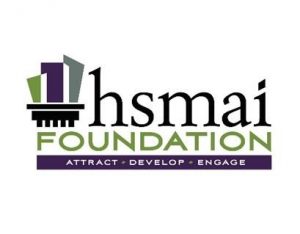 Senior Executives from Leading Global Brands Discuss
Talent Acquisition and Retention Strategies in Hospitality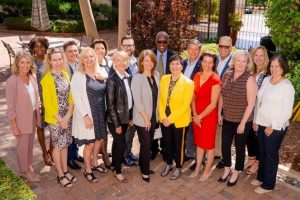 Mclean, Va. – October 22, 2019 – The Hospitality Sales and Marketing Association International (HSMAI) Foundation recently hosted its first-ever Chief Human Resources Officer (CHRO) Executive Roundtable during The Lodging Conference, held in Phoenix, AZ last month. The goal of the roundtable was to bring together top hiring professionals in hospitality to discuss grassroots strategies to improve talent acquisition and retention in the hospitality industry. Participants included hospitality industry executives from Best Western Hotels & Resorts, Omni Hotel & Resorts, Preferred Hotels & Resorts, Hyatt Hotels, Wynn Resorts, CoralTree Hospitality, Red Roof Inn, Interstate Hotels & Resorts, and more. The attendees had an opportunity to interact with talented professionals from Deloitte Consulting, the U.S. Chamber of Commerce Foundation, AETHOS Consulting Group, Horwath HTL, Terranea Resort, STR, The Castell Project, and The Litt Group. Patricia Sadar, founder and CEO of People2Strategy facilitated the roundtable.
The discussion assessed the current state of the industry's employment deficit, with participants pulling from their experiences to share solutions that can elevate the caliber of professionals in hospitality sales, marketing, and revenue management positions.
"Our recent CHRO Roundtable was nothing short of a success! The conversations were candid, intriguing, and thought-provoking," said Fran Brasseux, President of the HSMAI Foundation. "We are grateful to all of the executive leaders who shared insights with their peers during this discussion – showcasing the true spirit of collaboration for the greater good of our very special industry."
The CHRO Executive Roundtable fostered a private, non-competitive environment where senior hospitality executives were able to share the challenges and successes they've experienced while managing their respective brands. Key takeaways from the roundtable included:
Data science and technology are changing the nature of the workforce, reshaping the workplace, and the work that the hospitality industry will do in the future. With the half-life of skills now under four years, working and learning must happen simultaneously, according to Deloitte's Matt Usdin.
The pressure on labor has never been greater, and the hospitality industry's workforce is under stress from constant change, unpredictable economics, increasingly expensive education and healthcare costs, as well as the need to care for children and aging parents, among others.
The hospitality industry can no longer count on hiring people who have industry-specific experience. Instead, the industry must cast a wider net and attract professionals from other industries, including technology, finance, business, real estate, and sales. The HSMAI Foundation's efforts to create an employment brand for the industry offers an opportunity to reach new graduates and career professionals, and share the message that hospitality careers in sales, marketing, and revenue management are attractive and lucrative opportunities.
The HSMAI Foundation's efforts to encourage the hiring of military spouses through various partners, like the U.S. Chamber of Commerce Foundation's Hiring Our Heroes, offer a new talent stream to meet the employment needs of the industry. Global hotel brands are working with the foundation at local, regional, and national levels to create effective processes for attracting and retaining this potential workforce that is 91 percent female, educated, resilient, and willing to work.
Hiring mistakes and turnover are costly. Dr. Jim Houran, managing director of AETHOS Consulting Group, and associates have created psychometrics for hiring and retention that determine whether a candidate has the four traits shown to be crucial to success in hospitality careers, otherwise known as "The X Factor." This assessment will soon be available on the foundation's website.
"It was an honor to sit at the table with other human resources leaders and dive into the current obstacles that the hospitality industry is facing when it comes to recruiting and retaining talent," said Rachel Austin, vice president of human resources, for Best Western Hotels & Resorts. "As a participant, I learned that many of us are facing similar, if not the same, challenges, and we were able to brainstorm solutions that will help us all grow our organizations without sacrificing the caliber of talent we recruit."  
Since the launch of an aggressive, industry-wide $3 million campaign to develop programming, fund research and build strategic partnerships to strengthen the pipeline for sales, marketing and revenue management talent earlier this year, the HSMAI Foundation has partnered with several organizations including AETHOS Consulting Group, the U.S. Chamber of Commerce Foundation's Hiring Our Heroes and Ideas Collide. Through these partnerships, the Foundation has developed several programs and initiatives, in addition to the recent CHRO Executive Roundtable, including the Military Spouse Fellowship Program, which recently offered three military spouses the opportunity to participate in a six-week fellowship with leading hospitality brand AccorHotels.
Through these initiatives and programs, the Foundation is working to connect qualified talent with rewarding hospitality careers. However, these initiatives would not be possible without donations from partner hospitality brands, including AccorHotels, Best Western Hotels & Resorts, and Preferred Hotels & Resorts, which recently gave a generous donation to support the Foundation's renewed mission.
"At the core of Preferred Hotels & Resorts' company ideology is a commitment to engineer potential, foster trust, and co-create brighter futures," said Michelle Woodley, President of Preferred Hotels & Resorts and Campaign Chair for the HSMAI Foundation. "While presumably, every company is doing something to nurture ongoing education internally, there is a greater need to fuel awareness externally for hospitality as an attractive, inspiring, and fulfilling career path. We are proud to support this essential initiative and create more opportunities for current and potential candidates looking to thrive in our industry."
For more information on the HSMAI Foundation's initiatives or to get involved, visit www.hsmaifoundation.org.
ABOUT THE HSMAI FOUNDATION
The HSMAI Foundation is a 501 C3 organization established in 1983 to serve as the research and educational arm of the Hospitality Sales and Marketing Association International. Based in Mclean, VA with an extensive knowledge base and connections across the globe, the Foundation's mission is to elevate the overall caliber and performance of sales, marketing and revenue management professionals in the global hospitality industry by driving initiatives that will attract new talent, develop emerging talent, and engage existing talent. With the rollout of its $3 million capital campaign, partnerships with industry movers and shakers, and a board of seasoned industry professionals, the HSMAI Foundation has a long-term vision and roadmap to accomplish its mission of becoming the industry's employment brand and to heighten business performance by building excitement around careers in the industry.
Media Contacts:
Lindsey Wiegmann or Adrianne Richardson
Hemsworth Communications
954-716-7614; [email protected]
###
This message was sent to [Error! MergeField was not found in header record of data source.].
Hemsworth Communications
1510 SE 17th Street, Suite 200A
Fort Lauderdale, FL 33316