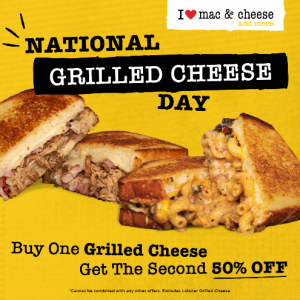 Buy One Sandwich, Get One 50 Percent Off All Day Long on April 12; America's Beloved Comfort Food Brand Introduces Five Over-The-Top Grilled Cheese Sandwich Combinations
Boca Raton, Fla. – (April 5, 2021) – I Heart Mac & Cheese, a fast-casual concept specializing in customizable, made-to-order macaroni and cheese bowls and sandwiches, today announced a buy one, get one special available exclusively on National Grilled Cheese Day, Monday, April 12. Guests at any location nationwide are invited to buy one grilled cheese sandwich, get one for 50 percent off throughout the day*.
"National Grilled Cheese Day is one of our favorite holidays of the year as we love and specialize in the childhood sandwich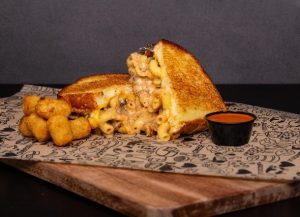 classic," said I Heart Mac & Cheese's CEO and Chairman, Steve Giordanella. "There are so many ways to mix and match your favorite grilled cheese combinations. My personal favorite is the Best of Both Worlds made with our signature Mac and Cheese and slow-cooked short ribs."
At I Heart Mac & Cheese, there are endless combinations for making the perfect grilled cheese sandwich. In honor of National Grilled Day, chef Michael Blum is unveiling a list of his favorite sandwich creations, in addition to many others you can enjoy this day, available at all locations for $8.95 each:
Bacon Love Tomato: This grilled cheese is reminiscent of an American BLT classic stuffed with rich bacon, tomatoes and Muenster and Cheddar cheeses, and served on Sourdough bread.
The Cuban: A hearty sandwich made with Mojo-marinated pulled pork, ham, Swiss cheese and Dill pickles, and served on Sourdough.
Meatball Parmesan Grilled Cheese: A meatball lover's ideal grilled cheese stuffed with rich cheese and marinara sauce, delicious meatballs, parmesan and mozzarella cheese.
Vegan Grilled Cheese: Vegan-fans unite! A grilled cheese stuffed with vegan friendly options including dairy-free cheese, vegetables, and endless other vegan options, such as Beyond® Beef and Beyond® Sausage.
Buffalo Chicken Grilled Cheese: Oozing with delicious buffalo sauce, crispy chicken, and provolone cheese, I Heart Mac & Cheese's twist to this grilled cheese is a must-try.
"As our brand continues to grow, we're introducing new discounts and timely offers to showcase our expansive menu. We look forward to celebrating with our guests on April 12 and will announce new specials for this summer in the coming months." added Giordanella.
*The buy one, get one 50 percent off special is available at all locations on April 12; not valid on lobster mac and cheese.
For ordering or more information, visit iheartmacandcheese.com. Follow the brand on Facebook at facebook.com/iheartmacandcheese/ and on Instagram at @IHeartMacAndCheese.
About I Heart Mac & Cheese
I Heart Mac & Cheese is a fast-casual concept specializing in customizable, made-to-order macaroni and cheese bowls and grilled cheese sandwiches. Also, on the menu are lifestyle choices with quinoa, broccoli, or cauliflower bowls, and gluten-free pasta. In 2019, the brand unveiled a new vegan menu featuring plant-based options through an official partnership that was launched with Beyond Meat®. The menu combines award-winning recipes resulting in a grown-up approach to this classic childhood dish. Guests in search of an easy-to-eat treat can enjoy the brand's newest menu item, Mac Bites, that are baked, bite-size portions perfect to eat while you are on the go in flavors like Bacon Cheeseburger, Buffalo Chicken, The Cuban, Lobster and Classic.
###
Media Contacts:
Hemsworth Communications
Lacey Outten / Kylie Rodriguez
954-716-7614 or [email protected]
This message was sent to [email protected].
Hemsworth Communications
1510 SE 17th Street, Suite 200A
Fort Lauderdale, FL 33316