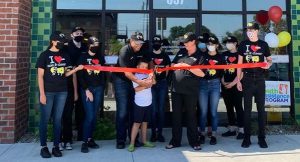 First Paying Customer on June 17 Received Free Mac & Cheese Creations for a Year; Ribbon Cutting Held with Westfield Chamber of Commerce; and $450 Donated to Westfield Youth Assistance Program
Westfield, Indiana – (June 29, 2020) – I Heart Mac & Cheese, a fast-casual concept specializing in customizable, made-to-order macaroni and cheese bowls, and grilled cheese sandwiches, celebrated the grand opening of its first Indiana location, in Westfield, on June 17. Festivities for the day included a ribbon cutting ceremony with the Westfield Chamber of Commerce, a grand-prize of free mac and cheese for one year to the first purchasing customer, and socially distanced family-fun activities including balloon artistry, raffle drawings, and I Heart Mac & Cheese swag bags.
"We are grateful for the support from our local community since we opened on June 3 and were thrilled to celebrate together at the grand opening," said Matthew Griffin, I Heart Mac & Cheese Westfield franchisee. "My wife, Liz, and I are excited to continue to welcome the Westfield community into our family-friendly restaurant to enjoy comfort food while making memories and giving back to community partners like the Westfield Youth Assistance Program."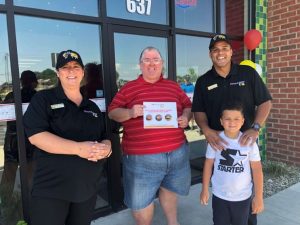 I Heart Mac & Cheese Westfield's first paying customer during the grand opening celebration, Randy Szumski of Noblesville, IN (pictured to the left), won free mac and cheese creations for one year. The determined guest arrived the night prior to the event to ensure he was first in line. Additionally, all guests with children enjoyed a free kid's meal with the purchase of a regular priced item. Fostering its commitment to giving back, the restaurant raised $450 for the Westfield Youth Assistance Program, a nonprofit organization which serves as an early intervention advocate for youth ages 3 to 17 who are facing challenging life circumstances.
Catering to every age, lifestyle and craving, the new I Heart Mac & Cheese is located at 637 E SR32 and serves a variety health-conscious bases including quinoa, broccoli, cauliflower, and gluten-free pasta in addition to traditional mac & cheese, grilled cheese and new Mac Bites. Last year, the company launched a partnership with Beyond Meat, adding the Beyond Burger™, Beyond Beef® Crumbles and Beyond Sausage® to the menu, along with a home-made deliciously creamy sauce with a coconut milk base and secret spice blend.
"We were thrilled to partner with I Heart Mac & Cheese as they entered the Hoosier State as this partnership will help the youth within the Westfield community," said Megan Contreras, Early Intervention Advocate of the Westfield Youth Assistance Program. "We look forward to continuing to foster a strong relationship with the brand to showcase their commitment to our local community and providing families a place to enjoy their childhood favorite dishes on a new level."
I Heart Mac & Cheese is well-known for chef-inspired, custom, build-your-own macaroni and cheese bowls and grilled cheese sandwiches. Guests select a pasta, bread, tater tots, quinoa, broccoli, or cauliflower base along with several different proteins, vegetables, and cheeses. Most recently, the brand unveiled a new vegan menu featuring plant-based options through an official partnership with Beyond Meat®. A variety of gluten-free options are also available. In addition to customized options, the menu includes specialty chef special items like Baked Chicken Parmesan, Baked Meatball Parmesan, The Cuban, Pepperoni Pizza, and Lobster & White Truffle Mac, among others. Sesame ginger, mango habanero, buffalo, BBQ, and pesto are a few of the delicious dressings and sauces available to mix in or top off each creation. Guests can pair their meal with the perfect side of tomato soup and finish it with a selection of desserts such as Mini Chocolate Chip Cookies and Marshmallow Treats.
For more information on I Heart Mac & Cheese Westfield, visit https://www.iheartmacandcheese.com/locations/ or call 317-804-5785. Follow the Westfield location on Facebook at https://www.facebook.com/IHeartMacandCheeseWestfield/ and on Instagram at @IHeartMacandCheese_Westfield.
High resolution photos can be found here.
About I Heart Mac & Cheese
I Heart Mac & Cheese is a fast-casual concept specializing in made-to-order, Build Your Own Macaroni and Cheese Bowls and Grilled Cheese sandwiches that guests can customize using a wide variety of chef-inspired proteins, ingredients, and sauces. Thinking outside the bowl, the brand takes timeless comfort food in exciting culinary directions, resulting in diverse, craveable menu options for everyone to enjoy. Led by CEO Steve Giordanella, the brand launched its first location in 2017 and currently operates corporate locations in Pembroke Pines, Jupiter and Boca Raton, Florida. The company's unique franchising program has fueled nationwide brand growth – with operating franchise locations in Florida, Georgia, Indiana, New York and Texas – and additional locations are slated to open in Alabama, Arizona, California, Colorado, Florida, Georgia, Illinois, Indiana, New Jersey, New York and Texas. I Heart Mac & Cheese was recently selected by QSR Magazine as one of America's hottest startup fast-casual brands on their annual 40/40 list and is ranked by Entrepreneur Magazine as one of the top new franchise opportunities.
# # #
Media Contact:
Hemsworth Communications
Rachel Tabacnic and Paige Alonso
561-441-9692 / [email protected]
This message was sent to [email protected].
Hemsworth Communications
1510 SE 17th Street, Suite 200A
Fort Lauderdale, FL 33316