Pro NASCAR Driver Roger Reuse to Race in Toyota Tundra 225;
Truck is Inspired by his Favorite Comfort Food Classic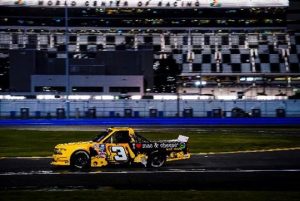 Boca Raton, FL – (May 14, 2021) – I Heart Mac & Cheese, a unique fast-casual concept specializing in mac and cheese bowls and grilled cheese sandwiches, will make its anticipated return to the racetrack on Saturday, May 22, at the Pit Boss 250 and Toyota Tundra 225 in Austin, TX. Professional NASCAR driver Roger Reuse will race in the #3 truck, decked out with custom I Heart Mac & Cheese branding. Taking place at the Circuit of the Americas, this race will mark I Heart Mac & Cheese's second NASCAR appearance. Bobby Reuse, Roger's brother and an I Heart Mac & Cheese franchisee, participated in the brand's first race this February during the NASCAR Camping World Truck Series at the Daytona International Speedway.
"It's always exciting when we are able to create new partnerships and activations with our franchisees and our new NASCAR relationship, thanks to Bobby and Roger, is no exception," said Steve Giordanella, CEO and President of I Heart Mac & Cheese. "We will be cheering on Roger in our second racing debut, and we look forward to celebrating Bobby's new location opening in Alabama later this year, as well."
With a distinct advantage over his competitors, Roger Reuse is the only driver heading into the upcoming race who has prior experience on the Toyota Tundra 225 track. He will drive the #3 truck owned by Jordan Anderson Racing, who launched a team with the Reuse brothers more than five years ago. Through their new partnership, the trio plans to expand with other companies who want to grow their brand and "fuel the dreams."
"Second time's a charm! In the last race, I absolutely loved driving this new and improved truck and bringing awareness to the fun-filled I Heart Mac & Cheese brand," said Bobby Reuse. "I'm looking forward to cheering on my brother in Texas as he hopefully brings home a win. We look forward to continuing to expand our racing team, as well as our partnership with I Heart Mac & Cheese."
For more information on I Heart Mac & Cheese, visit iheartmacandcheese.com or follow them on Facebook at Facebook.com/iheartmacandcheese/. or franchise opportunities, visit iheartmacandcheese.com/franchise/.
About I Heart Mac & Cheese
I Heart Mac & Cheese is a fast-casual concept specializing in customizable, made-to-order macaroni and cheese bowls and grilled cheese sandwiches. Also on the menu are lifestyle choices with quinoa, broccoli, or cauliflower bowls, as well as gluten-free pasta. The menu combines award-winning recipes resulting in a grown-up approach to this classic childhood dish. Delivery options can be found through Uber Eats, Postmates, Door Dash and Grub Hub. Catering options are available for events of nearly all sizes. For locations and more information, visit https://www.iheartmacandcheese.com/.
# # #
Media Contact:
Hemsworth Communications
Lacey Outten or Kylie Rodriguez
954-716-7614 / [email protected]
This message was sent to [email protected]
Hemsworth Communications
1510 SE 17th Street, Suite 200A
Fort Lauderdale, FL 33316