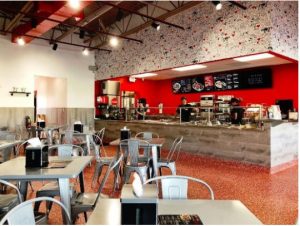 New App Lets Customers Order Online, Earn & Redeem Loyalty Points, Pay by Android and Apple Pay
Boca Raton, Fla. – (February 18, 2020) – I Heart Mac & Cheese, a fast-casual concept specializing in customizable, made-to-order macaroni and cheese bowls and grilled cheese sandwiches, today announced the launch of its brand new I Heart Mac & Cheese App, which is available now for download on Apple and Android devices. The app, developed by Boca Raton-based Reatro Ventures, is designed to enhance the overall customer experience, and allows users to place online orders with streamlined payment options and gives Mac addicts the ability to earn and redeem loyalty points.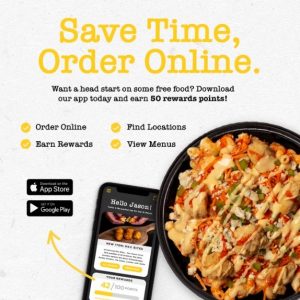 "As our brand continues to expand, and our guests are progressively on-the-go, we are thrilled to be able to offer our customers more options to improve their experience through innovation and technology," said Steve Giordanella, CEO and Chairman of I Heart Mac & Cheese. "We are very excited for our guests to experience the additional convenience of online ordering and fantastic rewards this new mobile platform offers."
Customers who download the app – which is free and compatible with IOS and Android platforms – can simultaneously register for I Heart Mac & Cheese's new rewards program. Each user will receive 50 rewards points for joining and, in addition, will earn one point for every $1 spent moving forward. One hundred points equate to $10 in "Mac Money," which can be used at any I Heart Mac & Cheese location nationwide. App users can also conveniently place and pay for an order online to pick up at their nearest location. Rewards can also be earned by scanning the receipt barcode for orders placed in the restaurant. The same process and points apply to I Heart Mac & Cheese's online ordering feature which is now available on the website.
For more information on I Heart Mac & Cheese visit iheartmacandcheese.com, follow on Facebook at facebook.com/iheartmacandcheese/ and on Instagram at @IHeartMacAndCheese.
About I Heart Mac & Cheese
I Heart Mac & Cheese is a fast-casual concept specializing in customizable, made-to-order macaroni and cheese bowls and grilled cheese sandwiches. Also, on the menu are lifestyle choices with quinoa, broccoli or cauliflower bowls, as well as gluten-free pasta. In 2019, the brand unveiled a new vegan menu featuring plant-based options through an official partnership that was launched with Beyond Meat®. The menu combines award-winning recipes resulting in a grown-up approach to this classic childhood dish. Guests in search of an easy-to-eat treat can enjoy the brand's newest menu item, Mac Bites, that are baked, bite-size portions perfect to eat while you are on the go in flavors like Classic, Pepperoni Pizza, Lobster and Buffalo Chicken. In 2017, the company launched its franchising program nationwide and has franchisee locations open and operating in Florida, New York, Georgia and Texas. Additional locations are slated to open in Alabama, California, Colorado, Florida, Georgia, Illinois, Indiana, New Jersey, New York and Texas.
###
Media Contacts:
Hemsworth Communications
Lacey Outten
305-778-5776 or [email protected]
This message was sent to [email protected].
Hemsworth Communications
1510 SE 17th Street, Suite 200A
Fort Lauderdale, FL 33316