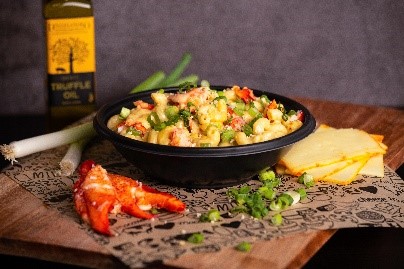 All-New Cheesecake Bites to Debut July 30 National Cheesecake Day, a Sweet Ending to a Monthlong Mac & Cheese Extravaganza 
BOCA RATON, Fla. – (July 2, 2021) – Everyone's favorite, ooey gooey food holiday takes place July 14 and in celebration of National Mac & Cheese Day, I Heart Mac & Cheese has announced three delicious specials available throughout the month of July. The rapidly growing fast-casual concept specializing in customizable, made-to-order macaroni and cheese bowls and grilled cheese sandwiches, is celebrating Independence Day with a last-minute catering deal designed to fuel all Fourth of July celebrations, and launching special promotions – as well as a brand-new dessert menu item – throughout the rest of the month.
"It's the best time of the year at I Heart Mac & Cheese!" CEO and Chairman Steve Giordanella said. "We always love celebrating National Mac and Cheese Day with our loyal guests and are thrilled to offer free mac and cheese bowls this year. In addition, we're adding a few sweet offers perfect for all summertime celebrations."
Created to enhance all Independence Day gatherings, the Fourth of July catering special includes a choice of 12 free Mac Bites or two free Cups of Cookies with the purchase of any catering tray and is available through July 4, 2021.* On July 14 for National Mac and Cheese Day, all guests are invited to enjoy a mac and cheese bowl BOGO and, lastly, on National Cheesecake Day, Friday, July 30, the brand will unveil their newest menu item: Cheesecake Bites! Certain to quickly become a fan favorite, these indulgent, snack-sized dessert bites will feature a delicious cheesecake center, rolled in graham crackers and topped with a cinnamon sugar crust. More details will be announced later this month.
South Florida-based I Heart Mac & Cheese is a popular concept rapidly expanding across the United States, serving up traditional mac & cheese and sandwich options, as well as a variety of health-conscious bases including quinoa, broccoli, cauliflower, gluten-free pasta, plant-based protein and dairy-free alternatives. The brand has earned a reputation for consistent, delicious food and is well-known for custom, build-your-own macaroni and cheese bowls and grilled cheese sandwiches. Guests select a pasta, bread, quinoa, broccoli, cauliflower or tater tot base along with a choice of 10 different proteins, 11 vegetables, and nine cheeses. Gluten-free, vegan and plant-based options are also available. Sesame ginger, mango habanero, buffalo, barbecue and pesto are a few of the delicious dressings and sauces available to mix in or top off each creation.
For ordering or more information, visit iheartmacandcheese.com. Follow the brand on Facebook at facebook.com/iheartmacandcheese/ and on Instagram at @IHeartMacAndCheese.
*Catering offer is valid through July 4. Selection of Classic Mac Bites or Cookies only, and offer valid only on catering orders. Bowls may not be switched out for other menu items. Offers may not be combined with other discounts or promotions.
# # #
About I Heart Mac & Cheese
I Heart Mac & Cheese is a fast-casual concept specializing in customizable, made-to-order macaroni and cheese bowls and grilled cheese sandwiches. Also, on the menu are lifestyle choices with quinoa, broccoli, or cauliflower bowls, and gluten-free pasta. In 2019, the brand unveiled a new vegan menu featuring plant-based options through an official partnership that was launched with Beyond Meat®. The menu combines award-winning recipes resulting in a grown-up approach to this classic childhood dish. Guests in search of an easy-to-eat treat can enjoy the brand's newest menu item, Mac Bites, that are baked, bite-size portions perfect to eat while you are on the go in flavors like Bacon Cheeseburger, Buffalo Chicken, The Cuban, Lobster and Classic.
Media Contacts:
Hemsworth Communications
Lacey Outten / Kylie Rodriguez
954-716-7614 or [email protected]