Flagship Miami Location of Popular New Virtual Restaurant Now Joined by "Dark Kitchens" in
Boca Raton and Aventura; Company Expands to 20 Unique Concepts
MIAMI, FL (October 23, 2019) – The Local Culinary, an innovative virtual restaurant group specializing in chef-driven, delivery-only concepts – the first of its kind in Florida –  today announced it has signed a letter of interest (LOI) to open new commissary-style kitchens in Boca Raton and Aventura. Following the successful launch of its first location in Downtown Miami earlier this year, The Local Culinary is positioned for expansive future growth, bringing its unique fare to those across South Florida.
Led by seasoned European restaurant industry veteran and entrepreneurial visionary Alp Franko, The Local Culinary has quickly attracted a growing fanbase and dedicated following.  In addition to announcing its expansion with two new locations, The Local Culinary today revealed it has expanded from eight to 20 concepts, based on popularity and demand. Now available for delivery via Uber Eats, Postmates, GrubHub and DoorDash, the concepts include, among others:
 The Chef Burger – specializes in high-quality burgers and prime ingredients
Dirty Fingers – transforming the fast food game with elevated burgers, hot dogs, wings, fries and more
Mama Roma – bringing a true taste of Italy with authentic recipes and high-quality ingredients
El Taco Loco – delivering unique tacos with a touch of craziness
Shu Shu – bringing Asian-inspired dishes such as lettuce wraps, noodles, pad Thai, spring rolls and more
The Green Kitchen – serving nutrient-dense menu options with fresh and flavorful ingredients
Yoko Bowl – combines flavors of Asia and Hawaii to create rice bowls with raw fish, vegetables and more
Hot Potato – delivering limitless flavor combinations of the most popular root vegetable
Chicks – specializing in all things chicken, from fried to grilled, burgers, savory wings and more
This is Gyros – bringing modern interpretations of the classic Greek dish 
Hot Dog Station – offering fun twists on America's favorite classic
"Dark kitchens, ghost kitchens or virtual restaurants – however you want to refer to them – are today's hottest restaurant industry trend, and they are here to stay, as consumer demand and purchasing patterns are shifting," said Alp Franko, founder of The Local Culinary.  "A recent UBS report estimated that the market for food delivery is slated to grow from $35 billion in 2018 to $365 billion by 2030.  Consumers clearly want the comfort and convenience of dining at home, on-demand and with rising food, labor and real estate costs, going virtual makes so much sense.  We are thrilled to see The Local Culinary concept taking off and in addition to Boca Raton and Aventura, have many other new locations on our radar."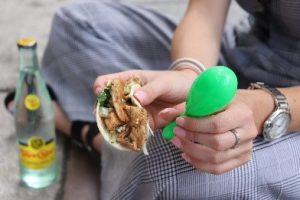 Virtual restaurants are thriving in major metropolitan markets across the country, including Chicago and Los Angeles.  As Florida's firs, and to set itself apart, The Local Culinary has adopted an approach that emphasizes the experience aspect of the delivery. For example, each concept incorporates a unique element that is representative of the cuisine. Items include personalized stickers, candy, fun toys and party accessories. With bright colors and witty messaging, The Local Culinary has invested in its marketing strategy to deliver an energetic brand that resonates with millennials, a major demographic driving the virtual restaurant trend.
The Local Culinary's two new ghost kitchens will begin delivery within the next few weeks. In addition to Florida, Franko's expansion plans include several major U.S. markets including New York City. Beyond delivery, the company will connect with consumers through a series of community pop-up restaurant experiences and by participating in established culinary festivals and brand partnership activations.
For more information, please visit www.TheLocalCulinary.com. 
ABOUT THE LOCAL CULINARY
The Local Culinary is an innovative virtual restaurant group providing modern, chef-driven food delivery options inspired by worldwide cuisine. With 20 individual mini-restaurants all operating in the same kitchen to produce a range of menus, cuisines vary from Mexican, Italian and Asian and include items such as burgers, fried chicken, rice bowls, gourmet salads and more. Each of the delivery-only concepts are available to consumers through Uber Eats, Postmates, GrubHub and DoorDash. Visit www.TheLocalCulinary.com for more information.
###
MEDIA CONTACT:
Hemsworth Communications
Lacey Outten / Matthew Hasbun
954-716-7614
This message was sent to [email protected].
Hemsworth Communications
1510 SE 17th Street, Suite 200A
Fort Lauderdale, FL 33316