Seasoned International Chef to Bring Creative Flair to
New – and Only – Oceanfront Restaurant on Hillsboro's Millionaire Mile
FORT LAUDERDALE, Fla. – July 29, 2021 – As the new Hillsboro Beach Resort nears completion and prepares to open its doors this September, the property's management team, Driftwood Hospitality Management, today announced the appointment of Executive Chef Jason Antolak.  Bringing more than 15 years of culinary experience to his new position, Antolak will take the helm at the resort's signature oceanfront restaurant, Roí.  
"We are pleased to have someone of Jason's caliber joining us as executive chef for the new Hillsboro Beach Resort," said Duncan Clements, general manager for Hillsboro Beach Resort. "We've already been impressed by the creative ideas Jason has brought to the table and we look forward to working with him to create a truly unforgettable dining experience at Roí."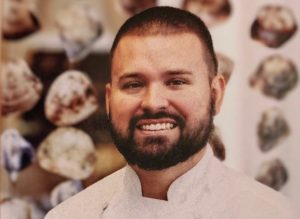 As executive chef, Antolak will focus on developing global dishes using locally sourced and seasonal ingredients at Roí. Antolak's deep appreciation for food and cooking began at a young age as he watched his mother prepare his family's signature recipes that have been passed down through generations. Prior to joining Driftwood Hospitality Management's Hillsboro Beach Resort opening team, he actively shared his passion for culinary creativity with various prominent restaurants across Fort Lauderdale. With experience participating in major culinary events such as the South Beach Food and Wine Festival, as well as working with some of the region's top culinary talent including Celebrity Chef Dean James Max and "Top Chef" winner Chef Jeremy Ford, Antolak provides a unique perspective and deep knowledge in the kitchen. An Art Institute of Fort Lauderdale graduate, he holds a degree in culinary art.
Taking its name from the Greek translation of 'flow', Roí – pronounced (Ro-y), will boast a vibrant, tropical chic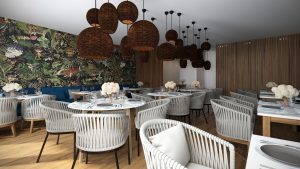 design, creating a perfect harmonic atmosphere with its picturesque South Florida surroundings. As the only restaurant on Hillsboro Mile, Roí will allow guests to enjoy upscale cuisine and handcrafted cocktails in an intimate setting both indoors, as well as outdoor on the patio with unobstructed views of the serene Hillsboro Beach and Atlantic Ocean. In addition, with a convenient intracoastal dock, boaters cruising the Intracoastal Waterways may choose to dock and dine at Roí once it opens.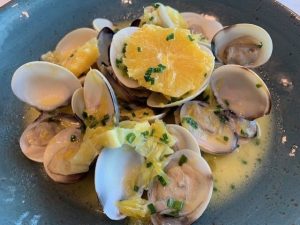 Highlights of the new menu items that Antolak has created for Roí include White Water Clams with Florida orange slices soaked in a Crème fraîche and Funky Buddha beer broth topped with chives (pictured right); Beef Tenderloin over a bed of duck fat potatoes and roasted cipollini onions, topped with chimichurri; and Scallops placed over vodka beet puree and corn puree, sandwiched between crisp glass chips and topped with gremolada.
When it opens, Hillsboro Beach Resort will be the only resort located on the exclusive Hillsboro Mile. The property boasts 99 guestrooms, studios and suites, an ocean view resort pool and an outdoor private event space overlooking the beach perfect for intimate weddings or parties. Additionally, the resort offers a variety of activities including paddle boarding, kayaking and beach yoga, and dock space for boats up to 40 feet.
To learn more about Hillsboro Beach Resort, visit https://www.hillsborobeachresort.com/ or call 954-312-2000. Follow the resort on Facebook, Twitter and Instagram at @HillsboroBeachResort.
About Hillsboro Beach Resort
Hillsboro Beach Resort is beautifully situated on an intimate peninsula known colloquially as "Millionaire's Mile" for the numerous oceanfront mansions and luxury yachts lining the town's street. The luxury resort boasts 99 well-appointed guestrooms, studios and suites. Amenities include internationally inspired cuisine at the resort restaurant Roí, a serene private beach, an oceanview resort pool, as well as private event space with unobstructed views of the beach. Perfect for outdoor enthusiasts, guests can enjoy a day of watersports from the resort's intracoastal mooring or head out on one of resort's beach cruiser bicycles to explore the surrounding areas. The resort is conveniently located less than 40 minutes from both Palm Beach International Airport and Fort Lauderdale-Hollywood International Airport, as well as just 20 minutes from Boca Raton Airport.
For high-resolution photos of Roí's signature menu items, please click here.
# # #
Media Contacts:
Hemsworth Communications
Kylie Rodriguez
954-716-7614 or [email protected]