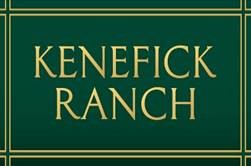 Family-Owned Calistoga Vineyard and Winery Continues
40-Year Anniversary Celebration Year with Expansion Announcement
 Napa Valley, CA – (Tuesday, April 28, 2020) – Kenefick Ranch today announced it has hired Osborn Siegert Architecture LLP (os-arch) to design a brand-new tasting room. In celebration of its 40th anniversary, the family-owned Calistoga vineyard and winery has partnered with the esteemed Santa Rosa-based group to launch the exciting expansion. Expected to open in 2022, the tasting room will give guests and visitors the opportunity to taste the Kenefick Ranch acclaimed portfolio of wines on-site for the first time.
"We've found the perfect partner in os-arch, and look forward to working with them on the highly anticipated expansion of our vineyard and winery, which is something we've dreamt about for many years," said Chris Kenefick, vice president of sales for Kenefick Ranch. "From their deep, specialized experience in winery design to their commitment to sustainability, os-arch's approach truly aligns with our vision for the new tasting room. We are excited to welcome visitors on-site to experience our beautiful vineyards firsthand, while tasting our distinctive wines."
Located in Santa Rosa, California, os-arch focuses primarily on winery and wine cave design, in addition to custom residential design, adaptive reuse projects and restaurant hospitality design. The architecture of os-arch is not bound by a signature style, but strives to create a unique expression in response to client needs, the natural opportunities of the site and their professional expertise. The firm implements sustainable principals throughout their practice, conserving resources and energy wherever possible.
Anticipating a 2022 debut, the tasting room will be open daily, where guests will learn about the history of Kenefick Ranch while exploring the family-owned winery's renowned collection of wines.
To learn more about the Kenefick Ranch award-winning portfolio of wines, visit KenefickRanch.com or tune in to the "Weekly Sip with Kenefick Ranch," a virtual wine tasting series taking place each Friday at 3 p.m. (PDT). Led by Chris Kenefick, the webinars are free to attend and participants can ask questions in real time. Sign up on the Kenefick Ranch Facebook page under the "Events" tab. For those interested in tasting the featured wines along with Chris, Kenefick Ranch is offering $1 shipping on purchases of three bottles or more now through May 10, 2020.
# # #
About Kenefick Ranch
Kenefick Ranch is a family-owned vineyard located in Calistoga, offering public tastings at Fairwinds Estate Winery on the Silverado Trail. The vineyard was founded when Dr. Tom Kenefick, a practicing neurosurgeon in San Francisco, first visited – and fell in love with – the Napa Valley. In 1980, he purchased a 250-acre ranch located in the region's northernmost American Viticultural Area (AVA) – Calistoga, where half the land is planted with grapevines. In 2002, Dr. Kenefick retired from neurosurgery and Kenefick Ranch began producing and selling its own portfolio of award-winning wines. Today, Kenefick Ranch sells its own label, and 90 percent of its grapes to such prestigious labels as Caymus Vineyards, Cade Estate Winery, Eisele Vineyard, and Nickel + Nickel, and winemakers Thomas Rivers Brown and Heidi Barrett. Kenefick Ranch boasts a dynamic wine club, giving oenophiles and novices alike access to an array of benefits including discounts, first notifications of limited releases, invitations to private events, complimentary tastings, vineyard tours, and incentive savings on shipments and anniversary gifts. For more information or to sign up, visit www.kenefickranch.com/Wine-Club. For more information on upcoming events and Kenefick Ranch wines, visit www.KenefickRanch.com.
Media Contacts (and for samples):
Hemsworth Communications
Lacey Outten
864-918-1089 or [email protected]