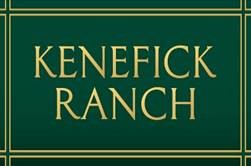 Family-Owned and Operated Winery Releases Highly Anticipated Vintage
NAPA VALLEY, Calif. – (August 5, 2022) – Kenefick Ranch, a family owned and operated vineyard and winery located at the top of Napa Valley and often referred to as the crown jewel of Calistoga, today announced the release of its 2019 Cabernet Sauvignon vintage. This phenomenal addition to the winery's award-winning portfolio showcases dark berry preserve notes supported by dusty, fine tannins. Available for $65, the 2019 Cabernet Sauvignon vintage pairs perfectly with both summer sunshine and fall foliage, and will be available in the Heart of Kenefick virtual tasting experience.
"We are excited to expand our portfolio further with the introduction of the highly anticipated 2019 Cabernet Sauvignon vintage," said Chris Kenefick, CEO and second-generation proprietor. "As families and friends come together to cherish long summer nights and brisk autumn beginnings, we are confident that our new vintage will surpass expectations and serve as the finishing touch for all fun-filled gatherings throughout the changing of seasons."
Aged for 18 months in French Oak barrels, the long-lived 2019 Cabernet Sauvignon highlights woven, toasty tannins that are supported by the aromatic profile of raspberry-flavored hard candies, underlined by notes of fine dark chocolate shavings and the deep fragrance of cigars. Its balanced tannin to oak ratio smooths out the palate, leaving a fresh and blissful berry flavor behind.
Whether drinking now or storing in the cellar for the next 10 to 15 years, this vintage will pair perfectly with hearty meats including, but not limited to, roasted lamb, beef short rib and steak. Those looking for lighter bites can enjoy accruements including aged cheddar, gruyere, gouda or vegetables, such as portobello mushrooms with the vintage for the ultimate flavorful experience.
Those interested in purchasing the wine can visit the Kenefick Ranch online shop at www.KenefickRanch.com/shop.
For more information on wines and upcoming events, visit www.KenefickRanch.com. Stay up-to-date on the latest news and see a schedule of virtual wine tastings by following Kenefick Ranch on Facebook and Instagram.
# # #
About Kenefick Ranch
Kenefick Ranch is a family-owned vineyard located in Calistoga, California. The vineyard was founded when Dr. Tom Kenefick, a practicing neurosurgeon in San Francisco, first visited – and fell in love with – the Napa Valley. In 1980, he purchased a 250-acre ranch located in the region's northernmost American Viticultural Area (AVA) – Calistoga, where half the land is planted with grapevines. In 2002, Dr. Kenefick retired from neurosurgery and Kenefick Ranch began producing and selling its own portfolio of award-winning wines. Today, Kenefick Ranch sells its own label, and 90 percent of its grapes to such prestigious labels as Caymus Vineyards, Cade Estate Winery, Eisele Vineyard, and Nickel + Nickel, and winemakers Thomas Rivers Brown and Heidi Barrett. Kenefick Ranch boasts a dynamic wine club, giving oenophiles and novices alike access to an array of benefits including discounts, first notifications of limited releases, invitations to private events, complimentary tastings, vineyard tours, and incentive savings on shipments and anniversary gifts. For more information or to sign up, visit www.KenefickRanch.com/Wine-Club.
Media Contacts (and for samples):
Hemsworth Communications
Lacey Outten / Shannon Coyne
864-918-1089 or [email protected]