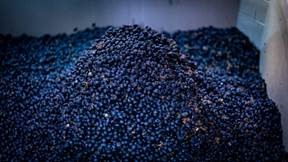 NAPA VALLEY, Calif. – (November 11, 2019) – As harvest season in wine country has come to a close, Kenefick Ranch Vineyards, a family owned and operated winery that produces well-crafted, estate wines in Napa Valley, has suggested three of its most exclusive cabernet wines. Just in time for cabernet season, these wines feature the rich flavors of artisanal winemaking with premier grapes that tell a story of vintage Napa Valley, old-fashioned hard work, and hand-crafted farming and winemaking.
"Our 2019 harvest marked another successful growing season for all our varietals," said Chris Kenefick, vice president of sales for Kenefick Ranch. "Cabernet season in the Napa Valley is the best time of the year to enjoy our most robust, complex cabernet wines, as they pair perfectly with comfort dishes, such as butternut squash soup and hearty pot roasts."
In celebration of cabernet season, Kenefick Ranch suggests the following three wines:
 2015 Kenefick Ranch Cabernet Franc, Caitlin's Select ($50)
A cabernet franc with deep, dark berry and cherry characters as well as a taste of currant. This is a full-bodied wine with chewy tannins and a long, flavorful finish.
2016 Kenefick Ranch Cabernet Sauvignon, Chris's Cuvee ($65)
Fine tobacco leaf, baker's chocolate, and a brooding dark fruit profile form in an intense nose. Racy acidity and balanced tannin-to-oak ratios support a jammy and refined fresh berry profile. 
2013 Kenefick's Doctor's Cuvée ($125)
A bold hue saturated by ruby purple, exhibits new saddle leather, crème de cassis, blackberry, truffle, charcoal and earth, followed by a full-bodied, super-concentrated, layered mouthfeel that lasts 45 to 50 seconds.
"We are so proud of these cabernet wines and believe they truly are indicative of the hard work from past harvests," said Kenefick. "The 2013 Kenefick Doctor's Cuvee, in particular, is very special – this is a massive cabernet sauvignon presenting velvety tannins. It should drink well for 25-30 years and is perfect to gift or enjoy during autumn and throughout the holiday season."
All three wines are available for purchase online at www.kenefickranch.com/Shop and can be purchased locally at select restaurants in Calistoga. In addition, Caitlin's Select and Chris's Cuvee are both available for tasting at Fairwinds Estate, located at 4550 Silverado Trail in Calistoga, California.
With the release of these new wines, Kenefick Ranch is also reintroducing its popular wine club, giving oenophiles and novices alike access to an array of benefits, including discounts, first notifications of limited releases, invitations to private events, complimentary tastings, vineyard tours, incentive savings on shipments and anniversary gifts. For more information or to sign up, please visit www.kenefickranch.com/Wine-Club.
For more information on upcoming Kenefick Ranch events, please visit www.KenefickRanch.com. 
# # #
About Kenefick Ranch
Kenefick Ranch is a family-owned winery located in Calistoga, offering public tastings at Fairwinds Estate Winery on the Silverado Trail. The winery was founded when Dr. Tom Kenefick, a practicing neurosurgeon in San Francisco, first visited – and fell in love with – the Napa Valley. In 1978, he purchased a 250-acre ranch located in the region's northern most American Viticultural Area (AVA) – Calistoga, where half the land is planted with grapevines. In 2002, Dr. Kenefick retired from neurosurgery and Kenefick Ranch began producing and selling its own portfolio of award-winning wines. Today, Kenefick Ranch sells its own label, and 90 percent of its grapes to such prestigious labels as Caymus Vineyards, Cade Estate Winery, Eisele Vineyard, and Nickel & Nickel, and to winemakers Thomas Rivers Brown and Heidi Barrett.
Media Contacts (and for samples):
Hemsworth Communications
Charlene Peters / Lacey Outten
954-716-7614 or [email protected]