Family-Owned Winery to be Featured Alongside Team of Michelin-Trained Chefs for
Virtual Wine & Dine Event; Limited Spaces Now Available Online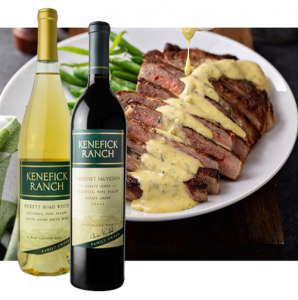 NAPA VALLEY, Calif. – (February 9, 2021) – Kenefick Ranch today announced it has teamed up with San Francisco-based Truffle Shuffle to host an incredible, unparalleled virtual culinary experience. Taking place at 4 p.m. PT on Saturday, March 13, the interactive dinner will be led by a team of Michelin-trained chefs who will teach viewers how to cook a restaurant-quality meal at home; Chris Kenefick, vice president of sales for Kenefick Ranch, will offer his insight on two featured wines he has expertly selected to pair with the dish.
"While we wish we could gather together for a meal in-person, we're excited to host this unique experience as a way to virtually connect with our fellow food and wine enthusiasts," Kenefick said. "We've really enjoyed interacting with our wine club members and other customers during the pandemic, with monthly wine tastings on Facebook. We are thrilled to now offer an elevated experience where guests can learn the coveted craft of cooking like a Michelin-trained chef – while enjoying the perfect accompanying wines, of course!"
Launched by a group of renowned food and wine industry professionals – including two French Laundry alums – Truffle Shuffle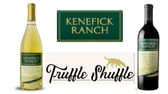 was created to source and provide the finest truffles available. During the pandemic, the brand has pivoted to become the country's leading live cooking experience, earning accolades from O Magazine, The Kelly Clarkson Show and The San Francisco Chronicle. For each virtual "cook along" event, its team equips viewers with the skills needed to master flavorful and elegant dishes like a true chef.
As the featured entrée of the night, Snake River Farms' steak with bearnaise sauce will be paired with Kenefick Ranch 2016 Picket Road White and 2017 Cabernet Sauvignon, Chris's Cuvee. One bottle of each wine will be included in the package, along with all the ingredients needed to make the entrée for two people.
Those interested in purchasing the Truffle Shuffle Package can visit the Kenefick Ranch online shop at www.KenefickRanch.com/Shop. The 90-minute virtual event will begin at 4 p.m. PT. The package price is $195, with a portion of each booking providing a meal to a family in need. 
# # #
About Kenefick Ranch
Kenefick Ranch is a family-owned vineyard located in Calistoga, CA. The vineyard was founded when Dr. Tom Kenefick, a practicing neurosurgeon in San Francisco, first visited – and fell in love with – the Napa Valley. In 1980, he purchased a 250-acre ranch located in the region's northernmost American Viticultural Area (AVA) – Calistoga, where half the land is planted with grapevines. In 2002, Dr. Kenefick retired from neurosurgery and Kenefick Ranch began producing and selling its own portfolio of award-winning wines. Today, Kenefick Ranch sells its own label, and 90 percent of its grapes to such prestigious labels as Caymus Vineyards, Cade Estate Winery, Eisele Vineyard, and Nickel + Nickel, and winemakers Thomas Rivers Brown and Heidi Barrett. Kenefick Ranch boasts a dynamic wine club, giving oenophiles and novices alike access to an array of benefits including discounts, first notifications of limited releases, invitations to private events, complimentary tastings, vineyard tours, and incentive savings on shipments and anniversary gifts. For more information or to sign up, visit www.KenefickRanch.com/Wine-Club. For more information on upcoming events and Kenefick Ranch wines, visit www.KenefickRanch.com.
About Truffle Shuffle
While working in the best Michelin Star restaurant kitchens, including The French Laundry, chefs Jason McKinney and Tyler Vorce loved incorporating truffles into their dishes. Sarah, who worked the front of the house at The French Laundry, shared the chefs' love of truffles. Together, they were in awe of how one dish, made with fresh truffles and a few simple ingredients, could create special, ever-lasting memories for diners. The chefs conceived and launched Truffle Shuffle as an honest truffle company to provide the finest truffle products and consciously sourced and traced fresh truffles. It is their mission to personally source the best-in-class truffles and create the finest truffle products in the world. They also serve and support the community by volunteering and donating a portion of their profits to 1% For The Planet, with the hope of solving the world's problems, one truffle at a time.
Media Contacts (and for samples):
Hemsworth Communications
Lacey Outten or Ines Lei
864-918-1089 or [email protected]