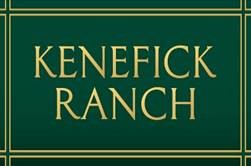 Wine Lovers Can Ring in Spring While Sipping on the Newest Addition to the Vineyard's Portfolio

NAPA VALLEY, Calif. – (May 9, 2022) – Family-owned and operated Kenefick Ranch today announced the debut of its highly anticipated vintage, the 2021 Sauvignon Blanc. As the newest vintage to the vineyard's prestigious portfolio, the 2021 vintage embodies an aromatic profile made up of sweet, floral flavors that are perfect for spring. Nuanced lychee and honeydew pop out of the glass, providing the palate with copious amounts of bright grapefruit and tangerine zest. Available for just $30 per bottle, this spectacular Sauvignon Blanc embodies the season of new beginnings and is complete with thoughtful nods to the award-winning winery's authentic craftsmanship.
"This vintage of our signature Sauvignon Blanc is very special to us, especially considering we lost the entire 2020 harvest to the California wildfires," said Chris Kenefick, vice president of sales for Kenefick Ranch. "The dry winter and warm growing season that took place during the 2021 harvest gave way to a light crop load, accelerating the ripening period and concentrating the flavors of the berries. We are excited for our customers to create memories with friends and family while sipping on this refreshing vintage during springtime celebrations."
Similar to its predecessor, the 2019 Sauvignon Blanc, this vintage was barrel-aged for seven months, giving it time to soak in subtle hints of oak that create the perfect balance between the tangy acidity. The 2021 Sauvignon Blanc evokes floral and fruit-forward tastes, including the tropical notes that are at the core of Kenefick Ranch's varietals.
With the 2021 vintage's versatile profile, the bottle is perfect to pair with a number of delectable dishes, such as pesto ravioli, shrimp piccata or a parmesan radicchio salad, making it the ultimate accompaniment for springtime menus and gatherings. Those interested in purchasing the wine can visit Kenefick Ranch's online shop at www.KenefickRanch.com/shop.
For more information on wines and upcoming events, visit www.KenefickRanch.com. Stay up-to-date on the latest news and see a schedule of virtual wine tastings by following Kenefick Ranch on Facebook and Instagram.
# # #
About Kenefick Ranch
Kenefick Ranch is a family-owned vineyard located in Calistoga, California. The vineyard was founded when Dr. Tom Kenefick, a practicing neurosurgeon in San Francisco, first visited – and fell in love with – the Napa Valley. In 1980, he purchased a 250-acre ranch located in the region's northernmost American Viticultural Area (AVA) – Calistoga, where half the land is planted with grapevines. In 2002, Dr. Kenefick retired from neurosurgery and Kenefick Ranch began producing and selling its own portfolio of award-winning wines. Today, Kenefick Ranch sells its own label, and 90 percent of its grapes to such prestigious labels as Caymus Vineyards, Cade Estate Winery, Eisele Vineyard, and Nickel + Nickel, and winemakers Thomas Rivers Brown and Heidi Barrett. Kenefick Ranch boasts a dynamic wine club, giving oenophiles and novices alike access to an array of benefits including discounts, first notifications of limited releases, invitations to private events, complimentary tastings, vineyard tours, and incentive savings on shipments and anniversary gifts. For more information or to sign up, visit www.KenefickRanch.com/Wine-Club.
Media Contacts (and for samples):
Hemsworth Communications
Lacey Outten / Shannon Coyne
864-918-1089 or [email protected]