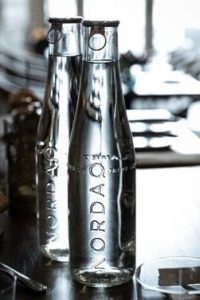 Swedish Water Solutions Company Cites Increasing Focus on Sustainability from Affluent Travelers as Reason for Aggressive Growth
Poway, CA – March 10, 2021 – Nordaq, the global premium water solution for the hospitality industry, is continuing its aggressive growth across the U.S., emerging as the partner of choice for ski resorts across the country, including The St. Regis Aspen Resort, Aspen Meadows, Montage Deer Valley (Park City, UT) and Limelight Hotels (Aspen, CO, and Ketchum, ID). Citing rising demand for sustainable products from affluent travelers as the primary factor driving their expansion, Nordaq is emerging as an efficient and eco-friendly way for resorts to provide high quality water to their guests, offering adaptable design methods and innovative technology.
"We've seen a recent surge in interest from slopeside lodges and hotels for a sustainable water solution that runs efficiently and produces a premium product to meet the needs of their guests," said Johanna Mattsson, CEO of Nordaq. "With our proprietary technology, we're equipped to provide properties of any size an innovative solution for premium filtered water. Beyond the customizable design and the superior taste of our water, our clients continue choosing Nordaq for our hands-on approach and personalized client service, helping drive enhanced guest satisfaction."
Nordaq's premium product is made possible through the company's innovative filtration system. A filter removes all impurities from tap water on-site, including chemicals, micro-plastics, and medical residues, while retaining the natural salts and minerals to provide the 'TrueTaste experience.' As a result, Nordaq has become known for its superior ability to enhance the flavors of food and wine.
To meet the needs of large, high-end properties requiring a greater quantity of purified water, Nordaq recently introduced its new Nordaq Refilling System, which can fill between 500 to 2,000 bottles per hour. The water is bottled in reusable glass or crystal bottles. By eliminating the need for shipping, Nordaq is a cost-effective option for partners who wish to serve a premium water product, while ultimately reducing the carbon footprint of both the partner and the brand itself, showcasing a commitment to sustainability that is imperative for many consumers today. The brand has, as a result, become the preferred choice in more than 100 hotels, restaurants and wineries in the U.S. and Mexico.
"We are proud to continue our partnership with Nordaq, which provides our guests a water offering that is convenient, eco-friendly, and refreshing. Their unique technology and delivery contribute to our guests' satisfaction and experience at The St. Regis Aspen Resort," said Ashley Lynch, Director of Operations at The St. Regis Aspen Report. "We are tucked at the base of majestic Aspen Mountain nearly 8,000 feet above sea level and with so many year-round outdoor experiences for all ages in our backyard, it is a priority that our guests stay hydrated. Nordaq's unique filtration system goes beyond bottled or tap water and is reflective of our exceptional quality standards here at The St. Regis Aspen Resort."
Based in Sweden, Nordaq is represented across the world in around a thousand restaurants, hotels and spas in more than 29 countries. To become a Nordaq partner, visit www.nordaq.com/contact/.
For more information on Nordaq, visit https://nordaq.com/. For the latest updates, follow the company on Facebook, Instagram and LinkedIn.
ABOUT NORDAQ:
Nordaq is a premium water brand used by many of the world's top chefs and sommeliers, thanks to its patented solution making water taste like water and everything else taste like it should. The water solution, engineered, developed and patented by Nordaq, is just not of highest quality but also environmentally friendly, with excellent costs and benefits, thanks to being purified and tapped in-house. Nordaq proves luxury and sustainability can go hand in hand, for a superior taste and a clean planet.
###
Media Contacts:
Hemsworth Communications
Lacey Outten
954-716-7614 or [email protected]
This message was sent to [email protected].
Hemsworth Communications
1510 SE 17th Street, Suite 200A
Fort Lauderdale, FL 33316