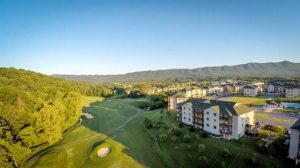 Premier All-Season Resort in Virginia Is Getting Ready for its Phased Reopening by Conducting Staff Trainings, Revamping its Activity Program, Deep Cleaning the Property and More 
McGaheysville, Va. – May 21, 2020 – Massanutten Resort, a premier all-season resort destination in the heart of Virginia's Shenandoah Valley, today announced its plans to reopen operations in phases starting June 12th. As part of the initial reopening phase, the resort will open at partial capacity, and amenity availability will be based upon current guidance/restrictions from the Virginia Department of Health and Governor's office. In preparation for its reopening, Massanutten Resort employees are preparing the property and undergoing extensive training on safety and operational protocols. 
"Our property is unique in both its size and variety of amenities, and we've taken the development of our new re-opening plans and protocols very seriously," said Matthias Smith, general manager at Massanutten Resort. "We take great pride in delivering remarkable experiences, and we are looking forward to welcoming guests once again to enjoy the mountain vistas and breathe in the fresh air." 
Upon opening, Massanutten's retail shops, day spa, golf courses and restaurants will be available for guests to enjoy, though there will be limitations to hours of operation and capacity, along with some operational changes. For guests that wish to dine at the restaurants, calling ahead to reserve their preferred dining time is recommended. In an effort to manage guest flow, reduce time spent on each transaction and reduce lines, the resort also recommends that all amenity tickets are pre-purchased, either online on the resort's website or over the phone. Queue lines will be properly marked for guests' convenience.  
Massanutten's mission statement is "to provide remarkable experiences in a safe and enjoyable environment" and the resort is committed to standing by this. The resort is working on a revamp of their activity program, which will abide by restrictions, while still providing a great vacation experience. A couple of the new programs currently in development are a weekly resort parade led by Massanutten's mascot Theo the Bear and a drive-up movie experience, utilizing the space available in the ski area. 
Rigorous cleaning and disinfecting procedures at the resort covers accommodations, public areas and office spaces. These procedures include frequent sanitization of high-contact points, such as elevator buttons, door handles, reception counters, chairs, windows and restrooms. Furthermore, guests are advised to follow all of their local and state guidelines and restrictions, e.g. stay-at-home orders or travel restrictions, that are active during their intended dates of stay at the Resort.
For more information and details about the resort's operations, visit www.massresort.com/recovery  or call 540-289-4908. Stay up-to-date on the latest news by following @MassResort on Instagram or follow Massanutten Resort on Facebook at www.facebook.com/massresort.
About Massanutten Resort
Set on 6,000 acres of sprawling land in the heart of Virginia's Shenandoah Valley, Massanutten Resort is a premier all-season resort destination that offers every traveler an unforgettable experience.  Outdoor enthusiasts and adventure buffs will enjoy Massanutten's Mountain Bike Park, offering exciting jump trails for beginners and veteran riders alike, and hiking Massanutten's Western Slope. For those seeking a relaxing escape, the resort Spa delivers a wide menu of services including manicures, pedicures, detoxifying massages, and more. The resort is a paradise for adventurous families, featuring an indoor/outdoor waterpark complete with a triple-jet FlowRider® Endless Wave, three escape rooms, the Family Adventure Park, and a petting zoo. Seasonal sports activities include two challenging 18-hole golf courses, skiing, ice skating, and snow tubing. Nothing works up an appetite like an active vacation and with 12 on-site dining options, showcasing variety from mouthwatering barbecue to campfire treats, Massanutten offers something for every taste, season and occasion. At Massanutten Resort, there is something for everyone, all within reach – located just two hours from Washington, D.C., and 50 minutes from the Charlottesville Albermarle Airport.
###
Media Contact:
Hemsworth Communications
678-631-9974 or [email protected]  
This message was sent to [email protected].
Hemsworth Communications
1510 SE 17th Street, Suite 200A
Fort Lauderdale, FL 33316