Finalized Merger Brings First American Bank to 58 Branches Across Florida, Illinois, and Wisconsin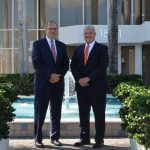 Brian Hagan, left, Florida Market President of First American Bank, is pictured with Guillermo Diaz-Rousselot,
former president of Continental National Bank and current Miami Market President of First American Bank.
Coral Gables, FL. – October 24, 2019 – First American Bank, a privately held, $4.5 billion, full-service bank, announced that Continental National Bank is now officially part of the First American Bank family. The acquisition of Miami's first Cuban American-owned community bank was recently finalized following regulatory approvals. This strategic partnership enhances the suite of products the $457 million Continental National Bank has offered to its customers throughout greater Miami-Dade for the past 40 years while also expanding First American Bank's presence in South Florida.
"We are proud to announce our new partnership with Continental National Bank as we continue to expand our footprint in the South Florida market," said Thomas E. Wells, CEO, and chairman of First American Bank. "The addition of the Continental National branches brings First American's branch count to 58 – strengthening our overall presence in South Florida. We are looking forward to welcoming our new customers and providing quality, tailored services that will help them meet their financial goals."
Founded by Carlos Dascal in 1974 just 14 years after fleeing Cuba, Continental National Bank is a family-owned financial institution that has served the Miami community for more than four decades with an array of financial and lending products and services. Since its first location in Miami's historic Little Havana neighborhood, the bank grew to five branches located throughout Miami-Dade.  Guillermo Diaz-Rousselot, former president of Continental National Bank, will continue in his leadership role –as Miami Market President for First American Bank.
"We are proud to be part of the First American Bank family and are confident our client base will benefit from this partnership, as we enhance the expertise and suite of products we offer," said Diaz-Rousselot. "We believe that the values of Continental National Bank directly align with those of First American and our clients can expect the same warm welcomes and personalized service when they visit any of our locations."  
Since entering the South Florida market in 2014 with the acquisition of The Bank of Coral Gables, First American Bank has flourished.  The bank recently opened a Tampa office to serve Wealth Management and commercial loan clients in that market as well.
For more information on First American Bank, please visit www.FirstAmBank.com.
ABOUT FIRST AMERICAN BANK
For more than 40 years, First American Bank has been focusing on building long-term relationships with customers through high-quality solutions and exceptional personalized service. With services ranging from personal products to commercial banking and wealth management, First American Bank is the largest privately held bank in Illinois with 58 locations in Illinois, Wisconsin, and Florida. First American Bank's size and management philosophy allow the bank to offer clients top-tier financial services tailor-made to support each customer's goals and potential for growth. First American Bank is a Member FDIC.
Media Contacts:
Adrianne Richardson or Andrea Alvarez
Hemsworth Communications
954-716-7614; [email protected]
###
This message was sent to [[email protected]].
Hemsworth Communications
1510 SE 17th Street, Suite 200A
Fort Lauderdale, FL 33316