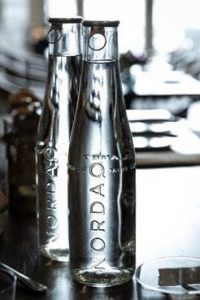 Swedish Company is Pairing of Choice for Many Napa Valley Restaurants & Tasting Rooms
Poway, CA – December 16, 2020 – Nordaq, the global premium water solution for the hospitality industry, has emerged as the pairing of choice for Napa Valley establishments – where taste reigns supreme. With the support and backing of several of the area's top chefs and winery owners, who have implemented the proprietary water system in recent years, Nordaq has quickly become a coveted offering, known for its superior ability to enhance the flavors of both food and wine.
"As one of the world's most celebrated wine regions, Napa Valley is known for providing epicurean experiences that leave guests returning for more each year,"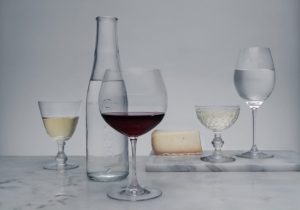 said Johanna Mattsson, CEO of Nordaq. "We're proud to share our enthusiasm for our product with local Michelin-starred chefs like Thomas Keller and Philip Tessier. Their backing is a true testimony to the many benefits of our water, from its fresh, clear taste to its unique, sustainable model."
Nordaq's premium product is made possible through the company's innovative filtration system. A filter removes all impurities from tap water on-site, including chemicals, micro-plastics, and medical residues, while retaining the natural salts and minerals to provide the 'TrueTaste experience.' The water is bottled in reusable glass or crystal bottles and in recent years, has popped up everywhere from small, intimate boutique tasting rooms to multi-unit restaurant and hospitality brands. By eliminating the need for shipping, Nordaq is a cost-effective option for its partners who wish to serve a premium water product, while ultimately reducing the carbon footprint of both the partner and the brand itself, showcasing a commitment to sustainability that is, today, imperative for many consumers.
California's world-renowned wineries and eateries are known for creating exceptional food and wine pairing experiences and many have chosen Nordaq, not just for its approach, but because the water enhances the entire food and wine tasting experience. Noteworthy partners in the area include the Napa Valley Reserve, Hamel Family Wines, Hanson of Sonoma Distillery, Faust Winery, French Laundry, Ad Hoc, and PRESS, to name a few.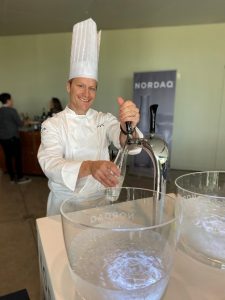 "I was first introduced to Nordaq at an event in Sweden in 2007 while I was working with Chef Thomas Keller, and was instantly impressed with the quality and flavor. Upon discovering it was dispensed from a tap system, I was truly intrigued, and we soon implemented at The French Laundry, Per Se and Bouchon Bistro," said Philip Tessier, Executive Chef of PRESS in St. Helena. "PRESS is a very wine-focused restaurant, and we put great care, distinction and precision in building our Napa Valley-only collection. The level of awareness and thoughtfulness that Nordaq brings naturally marries well with the attention we put into our wine program. As a longtime supporter, I believe in Nordaq's vision for providing premium filtered water and the global effect in doing so."
Based in Sweden, Nordaq is represented across the world in around a thousand restaurants, hotels and spas in more than 29 countries. To become a Nordaq partner, visit https://nordaq.com/distributors/.
For more information on Nordaq, visit https://nordaq.com/. For the latest updates, follow the company on Facebook and Instagram.
ABOUT NORDAQ:
Nordaq is a premium water brand used by many of th e world's top chefs and sommeliers, thanks to its patented solution making water taste like water and everything else taste like it should. The water solution, engineered, developed and patented by Nordaq, is just not of highest quality but also environmentally friendly, with excellent costs and benefits, thanks to being purified and tapped in-house. Nordaq proves luxury and sustainability can go hand in hand, for a superior taste and a clean planet.
###
Media Contacts:
Hemsworth Communications
Lacey Outten / Adrianne Richardson
954-716-7614 or [email protected]
This message was sent to [email protected].
Hemsworth Communications
1510 SE 17th Street, Suite 200A
Fort Lauderdale, FL 33316