Swedish Company Continues Aggressive U.S. Growth Trajectory, Partnering with Numerous Upscale Hospitality Brands; 25 Million Single-Use Bottles Eliminated Globally in 2020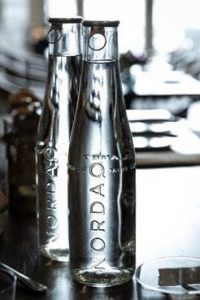 Poway, CA – February 10, 2021 – Nordaq, the hospitality industry's global premium water solution, recently announced its clients eliminated more than 25 million single-use plastic bottles in 2020 alone, thanks to its innovative filtration system. A pioneer in sustainable water solutions that has taken the global hospitality industry by storm since its launch in 2005, Nordaq has created a compelling balance of premium taste and sustainability.
"Although the industry is still evolving as a result of the challenges posed by 2020, my hope is that humankind will continue to respect the planet we live on," said Johanna Mattson, CEO of Nordaq. "Through Nordaq's advanced tapping system, we've increased the environmental benefits of our reusable bottles without compromising quality or elegance. As a company, we hold a level of responsibility and commitment to preserving our planet, and we are thrilled to help guide other institutions that share the same passion."
By allowing restaurants, hotels, and other hospitality establishments to filter their own tap water on-site, Nordaq has not only generated savings on the production of tons of plastic but also on the costs associated with transportation and, ultimately, waste management. In addition to Nordaq's sustainability model, the water has become known for its 'TrueTaste Sensation'. Left with only the natural salts and minerals, Nordaq's filtered water is renowned for enhancing the true flavor of fine food and wines.
To calculate the amount of single-use plastic bottles eliminated in 2020, Nordaq considered the total number of water filters that were sent to clients across the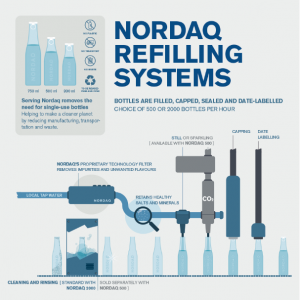 globe. These filters collectively produce more than 3 million gallons of Nordaq water. These calculations were also made with the assumption that 16.9-ounce bottles were used for serving. *In conclusion, 25.2 million single-use bottles were eliminated thanks to Nordaq's filtration system.
Nordaq's unique system and emphasis on sustainability have attracted many notable clients within the U.S. hospitality landscape, from luxury restaurants to wineries, boutique hotels, and ski resorts. Current clients include St. Regis Aspen, Aspen Meadows, Montage Deer Valley (Park City, UT), Limelight Hotels (Aspen, CO, and Ketchum, ID), Mandarin Oriental Miami, The Pearl Hotel (Rosemary Beach, FL), Thomas Keller Restaurant Group and others.
"As a 326-room luxury hotel committed to providing an eco-friendly five-star experience for our guests, we require a reliable water solutions partner who will help us resolve any challenges that come our way – and we've been fortunate to find the ideal partner in Nordaq," said Mauricio Miguelena, Hotel Manager of Mandarin Oriental Miami. "Since the start of our partnership in 2019, Nordaq has proven to be a trustworthy partner with premium products that our guests love. They've gone above and beyond to help us implement efficient and safe water solutions throughout our property, and we're grateful to have them on board."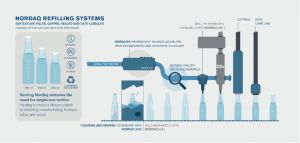 To meet the needs of large high-end properties requiring a larger quantity of purified water, Nordaq developed the Nordaq Refilling System, which can fill up to 2,000 bottles per hour with superior water. This innovative technology is currently installed at Sheraton Stockholm Hotel and Wynn Palace Macau.
Based in Sweden, Nordaq can be found in more than 29 countries today. To become a Nordaq partner, visit https://nordaq.com/contact/.
*These calculations are based on a total of Nordaq's filters sent out in 2020, used at full capacity. In their calculations, they have assumed that the customer used a 16.9-ounce (single-use) bottle before switching to Nordaq.
For more information on Nordaq, visit https://nordaq.com/. For the latest updates, follow the company on Facebook, Instagram and/or LinkedIn.
ABOUT NORDAQ:
Nordaq is a premium water brand used by many of the world's top chefs and sommeliers, thanks to its patented solution making water taste like water and everything else taste like it should. The water solution, engineered, developed, and patented by Nordaq, is just not of highest quality but also environmentally friendly, with excellent costs and benefits, thanks to being purified and tapped in-house. Nordaq proves luxury and sustainability can go hand in hand, for a superior taste and a clean planet.
###
Media Contacts:
Hemsworth Communications
Lacey Outten
954-716-7614 or [email protected]
This message was sent to [email protected].
Hemsworth Communications
1510 SE 17th Street, Suite 200A
Fort Lauderdale, FL 33316