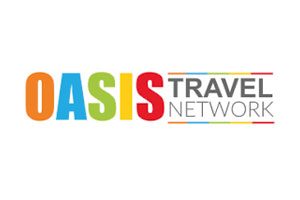 Award-Winning Host Agency Joined in Lake Las Vegas by Leading Industry Suppliers, Independent Contractors, for Three Days of Networking & Continuing Education
Ron Fenska, Vice President of Commercial at Uplift Inc., addresses travel advisors
and suppliers during a luncheon at OASIS Travel Network's Tenth Annual Conference
Boca Raton, FL (December 19, 2019) – OASIS Travel Network – an award-winning host travel agency and the independent contractor division of Smart Travel Group –  celebrated a decade of success during its tenth annual conference and retreat. With the theme 'Relax. Refresh. Reconnect', travel advisors and the industry's leading suppliers gathered December 5 – 7 at the luxurious Hilton Lake Las Vegas Resort and Spa in Nevada for educational sessions, networking opportunities, and to learn what's on the horizon for the host agency in 2020. The conference included Office Hours which allowed OTN members time for in-depth discussions with supplier partners.
"This year's conference allowed us to take a step back and reflect on all of our successes over the past decade with our supplier partners and travel advisors, as well as the fun chance to honor our top-producing advisors for their hard work this year," said Kelly Bergin, president of OASIS Travel Network. "This was our biggest and best to-date – setting the stage for an extraordinary 2020!"
During this year's conference, attending travel advisors had the opportunity to learn first-hand from some of the industry's most well-known suppliers about best practices for marketing products to their customers. The company also announced a few updates of their own, including a new business development program to help new to the industry advisors and recently new advisors jump start their travel business. In addition to seminars, OASIS Travel Network hosted raffles featuring free cruises and trips to Norway, Europe, the Caribbean, and more. Thanks to the dedicated efforts of the network advisors, $1,400 was raised during the span of the event benefiting the Tyler Robinson Foundation. The non-profit charity organization is dedicated to helping families both financially and emotionally as they cope with a pediatric cancer diagnosis.
The conference culminated with an awards ceremony honoring leading suppliers, agents, and Chairman's Club producers – a top goal for many independent agents within the host agency. Delta Vacations and NCL were named supplier partners of the year in the cruise and land categories, respectively. Rising Stars of the Year were awarded to Ed Tenuto and Shelly Riedemann. The new Above and Beyond award this year went to Richard Hickey and Emerald Waterways for delivering first-class customer service. The Chairman's Club top ten producers were announced.  As the top producers for 2019, this group will receive an invitation to cruise Croatia in May 2020 aboard a chartered yacht.
The eleventh annual OASIS Travel Network conference will be held November 2-5, 2020, at the new Le Meridien in Ft. Lauderdale.  It will be followed by an opportunity for those attending to sail the new Celebrity Cruises Apex Nov. 5-7th. For more information on OASIS Travel Network, please visit www.oasistravelnetwork.com.
About OASIS Travel Network:
OASIS Travel Network is the independent contractor division of Smart Travel Group, a full-service retail travel agency. The host agency encompasses ten full-time employees and 850+ independent contractors across the country who sell cruises, escorted tours, land packages, air, and more. A proud member of the Signature Travel Network, OASIS Travel Network has become a leading host agency in the United States. To provide agencies with a plan that works for their personal goal in the industry, OASIS Travel Network offers various choices for agencies to pick from, including a basic, elite, and platinum plan. New2Travel, the agency's program for "New Sellers of Travel" and recipient of a 2018 Travel Weekly Silver Magellan Award, is a hand-picked curriculum that the host agency created to prepare new independent travel professionals, which includes an in-person three-day boot camp training. OASIS Travel Network also offers its agencies various technologies and marketing solutions free or at very reasonable cost to help grow their business. For more information on OASIS Travel Network, visit www.oasistravelnetwork.com.
###
Media Contact:
Adrianne Richardson/Andrea Alvarez
Hemsworth Communications, 954.716.7614
This message was sent to [email protected]
Hemsworth Communications
1510 SE 17th Street, Suite 200A
Fort Lauderdale, FL 33316