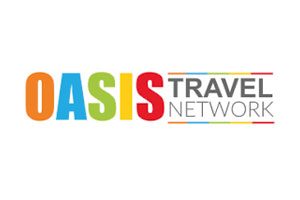 OASIS to Celebrate its 10 Year Anniversary of Hosting Top Travel Professionals
Boca Raton, FL (July 8, 2019) – OASIS Travel Network – the independent contractor division of Smart Travel Group – today announced its 10 Year Anniversary celebration by opening registration for its 10th Annual Conference and Retreat. This event will take place December 5 – 7, 2019, at the Hilton Lake Las Vegas Resort & Spa in Nevada. With the theme 'Relax, Refresh, and Reconnect,' this highly anticipated conference will allow agents to mix, mingle and network with each other while rubbing shoulders with key suppliers including AmaWaterways, Hurtigruten, Insight Vacations, Island Destinations, Norwegian Cruise Line, Silversea and Hawaii Visitors & Convention Bureau. The conference will also encourage attendees to give back by raffling tickets to Dining for A Cause – a supplier-hosted dinner that will support the Tyler Robinson Foundation.  
"We are proud of how our agents go the extra mile to exceed client expectations all year long, so it's exciting to roll out the red carpet for them, and their guests, with a variety of informational sessions, parties, and giveaways – including a free yacht cruise in beautiful Lake Las Vegas to the first 100 members who register," said Kelly Bergin, president of OASIS Travel Network. "This has been a successful year across the board for OTN, and we appreciate the partnership we have with our members and suppliers; we can't wait to celebrate an amazing ten years of partnering with hundreds of independent travel professionals!"  
The conference will kick off with a welcome dinner sponsored by Norwegian Cruise Line and a Re- "Treat" Party featuring hot toddies and satisfying sweet treats. During the conference, guests will attend supplier lightning rounds, learn how to increase sales through a presentation by Uplift (a leading travel financing service), attend breakout sessions with OTN preferred suppliers, as well as have the chance to win prizes and seats at this year's Dining for A Cause Dinner.
OASIS Travel Network will also honor this year's top-producing agents with awards and the annual Chairman's Club Top Producer Dinner. Following the conference in May of 2020, the award-winning members will set sail on a cruise aboard the Atlas-Ambassador yacht Bella to Croatia.
"I am so grateful to OASIS Travel Network for their dedication to us, as members, and for taking the time to honor the Chairman's Club top producers during this year's annual conference," said Sandy Wolf, a top OTN Chairman's Club member. "I can truly say that we are a family, and I look forward to another incredible year ahead!" 
For more information on OASIS Travel Network, including details on how to join just in time for the conference, agents can visit www.oasistravelnetwork.com. For information on the Tyler Robinson Foundation or to donate, visit https://www.trf.org/.
About OASIS Travel Network:
OASIS Travel Network is the independent contractor division of Smart Travel Group, a full-service retail travel agency. The host agency encompasses ten full-time employees and 850+ independent contractors across the country who sell cruises, escorted tours, land packages, air, and more. A proud member of the Signature Travel Network, OASIS Travel Network has become a leading host agency in the United States. To provide agencies with a plan that works for their personal goal in the industry, OASIS Travel Network offers various choices for agencies to pick from including a basic, elite, and platinum plan. New2Travel, the agency's program for "New Sellers of Travel" and recipient of a 2018 Travel Weekly Silver Magellan Award, is a hand-picked curriculum that the host agency created to prepare new independent travel professionals, which includes an in-person three-day boot camp training. OASIS Travel Network also offers its agencies various technologies and marketing solutions free or at very reasonable cost to help grow their business. For more information on OASIS Travel Network, visit www.oasistravelnetwork.com.
###
Media Contact:
Adrianne Richardson or Shannon McKenney
Hemsworth Communications, 954.716.7614
This message was sent to [email protected]
Hemsworth Communications
1510 SE 17th Street, Suite 200A
Fort Lauderdale, FL 33316