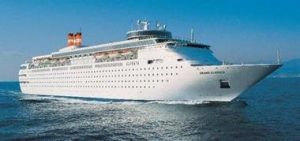 Travelers Can Create Lasting Memories with Exclusive Nine-Night Western Caribbean,
Costa Rica and Panama Canal Sailing; Pricing Starts at Just $499 Per Person
 DEERFIELD BEACH, Fla. – June 20, 2019 – Bahamas Paradise Cruise Line today announced an exclusive, one-time-only Western Caribbean and Panama Canal cruise which sets sail August 17, giving travelers a fresh new way to experience several bucket-list destinations.  Departing from the Port of Palm Beach, the nine-night itinerary includes stops at some of summer's hottest destinations, including Key West, Grand Cayman, and Puntarenas, Costa Rica, along with a scenic transit through the Panama Canal. Pricing starts at just $499 per person, with third and fourth guests sailing for just $149 each.  Those who book by June 30th will receive a $100 onboard credit, $100 casino match play and one free dining upgrade. *
 "This innovative one-way cruise is a once-in-a-lifetime experience at an unprecedented value," said Oneil Khosa, chief executive officer of Bahamas Paradise Cruise Line. "We've created an itinerary that connects travelers with the unique culture, beauty and diversity of truly postcard-worthy destinations.  Our dedicated team has worked diligently to tailor the onboard experience to this very special sailing, ensuring it will be an unforgettable adventure. We look forward to introducing more unique offerings like this in the future, as we revitalize our product offerings and services."
Guests taking part in this memorable cruise can kick back and relax, enjoying comfy daybeds, tropical cocktails, live Caribbean music and sweeping ocean views from the spacious Sun Deck. From sunrise to sunset, guests will discover exciting entertainment options and signature amenities to enjoy at every moment onboard Grand Classica. From a smoke-free casino and full-service spa to delicious, globally inspired dining options and plenty of poolside activities, the options are limitless and the experience completely customizable.
This particular sailing will feature never-before-seen offerings, and an array of exciting shore excursions providing fun, immersive adventures in each destination, including:
 PORT OF PALM BEACH, FL: Travelers set sail aboard Grand Classica from the Port of Palm Beach. 

KEY WEST, FL

: The adventure begins with a first stop at the southernmost point of the continental U.S., where guests will

find strollable streets, lively local restaurants and bars, colorful characters, the famous Ernest Hemingway Home and Museum, and more.

GRAND CAYMAN

: This awe-inspiring destination features some of the world's most beautiful beaches.

Guests can choose from a collection of guided tours to experience the full grandeur of this tropical oasis, such as swimming with stingrays at Stingray City; snorkeling in the pristine waters of Coral Gardens; and meeting baby turtles at a local turtle farm.
PANAMA CANAL

: The high point of the journey is a full-day transit through the iconic Panama Canal.

COSTA RICA

: The exhilarating escape ends with an overnight stay onboard the ship in Puntarenas, Costa

Exotic excursions here will include

a

breathtaking rainforest nature walk and hanging bridge tour; rainforest journey to see crocodiles, aquatic birds, scarlet macaws, howler

monkeys and other tropical wildlife; horseback riding; and an ATV adventure, exploring jungle trails, teak plantations and rivers.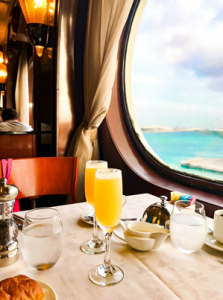 The 1,680-guest Grand Classica features a sprawling sun deck with two swimming pools, al fresco dining with stellar sunset views; a full-service spa; complimentary interactive kids' programs; and a variety of entertainment options including nightly theater performances, live bands and more; and the popular Par-a-Dice Casino, with 13 favorite table games, and spin-to-win slot machines. In addition to two main dining rooms, the ship features seven standard and specialty dining venues – all of which exemplify the line's comfortable luxury appeal – including The Rock Grill, an interactive experience where guests can cook their own meats and veggies on a lava rock; Admiral's Steak & Seafood, an intimate steakhouse; and a pizzeria.
This one-time voyage complements the popular year-round two-night sailings Bahamas Paradise Cruise Line offers from the Port of Palm Beach to Grand Bahama Island, departing daily onboard Grand Classica and Grand Celebration. The company also offers a unique Cruise & Stay program, which lets guests extend their trip with their choice of four beach resort accommodation options.
For more information on Bahamas Paradise Cruise Line or to book a cruise, please visit: www.BahamasParadiseCruise.com or call 888-530-2775 (English) / 888-530-2776 (Español).
*Cruise fares are per person, based on double occupancy and do not include gratuities, taxes and fees.
ABOUT BAHAMAS PARADISE CRUISE LINE
Bahamas Paradise Cruise Line, the ultimate Bahamas getaway, is the only provider of two-night cruises to Grand Bahama Island and the originator of the unique Cruise & Stay program, letting travelers extend their Bahamas adventure with a stay at one of four distinctive beach resorts.  Setting sail daily from the Port of Palm Beach, Bahamas Cruise Line operates two ships, Grand Celebration and Grand Classica, doubling its capacity to more than 500,000 passengers annually. The company is majority-owned by the family of former Norwegian Cruise Line President and CEO Kevin Sheehan and is today the largest contributor to tourism in Grand Bahama Island. For more information on the features and amenities of the cruise line or to book a cruise, visit the company's website: www.BahamasParadiseCruise.com or call: 800-995-3201. Follow the company on Facebook, Twitter and Instagram.
###
This message was sent to [email protected]
Hemsworth Communications
1510 SE 17th Street, Suite 200A
Fort Lauderdale, FL 33316
Media Contact:         
Hemsworth Communications
Adrianne Richardson/Jamie Shalek
(954) 716-7614 or [email protected]