Growing South Florida-Based Management Company Selects Award-Winning Global Firm to Drive PR for Five Lifestyle Hotels & Resorts
FORT LAUDERDALE, Fla. – (September 14, 2021) – Hemsworth Communications, a top-ranked, award-winning public relations and social media agency, today announced it has added Performance Hospitality Management to its Travel and Tourism client roster. Effective immediately, the firm is responsible for driving PR efforts for the company's portfolio of properties, which includes the Sheraton Tampa Riverwalk Hotel, Holiday Inn & Suites Across from Universal Orlando™ and lifestyle hotel brand B Hotels & Resorts' three locations – B Ocean Resort, B Resort & Spa and Banana Bay Resort & Marina.
"We are excited to have the opportunity to work with Performance Hospitality Management, especially given our work launching the B Hotels & Resorts brand several years ago, which they manage," said Samantha Jacobs, founder and president of Hemsworth Communications. "Performance Hospitality Management is a strategically focused, out-of-the-box leader that provides innovative offerings to hotels and resorts of all shapes and sizes – a partner we are thrilled to work alongside!"
Headquartered in Fort Lauderdale, Performance Hospitality Management manages a variety of branded and independent hotels in major U.S. markets. The company's services include hotel operations, revenue management, sales and marketing, human resources and brand relations, among other things. As part of Hemsworth's scope, the firm will drive regional and national media relations campaigns for the following properties: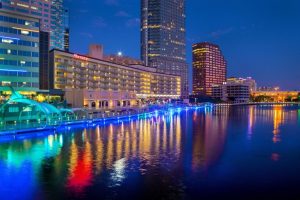 Sheraton Tampa Riverwalk Hotel
Located directly on the Tampa Riverwalk, Sheraton Tampa Riverwalk Hotel offers unbeatable waterfront views overlooking the Hillsborough River. Guests have direct access to the city's popular 2.6-mile multi-use path that connects to a variety of museums, shops, restaurants and parks. The 277-room hotel invites guests to kick back and relax with spacious guestrooms, an outdoor pool and on-site dining at the River's Edge Restaurant and Bar with locally inspired options.
Holiday Inn & Suites Across from Universal Orlando™  
As an official Universal Partner Hotel, Holiday Inn & Suites Across from Universal Orlando™ is at the heart of entertainment in Central Florida and offers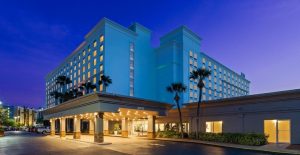 accommodations for the perfect mix of business and pleasure. Located directly across the street from Universal Orlando Resort™, excitement for a fun-filled family vacation is just steps out the door. In addition, the hotel's newly renovated lobby, guestrooms and meeting spaces provide a great opportunity for locals and guests to make themselves at home in an inviting and modern atmosphere.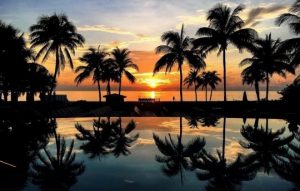 B Ocean Resort, Fort Lauderdale
Originally built in 1956 as the Yankee Clipper, named after its ship-like structure, B Ocean Resort in Fort Lauderdale is a modern oceanfront destination, complete with thoughtful nods to its historic past. As one of the few beachfront hotels in the city, guests find themselves in the heart of it all with breathtaking views of the Atlantic Ocean, Intracoastal Waterway and downtown Fort Lauderdale skyline. In addition to offering a private beach and two infinity edge pools, the resort is one of the few places in the world where travelers can experience the beauty of live mermaid shows from a porthole pool lounge at the historic Wreck Bar.
B Resort & Spa Disney Springs Resort Area
As an Official Walt Disney World Resort® Hotel, B Resort & Spa features a unique blend of modern amenities and chic sophistication, with playful designs that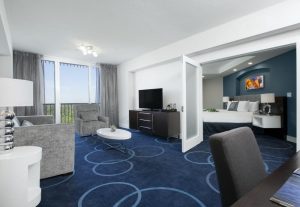 nod to Walt Disney's original partner. The resort is the perfect place for guests to recharge in style after reveling in the excitement of Orlando's famous theme parks.  While at the resort, guests can easily unwind with amenities like on-site dining, a large zero-entry pool with interactive water features, jacuzzi, Kids Zone with games, 24-hour B Active® fitness center and more.
Banana Bay Resort & Marina, Marathon (Florida Keys)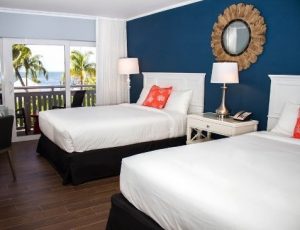 Travelers seeking an intimate and authentic experience in the Florida Keys can look no further than Banana Bay Resort & Marina, situated in Marathon. Guests experience the best of Marathon's crystal-clear shores through the resort's nearby leisure and water activities, such as paddle boarding, kayaking, diving and snorkeling trips, sunset cruises and more. Guests can also enjoy soaking up the Florida sun at the resort's The Pointe Tiki Bar, lounging by the on-site freshwater pool, or riding around the property on a complimentary bike rental. For those traveling by boat, the resort provides 34 transient slips for daily, weekly and monthly rentals.
"As travelers begin to venture out for what may very well be their first vacation in over a year and a half due to the COVID-19 pandemic, the media are hungry for ways to provide them new content and experiences," said Jacobs.  "We look forward to working with our friends across the hospitality and tourism media landscape to spotlight everything these properties have to offer and to help elevate visibility for Performance Hospitality Management's offerings, as well." 
For more information, visit HemsworthCommunications.com. Stay up-to-date on the latest Hemsworth news by following @HemsworthPR on Instagram or by liking the agency on Facebook at facebook.com/HemsworthCommunications. 
About Hemsworth Communications
A dynamic, full-service agency, Hemsworth Communications is one of the fastest-growing, top-ranked agencies in the United States according to O'Dwyer's PR Report and is one of PR News' Top Places to Work, recognized for its unique, forward-thinking company culture. With three distinctive divisions – Travel/Tourism, Food/Wine/Spirits, and Franchising/Business Services – Hemsworth represents fresh, up-and-coming businesses as well as leading, renowned global brands.  Services include brand communications strategy, media relations, promotions, guerrilla marketing, social media, thought leadership and event planning.  Unlike traditional PR agencies, Hemsworth is dedicated to crafting customized communications programs that are infused with personal, passionate client service and positively contribute to each client's bottom line. Recently, Hemsworth extended its innovative 'COVID-19 Public Relations Stimulus Program' through Q2 2022, designed to provide quality global PR resources to businesses within the agency's core sectors of focus.
###
Media Contact:
Hemsworth Communications
954-716-7614 or [email protected]