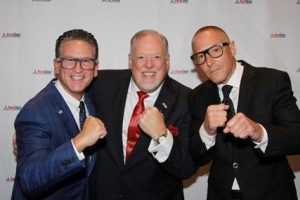 (Left to Right: Mark W. Davis, CEO and Chairman of PuroClean; Steve White, COO and President of PuroClean; and Frank Torre Jr., Vice Chairman of PuroClean)
Executive Leaders Focused on Transforming Restoration and Remediation Franchise into a World-Class Brand; Franchise Experiences 113% Systemwide Sales Growth Since Initial Acquisition in 2015

Tamarac, Fla. (November 10, 2020) – PuroClean, a leading international restoration and remediation franchise, announced the five-year anniversary of the company's acquisition by Mark W. Davis and Frank Torre Jr. To commemorate the milestone, the brand is taking a look back at the strategic transformation, including surpassing more than 325 franchise locations. Since buying the franchise system five years ago, Davis and Torre have driven franchise growth, enhanced company culture, greatly expanded national accounts, improved operational support, and launched a robust online education academy.  As a result, the company has earned top industry awards and has become the nation's top-performing, fastest-growing restoration and remediation franchise. 
"Since Frank and I joined the PuroClean family five years ago, we believed that focusing our resources on building a world-class brand while making every decision in the best interest of our franchise owners would be a formula for success. We have been humbled by the incredible growth and results of the PuroClean brand over the past five years," said Davis. "This year, as we acknowledge the accomplishments we've achieved together, we have set new goals, looking ahead into the next five years on our quest to build PuroClean into a World-Class brand." 
As established leaders in the restoration industry, Davis and Torre acquired PuroClean in September 2015 and launched an aggressive brand overhaul to improve company culture, drive franchise growth, and expand the franchise's footprint. Under their leadership, the company has grown its franchise distribution network by more than 100 locations, now accounting for 325 franchise locations in North America. Over the last five years, the brand's systemwide sales have increased by 113%, and the average sales per franchise unit jumped by 50% – all attributed to PuroClean's devoted community of franchise owners performing thousands of jobs annually. 
"As we build on this hard-earned success, I am honored to continue to help lead a company with a mission to providing relentless customer service and excellent franchise support that benefits the brand at large. And I look forward to watching us reach new heights as we drive towards reaching 500 locations in the United States and Canada," said White. 
Since Mark and Frank bought PuroClean, they have expanded national accounts by an incredible 876%, which now includes serving three out of the top five insurance carriers in the United States. As the brand grows, education and training remain a top priority to the network. The PuroClean Academy and Flood House, one of only 24 in the world, has provided IICRC certifications to more than 1,200 PuroClean associates and insurance professionals since it was established in 2011. The PuroClean Online Academy, part of the duo's initial vision, has issued more than 7,600 online certificates in just over four years. 
PuroClean has earned many accolades for its innovations, including recognition from Entrepreneur Magazine's Franchise 500, Franchise Times Top 200+, Franchise Business Review's Top 50 Franchise for Franchisee Satisfaction, and over the last two years – four International Business Awards and one American Business Award. Each year, PuroClean performs thousands of jobs throughout the United States and Canada, providing restoration services from common to large-scale disasters. 
Click here to view a special message on YouTube from the PuroClean network regarding the five-year anniversary. For more information on PuroClean, contact 800-775-7876 or visit www.PuroClean.com. 
About PuroClean
Known as the "Paramedics of Property Damage®," PuroClean provides water damage remediation, emergency services, fire and smoke damage remediation, mold removal, and biohazard cleanup to commercial and residential customers. Founded in 2001, PuroClean has a comprehensive network of more than 325 franchise offices across North America. PuroClean technicians are thoroughly screened, insured, and trained in utilizing the latest in mitigation technology and procedures while operating under a strict code of ethics. Each PuroClean office is independently owned and operated. For more information about PuroClean, contact 800-775-7876 or visit www.PuroClean.com; for franchise information, visit www.PuroCleanFranchise.com.
###
Media Contacts:
Hemsworth Communications
Rachel Tabacnic/ Paige Alonso
954-716-7614 or [email protected]
This message was sent to [email protected].
Hemsworth Communications
1510 SE 17th Street, Suite 200A
Fort Lauderdale, FL 33316