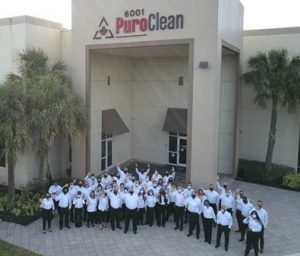 National Restoration Franchise Signed 49 New Franchise Agreements, Grew by More Than 14% in 2020;
Brand on Track to Exceed 60+ Franchise Agreements in 2021 
TAMARAC, Fla. (May 17, 2021) – PuroClean, a leading national restoration and remediation franchise, today announced key metrics sharing its outstanding success in 2020 and the strongest Q1 yet, shattering previous records and underscoring the strength of the recession and pandemic-resistant brand. In 2020, the PuroClean national network grew by more than 14%, the company signed 49 new franchise agreements and in the first quarter of 2021, the brand has already brought an additional 23 new franchise owners onboard.
"We are incredibly fortunate to have such dedicated individuals at the PuroClean Home Office, who work tirelessly to help budding entrepreneurs achieve their dream of opening a business that enables them to work as a servant leader within their local community," PuroClean President and COO Steve White said. "Last year was a difficult one for us all, but the onset of COVID-19 (coronavirus) uncovered a true need for a brand that offers a unique approach to both product and service within the restoration and remediation industry.

"We are grateful that PuroClean was able to move swiftly into action despite the pandemic, leveraging our expertise to help our franchise owners make an incredible impact on home and business owners in the communities they serve.  We are proud of what we accomplished in 2020 as we continue to focus on our philosophy of servant leadership, extreme ownership, and active collaboration, and in doing so, based on what we are seeing so far, 2021 is going to be another banner year for our business."
Network Expansion in 2020
In 2020, PuroClean expanded its national network of strategic partners by 32%, signed 17 new commercial accounts and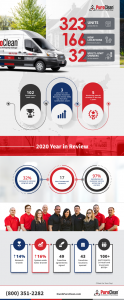 received a 97% satisfaction score for customer service reviews across the top three insurance carriers in the nation. While many franchise brands struggled throughout the pandemic, the PuroClean Home Team hustled to keep up with the demand of a growing franchise service brand at a critical time for the restoration and remediation industry. Using grit and dedication to provide relentless customer service, the network experienced a 14% network growth and 16% system-wide sales increase.
The national restoration and remediation service brand also signed 49 new franchise agreements in 2020, and opened 43 locations nationwide, which now includes 33 multi-unit franchises. Seeing rapid growth, more than 100 diverse entrepreneurs attended PuroClean "Meet the Team Day" events throughout the year, which pivoted to a virtual format for the first time ever, offering an online meet and greet complete with an informative Q&A session.
Taking 2021 by Storm
Dominating the first quarter of 2021, PuroClean has already secured 23 new franchise agreements, well on its way to a goal of 60 by end-of-year.  In conjunction with the new signings, 17 locations (including 6 expansions of existing owners) have officially opened thus far in 2021, wrapping up the quarter with a total of 350 locations nationwide.
So far in 2021, PuroClean has also landed four new commercial accounts, adding to over a dozen commercial partners through its efforts within business development.
PuroClean has also secured many accolades throughout 2020 and thus far in 2021, including the Entrepreneur "Franchise 500" list – ranking No. 102, rising more than 150 spots in the last three years – as well as the Entrepreneur "Top Franchises Under $100k" and "Fastest-Growing Franchises." The brand also secured, for the third year in a row in 2020, the Franchise Business Review "Top Franchise Satisfaction" award, as well as numerous marketing awards, like its bronze Stevie from the Business Technology – Collaboration/Social Networking Solutions category for its New Franchise Dictionary Search Tool, as part of the 19th annual American Business Awards.
# # #
About PuroClean
Known as the "Paramedics of Property Damage®," PuroClean provides water damage remediation, emergency services, fire and smoke damage remediation, mold removal, and biohazard cleanup to commercial and residential customers. Founded in 2001, PuroClean has a comprehensive network of more than 350 franchise offices across North America. PuroClean technicians are thoroughly screened, insured, and trained in utilizing the latest in mitigation technology and procedures while operating under a strict code of ethics. Each PuroClean office is independently owned and operated. For more information about PuroClean, contact 800-775-7876 or visit www.PuroClean.com; for franchise information, visit www.PuroCleanFranchise.com.
Media Contact:
Hemsworth Communications
Paige Alonso / Jennifer Gordillo
954-716-7614 or [email protected]