Innovative Urban Winery Franchise Gathered Winery Owners, Vendors and Team Members  for Three Days of Workshops, Networking and Wine Tasting in Paso Robles Last Month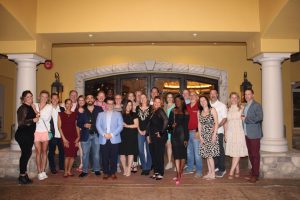 RANCHO CUCAMONGA, CA – (April 4, 2022) – Waters Edge Wineries®, an innovative urban winery system bringing the cultural experience of wine to communities across the country, held its annual owner's conference last month at La Bellasera Hotel & Suites in Paso Robles, California. With owners of the brand's urban winery locations in attendance, the conference featured a series of educational and informational sessions, including a keynote speaker on leadership, vendor seminars, networking cocktail receptions, an awards gala and more.
"This year's conference was a fulfilling experience as our corporate team, winery owners and valued partners were able to connect with each other, celebrating the outstanding growth and success we've seen this past year, while building lasting relationships and strategizing about the exciting future ahead," said Ken Lineberger, president and CEO of Waters Edge Wineries. "I am so grateful for the support of our owners over the years and their continued effort and creativity to make the brand and the locations successful.  I am also appreciative of our sponsors who helped make this conference happen."
The three-day event began on Sunday, March 20 with a cocktail networking reception featuring a selection of new and existing wines from the brand. Monday's itinerary began with a keynote address from nationally acclaimed speaker, Bruce Tulgan, who shared successful leadership strategies and tactics. The day continued with several informative sessions from the company's partners. Tuesday began with a marketing presentation from the brand's PR and social media agency, Hemsworth Communications, followed by a field trip to Paso Robles wine country. The group visited Le Vigne Winery and Still Waters Vineyards and Tasting Room where they enjoyed private tastings and tours of the vineyards.
The conference concluded with an awards gala and dinner honoring both long-time and new franchise owners in seven categories:
Operator of the Year: Michelle Dean, Waters Edge Winery & Bistro of Broken Arrow, OK, acknowledged for creating consistent growth in their 5 key areas (wine club, private events, glasses sold, bottles sold and wine labeling) as well as consistent positive reviews
Innovation Award: Nikki & Trevor Gillig, Gillig Winery, acknowledged for creating an exceptional guest experience; excellent training with new hires and staff
Most Wine Glasses Sold: Michelle Dean, Waters Edge Winery & Bistro of Broken Arrow, OK, with 24,572 glasses sold in 2021
Highest Ticket Average: Candice Elliott, Waters Edge Winery & Bistro of Richmond, TX, with an average ticket price of $67.28
Most Wine Bottles Sold: Michelle Dean, Waters Edge Winery & Bistro of Broken Arrow, OK, with 23,495 bottles sold in 2021
Noble Cause Award: Angela Zuba, Waters Edge Winery & Bistro of Kalispell, MT, acknowledged for playing a meaningful role in giving back to her local community
Innovation Award: Collin Mitzenmacher, Waters Edge Winey & Bistro of Long Beach, CA, acknowledged for creating and implementing innovative efforts with virtual tastings and offerings
Highest Year Over Year Growth: Szilvia Konya, Sable Gate Winery, with a 95.4% growth increase
"It was a privilege to be together again in person, celebrating our owners' successes from 2021 as we look towards continued growth this year," continued Ken. "By the end of 2022, we hope to have 30 locations nationwide, ensuring we are growing at a sustainable pace and building the infrastructure to continue supporting the system."
A unique, emerging franchise concept, the Waters Edge Winery & Bistro model is ideal for entrepreneurs passionate about wine who seek a way to share their love and knowledge without being in the agriculture business. Each location combines the traditional winery experience with the popular wine bar concept offering bistro-style artisanal selections including appetizers, flatbreads, sandwiches, salads and desserts, custom bottle labeling as personalized gifts, private tasting areas for groups, a wine club and more. Franchise owners receive comprehensive training on the micro-winery tank system and are provided with pre-opening training courses, both hands-on and classroom based, to help prepare for the launch of their winery. The company also offers extensive marketing support to help franchise owners realize success.
High-resolution photos of the 2022 Franchise Owner's Conference can be found HERE.
For more information on Waters Edge Wineries or for franchising information, contact 909-GOT-WINE, visit WatersEdgeWineries.com or email [email protected]. 
About Waters Edge Wineries®
California-based Waters Edge Wineries is an innovative urban winery system bringing the cultural experience of wine to communities across the country. Each Waters Edge Winery & Bistro location combines the very best of a winery and wine bar in one versatile model that can be located anywhere, regardless of topography or agricultural factors. Founded in 2004 by husband-and-wife team Ken and Angela Lineberger, Waters Edge Wineries currently operates 15 Waters Edge Winery & Bistro locations in California, Illinois, Kentucky, Montana, Ohio, Oklahoma, Texas and Virginia. The company caters to entrepreneurs who are seeking a fun, exciting career where they can share their passion for wine while creating memorable guest experiences.
###
Media Contacts:
Hemsworth Communications
Lacey Outten/Kylie Rodriguez
954-716-7614 or [email protected]