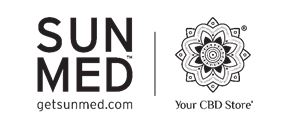 Nation's largest CBD retail franchisor gathered more than 200 store owners,
partners and team members for two days of workshops, networking and more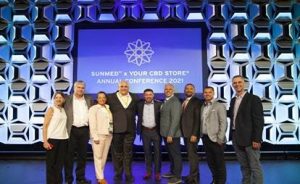 PALMETTO, Fla. – (October 28, 2021) – Your CBD Store® | SUNMED™, the largest CBD retailer in the United States and a disruptor in the hemp and CBD industry, held its annual conference last month at the luxurious Gaylord Palms Resort and Hotel in Orlando, Florida. With more than 200 owners in attendance representing hundreds of Your CBD Store® locations across the country, the conference featured a series of continuing education sessions, an overview of Sunflora® research-backed studies in collaboration with academics at leading research universities, a partner expo, networking cocktail receptions, a keynote speaker and others.  During the conference, SUNMED™ also officially unveiled its revolutionary new product line, TRIM by SUNMED™, the first ever THCV product for weight loss.
"We've achieved unprecedented growth throughout the past two years – even amid the COVID-19 (coronavirus) pandemic – and have been working tirelessly to drive innovation including putting new strategic pieces in place and developing some remarkable research-based product initiatives," CEO and Co-Founder Marcus Quinn said. "It was incredibly exciting to spend quality time, in person, with store owners and partners from across the country, and I believe I speak for everyone on our team when I say the conference was inspiring and motivating in so many ways."
The conference began Friday, October 1, with Your CBD Store® Co-Founder Rachael Quinn welcoming attendees and sharing her powerful story surrounding her journey battling Crohn's Disease. Rachael Quinn spoke about how CBD helped improve her quality of life, leading up to the opening of the first Your CBD Store® location in Bradenton, Florida.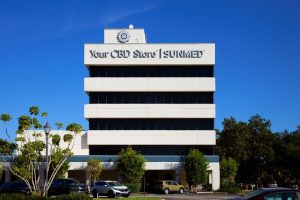 Following Rachael Quinn's opening remarks, Marcus Quinn took the stage. He kicked off the conference by announcing a variety of recognition for both new and long-time franchisees. Accomplishments were celebrated across numerous categories including Top 50 Performers, Top Performers by Zone, Top Sales Performers, The "MVP" Award, and Most Improved Performance.
Succeeding the awards presentations, Marcus Quinn introduced new additions to the SunFlora leadership team and announced the expansion to a new corporate headquarters in Palmetto, all resulting from the unprecedented growth the company achieved in 2020 and 2021.
Day One continued with an emphasis on SUNMED's role in cannabis innovation, including presentations by research partners:
Chief Science Officer, Dr. Anthony "Tony" Ferrari, Ph.D.
Dr. Paul Borsa, Ph.D., clinical professor and director of the sports medicine research laboratory at the University of Florida
Dr. Michael J. Telch, founding director of the laboratory for the study of anxiety disorders at the University of Texas, Austin
Dr. Jeff Konin, clinical professor and director of the Doctor of Athletic Training (DAT) program at Florida International University
"We have made some outstanding progress studying cannabinoid science through our research partnerships and clinical trials," Ferrari said. "We're so excited to further expand the knowledge of CBD and cannabis as an avenue for healing and bring meaningful products in our roadmap for the future."
Day Two began with a presentation led by the new SUNMED Vice President of Marketing Ryan Sinclair. The remarks centered on the brand's new marketing initiatives including exciting announcements and data-driven insights that SUNMED will deploy to focus on important customer segments across the country, including:
The company's launch of its new website www.getsunmed.com.
The launch of an all-new product line, TRIM by SUNMED, ™ a revolutionary approach to weight-loss which incorporates the natural appetite-suppressing benefits of THC-V and other compounds such as Turmeric.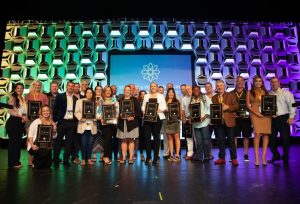 Following breakout sessions, the keynote speaker, Kevin Brown, delivered the message to "Be a Hero." During his session, Brown resonated with the crowd through his passionate words while highlighting the overall importance of family, support and resilience. Marcus Quinn then took the stage one final time to thank the attendees for being a part of his journey and bringing, what was once his family's vision, to life through healing, passion, and infectious growth.
Throughout the weekend, attendees gathered for breakout sessions on people resources and compliance, public relations and local media outreach, sales techniques, store layout, accounting and more. They also participated in networking and collaboration, mingling with Your CBD Store® | SUNMED™ partners and exhibitors. Successful owners including Cathy Parlitsis from Mount Kisco, New York; and Matt Yde from Sioux Falls, South Dakota; each shared their foundational keys to success and offered actionable tips and tricks to their fellow store owners within the network to hit the ground running in their local markets.
The conference concluded with the announcement of a new Your CBD Store® | SUNMED™ "Mandala Club," which will reward the top performing store owners in 2022.
"I'm so incredibly moved by you all being here to celebrate the growth of what started as a single Your CBD Store in Bradenton," Marcus Quinn said. "Our team is thrilled to continue to innovate and announce more exciting new things to come very soon as we continue paving the growth of the industry as one of the leading, largest, most revolutionary CBD brands in the world."
For more information on Your CBD Store, visit www.getsunmed.com.
# # #
About Your CBD Store | SUNMED™
Your CBD Store is the largest hemp retailer in the United States and the exclusive home of award-winning, hemp derived SUNMED™ products. With more than 530 Your CBD Store locations across 39 states, and the United Kingdom, the brand provides the highest quality CBD experience to customers nationwide. Its parent company, SunFlora Inc., produces quality products for health and wellness, skincare, and pets.
Media Contact:
Jillian Mushman/Jennifer Gordillo
[email protected] or 954-716-7614