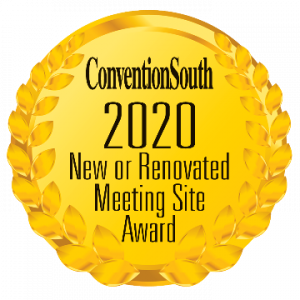 Hotel Named One of Top New or Renovated Meeting Sites
on Elite Annual List
Fort Lauderdale, Fl. – November 25, 2019 – Sonesta Fort Lauderdale Beach has been named one of ConventionSouth Magazine's Top New or Renovated Meeting Site award recipients for 2019. A national multimedia resource for planning events held in the southern region, the outlet has selected Sonesta Fort Lauderdale Beach as one of this year's 58 elite meeting facilities.    
"ConventionSouth readers are constantly seeking information on the newest and like-new meeting sites in the South, in order to offer their attendees the most modern facilities available, and this is why we are honored to bestow Sonesta Fort Lauderdale Beach with a Top New or Renovated Meeting Site Award," said ConventionSouth Senior Editor Marcia Bradford. "After a lengthy review of what Sonesta Fort Lauderdale Beach now has to offer meeting planners and attendees, we feel it indeed displays a superior commitment to providing groups with the top-of-the-line amenities and service that they require."
Conviently located just minutes from downtown Fort Lauderdale, the newly reimagined Sonesta Fort Lauderdale Beach boasts panoramic sweeping views of the Atlantic coastline in each of its 240 updated rooms and suites in addition to a newly integrated Caribbean-American fusion kitchen & bar, Steelpan (pictured left). The restaurant celebrates the multi-cultural flavors of South Florida with a thoughtfully curated menu from Chef Kevin Baker and an eclectic array of tropical cocktails alongside an extensive wine list. Guest are invited to relax "island style" on the outdoor patio or recently revamped swimming pool to bask in the year-round Florida sun.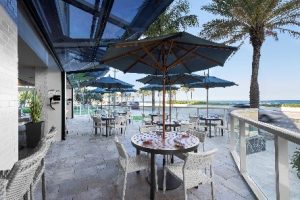 Staying true to its beachfront location, which the meeting and event space (pictured left) was designed around, the function space event names – including Horizon, Breeze, and Beach – are a nod to the ocean-inspired design elements. The three new meeting and event spaces will be over 1,700 square feet and include a boardroom on ground level. Nautical accents will be reminiscent of the warm, white sands that run seven miles along Fort Lauderdale Beach. A team of dedicated professionals including an on-site sales, convention services and catering team are also behind each meeting or event, prepared to offer the utmost in customer service.
"We are honored to receive ConventionSouth's Top New or Renovated Meeting Site Award," said Michael Dutton, the hotel's director of sales and marketing. "As we finalize a multi-year renovation at Sonesta Fort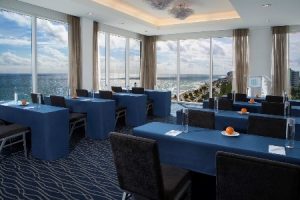 Lauderdale Beach, we are proud to know that our efforts are already being acknowledged. Each element of our new look – from our new Caribbean-American restaurant, Steelpan, to recently refreshed oceanfront guestrooms and meeting spaces – have been thoughtfully created to reflect the South Florida spirit.  We look forward to welcoming groups of many shapes and sizes in 2020!"
For more information on Sonesta Fort Lauderdale Beach or to make a reservation, visit Sonesta.com/FortLauderdale or call 1-800-SONESTA.
About Sonesta Fort Lauderdale Beach
Recipient of TripAdvisor Certificate of Excellence, the newly reimagined Sonesta Fort Lauderdale Beach features 240 guest rooms including 23 spectacular suites, boasting panoramic views of the seven-mile stretch of Fort Lauderdale Beach or the Intracoastal Waterway. Sonesta Fort Lauderdale Beach provides a new level of hospitality to the Fort Lauderdale market by offering travelers a sense of place, not just a place to stay. Catering to both business and leisure travelers, the hotel is centrally located on the corner of Sunrise Boulevard and A1A, only 8 miles from Fort Lauderdale/Hollywood International Airport and just minutes from the Las Olas Arts & Entertainment District and Port Everglades. Sonesta Fort Lauderdale Beach offers an authentic, local experience to guests and locals alike, brought to life through the brand's Daily Delights programs, in addition to the all-new Steelpan kitchen and bar.
# # #
Media Contact:
Andrea Alvarez
954-716-7614, [email protected]
This message was sent to [email protected]
Hemsworth Communications
1510 SE 17th Street, Suite 200A
Fort Lauderdale, FL 33316