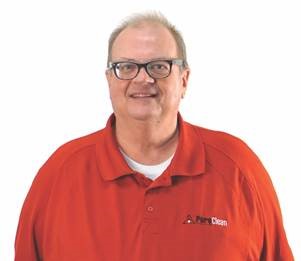 CLARKSVILLE, Tenn. – (May 25, 2021) – After years of traveling in the road construction industry, Joey Hughes has returned to his roots and answered the call to serve his community, becoming a designated "Paramedic of Property Damage." Opening his PuroClean franchise in Clarksville, Tennessee, Hughes will lead a team of highly trained technicians to help home and business owners with water, fire, mold, and biohazard removal, including COVID-19 (coronavirus) cleanings.
"I'm proud to join the PuroClean family serving people during their time of need," Hughes said. "In making this decision, I have created an opportunity for my family, which will allow us to provide relentless customer service in the community where I grew up and started our family."
Hughes joined PuroClean after spending 20 years working in the road construction industry, where he worked on projects for roadways and bridges. He also worked in the wine and spirits industry for 15 years.
Hughes will serve as both franchise owner and project manager, while his wife, Kaki, will oversee office management and marketing. Both of their sons, Thomas and Sam, have background experience in the plumbing and electrical industries and will provide support in the field on projects. Thomas will be in charge of service calls.
"It's an honor to have Joey and his family join the PuroClean franchise network within a recession-resistant business model amid the pandemic," PuroClean President and COO Steve White said. "We are proud to support Joey and his family as he becomes an entrepreneur with PuroClean, and we look forward to watching him grow as he supports property owners throughout the Clarksville community in Tennessee."
For more than 20 years, PuroClean has helped home and business owners with their restoration and remediation needs, serving communities across the United States and Canada with a network of over 350 offices.
For more information about PuroClean of Clarksville, call 931-444-1177, email [email protected] or visit www.puroclean.com/pcv-tn. PuroClean of Clarksville will primarily serve the Montgomery, Cheatham and Robertson counties in Tennessee.
High-resolution photos can be found here.
# # #
About PuroClean
PuroClean provides water damage remediation, flood water removal, fire and smoke damage remediation, mold removal, and biohazard cleanup to commercial and residential customers. Founded in 2001, PuroClean has a comprehensive network of more than 350 franchise offices across North America. PuroClean technicians are thoroughly screened, insured, and trained in utilizing the latest in mitigation technology and procedures, while operating under a strict code of ethics. Each PuroClean office is independently owned and operated. For more information about PuroClean, contact 800-775-7876 or visit www.puroclean.com; for franchise information, visit www.puroclean.com/franchise.
Media Contacts:
Hemsworth Communications
Jillian Mushman / Jennifer Gordillo
954-716-7614 or [email protected]