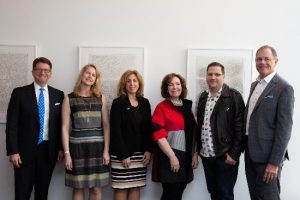 Panelists Share Insights on Bridging the Gap Between Aspirational and Accessible Travel
 PHOENIX, Arizona (May 17, 2019) – The 14th annual Best Western Hotels & Resorts Leisure Travel Summit took place this week in New York City, with an impressive line-up of panelists from AAA, NostalgiaCon, TripAdvisor® and U.S. Travel Association. The group, which was led by Dorothy Dowling, Best Western's Senior Vice President and Chief Marketing Officer, spoke to current trends shaping travel, shared insights into the outlook of the travel industry, and discussed the impending summer travel forecast.
 Bridging the Luxury Travel Accessibility Gap
Panelists at the summit, which took place over lunch at The Museum of Modern Art's restaurant, The Modern, highlighted the growing trend of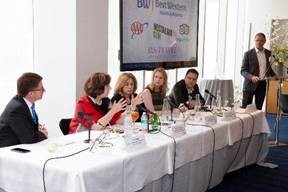 accessible and aspirational travel, showcasing the fact that today's travelers yearn for exceptional, memorable, and otherwise unique experiences. The event theme "Best of Both Worlds" highlighted Best Western's recent acquisition of WorldHotels®, a collection of approximately 300 unique and special properties in premier destinations globally and underscored the importance of accessible travel options in every hotel chain segment, from economy to luxury. During the panel, Dowling spoke about Best Western's objectives with the acquisition, highlighting its desire to bridge the gap between aspirational luxury travel and accessibility – which will start with the launch of a new WorldHotels RewardsSM program this summer. This program will be built upon the award-winning infrastructure of Best Western Rewards® (BWR®) to give travelers an immediate state-of-the-art experience.
 "Sharing industry predictions and perceptions is key to helping the industry evolve and I'm truly grateful to have gathered yet again with this insightful group," said Dowling. "Learning from industry partners what today's travelers desire helps shape the best experiences for our guests. This year's Best of Both Worlds event theme helps illustrate how companies like Best Western, and our esteemed co-panelists, are connecting travelers with the best experience, no matter their preferences or budget."
 Summer Travel Forecast Calls for More Travelers Hitting the Road
This year's Leisure Travel Summit coincided with the launch of AAA's annual Memorial Day Summer Travel Forecast, which included some encouraging statistics:
Nearly 43 million Americans will kick off the season with a Memorial Day vacation.
This year is forecast to be the second-highest travel volume on record since AAA began tracking holiday travel volumes.
An additional 1.5 million more people will take to the nation's roads, rails and runways this summer compared with last year, a 3.6% increase.
 Supporting the AAA forecast of 37.6 million Americans traveling by automobile, recent statistics shared by Dowling during the Leisure Travel Summit show that travelers are hitting the road more than ever this summer, with projected room nights for highway properties in the U.S. up by 21% relative to last year. Top summer destinations in the U.S. according to U.S. News & World Report continue to be those near National Parks, with Yellowstone listed as the #2 place to visit in the world, and The Grand Canyon and Yosemite also highlighted on the list of top 20 global destinations.  Perfectly timed heading into Memorial Day weekend and with road trip interest at its peak.
 Dowling also announced the newest way Best Western is helping travelers make memories, with the introduction of the company's summer BWR promotion.  From May 20 through September 2, 2019, BWR members will earn a $20 Best Western Travel Card® after their first stay.  They can choose their dream summer vacation destination from Best Western's extensive 16-brand hospitality portfolio across North America, in order to be eligible for the promotion.
 Personalization, Experiential Travel Top Noted Trends; Peer Reviews Continue to Be Important Factor that Shapes the Travel Experience from Start to Finish
Hot topics during this year's Leisure Travel Summit were the trend of personalization, social responsibility, foodie travel and experiential getaways.  According to TripAdvisor, iconic landmarks continue to drive travelers to major destinations, as they look to "check the box" – though an increase has been noted in "skip the line" tours, saving time and enhancing the experience.  The influence of social media was also discussed, with NostaliaCon recognizing the emergence of travel photography, and capturing visuals, as a key part of the vacation experience.
 A popular topic during the Leisure Travel Summit was the power of peer reviews, which is extremely important in today's landscape and a huge factor helping to shape travelers' expectations, as well as how they research and book. Dowling noted an increase in the number of Best Western hotel reviews from 2017 to 2018, up 8%. The average review response rate for midscale hotels hovers around 40% and the company's response rate is considerably higher than hotel industry norms, responding to 77% of negative reviews and 55% of positive reviews.
 "At Best Western, we understand the power of reviews and have made it a priority to excel in responding," commented Dowling. "Listening to and engaging with our guests has always been a staple of Best Western's superior guest service. We are committed to incorporating this valuable feedback into our continuously evolving product."
 Changing Demographics Impacting Travel Industry's Future – Generation Alpha, and More
Another important trend discussed at the summit was how the travel industry will adapt to changing demographics. As the typical American household changes, so must the travel industry and how they will accommodate.  According to Harvard University projections, the total number of households in the U.S. will grow by over 21 million between now and 2038.   New projections call for significant growth in the number of older-adult, minority, and millennial households, and for single-person households, the fastest growing segment over the next decade, empty-nesters, and married couples with children to lead growth among household types.  According to U.S. Travel Association, who noted this shift during the panel, specifically citing the large number of millennials taking "Generation Alpha" (children under age 5) along for the journey, leaders in the travel industry must be prepared to embrace this change and adapt their offerings accordingly.
 For more information, please visit BestWestern.com or BestWesternDevelopers.com.
###
 About Best Western® Hotels & Resorts:
Best Western Hotels & Resorts headquartered in Phoenix, Arizona, is a privately held hotel brand with a global network of approximately 4,500 hotels in nearly 100 countries and territories worldwide‡. Best Western offers 16 hotel brands to suit the needs of developers and guests in every market. Best Western branded hotels include Best Western®, Best Western Plus®, Best Western Premier®, Executive Residency by Best Western®, Vīb®, GLō®, Aiden®, Sadie®, BW Premier Collection®, and BW Signature Collection®. Through recent acquisition, Best Western now also offers WorldHotels® Luxury, WorldHotels Elite and WorldHotels Distinctive brands. Completing its portfolio, Best Western offers SureStay®, SureStay Plus®, and SureStay Collection® franchises**. Now celebrating more than 70 years of hospitality, Best Western provides its hoteliers with global operational, sales and marketing support, and award-winning online and mobile booking capabilities. Best Western continues to set industry records regarding awards and accolades, including 66 percent of the brand's North American hotels earning a TripAdvisor® Certificate of Excellence award in 2018, Business Travel News® ranking Best Western Plus and Best Western number one in upper-midscale and midscale hotel brands respectively for two consecutive years, and Fast Company honoring Best Western Hotels & Resorts with a spot in the Top 10 Most Innovative Companies in the Augmented Reality/Virtual Reality category. Best Western has also won 10 consecutive AAA®/CAA® Lodging Partner of the Year awards, recognizing the brand's commitment to providing exceptional service and great value to AAA/CAA's nearly 60 million members in the U.S. and Canada. Best Western-branded hotels were top ranked in breakfast (food and beverage category) by J.D. Power's 2018 North America Hotel Guest Satisfaction Index Study – ranking first for midscale; and second for upper midscale. Nearly 40 million travelers are members of the brand's award-winning loyalty program Best Western Rewards®, one of the few programs in which members earn points that never expire and can be redeemed at any Best Western-branded hotel worldwide. Best Western's partnerships with AAA/CAA and Google® Street View provide travelers with exciting ways to interact with the brand. Through its partnership with Google Street View, Best Western is the first major company of its size and scale to launch a virtual reality experience for customers, setting a new industry standard and reinventing how guests view hotels.
‡ Numbers are approximate, may fluctuate, and include hotels currently in the development pipeline.
**All Best Western and SureStay branded hotels are independently owned and operated.
###
Best Western Hotels & Resorts Media Contacts:
Katie Ray, PR Manager
602.957.5526; [email protected]
Kelly Dalton
Senior Director, Communications
602.957.5752; [email protected]
Samantha Jacobs/Lindsey Wiegmann
Hemsworth Communications
954.716.7614; [email protected]
This message was sent to
Hemsworth Communications
1510 SE 17th Street, Suite 200A
Fort Lauderdale, FL 33316
Unsubscribe