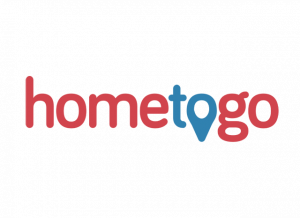 Recent Study from the World's Largest Vacation Rental Search Engine Signals Busy Holiday Season Ahead; Travelers Booking Mountain Escapes & Road Trips, with Shorter Stays & Smaller Group Sizes 
Fort Lauderdale, Fla – (October 22, 2020) – HomeToGo, the world's largest vacation rental search engine, today revealed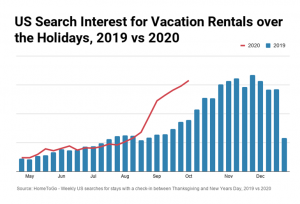 its insights on travel trends and booking behaviors for the upcoming holiday season, based on an analysis of internal search data*. While uncertainty around the COVID-19 pandemic looms, demand continues to grow for rural mountain retreats and is shifting from former top destinations for holiday travel. Travelers are also planning earlier, as HomeToGo's study finds that bookings and search-interest for stays between Thanksgiving and New Year's Day are up by more than 65 percent compared to the same period last year. 
"We're surprised to see how early travelers are starting to book their holidays this year, but we can certainly understand that family and friends are eager to reconnect for much-needed quality time together," said Mike Pearce, PR & inbound marketing manager at HomeToGo. "In October, we are already seeing levels of search and booking activity matching what would be typical of late November or early December, which have been the peak booking periods for holiday travel in previous years." 
Key findings from HomeToGo's holiday travel study include:
Which destinations are trending**: Among the regions that have seen the largest year-over-year increase in search interest on HomeToGo include the Great Smoky Mountains, NC (+567 percent), Beech Mountain, NC (+339 percent), Hawaii (+300 percent) and Sanibel, FL (+218 percent). Meanwhile, urban areas like New York City, NY (-55 percent) and New Orleans, LA (-57 percent) are seeing a continued downward trend.
How far people are traveling: According to HomeToGo's data, the average distance travelers are searching for domestically is 665 miles from origin – typical when compared to previous years; although, the share of domestic travel searches is up to 85 percent, an increase of 27 percentage points versus last year.
How long travelers are planning to stay: HomeToGo's booking trends reveal a demand for shorter trips. The average length of stay anticipated for this holiday season is 7.2 nights, a 17 percent decrease from the previous year.
How many people they are traveling with: HomeToGo's search data indicates smaller group sizes. The average group size for this holiday season is 3.4 travelers, a 19 percent decrease from last holiday season.
What kind of accommodations they're staying in: Cabins are among the most-booked listing types this holiday travel season. Throughout the month of September, cabin bookings for the holidays have seen a year-over-year increase of 31 percent compared to last year. 
"This year, families and couples are looking for new ways to spend the holidays together. We're seeing more travelers looking at listings in places away from major cities and popular holiday attractions, closer to natural areas, outdoor activities, and beautiful landscapes. We hope that everyone planning to travel this holiday season is taking extra care and precautions to follow the local guidance of officials for traveling responsibly, and we wish travelers a safe yet memorable end to 2020," added Pearce. 
More insights from the full report can be found at:
www.hometogo.com/inspiration/winter-vacation/#2020-holiday-travel-trends 
For more information on HomeToGo, visit HomeToGo.com. Stay up-to-date on the latest news by following HomeToGo on Facebook Facebook.com/HomeToGo, Instagram @HomeToGo, and Twitter @HomeToGo. 
About HomeToGo
HomeToGo (www.hometogo.com) is the world's largest search for vacation rentals. On the web, mobile and via mobile app, HomeToGo compares over 18 million offers from more than 1,300 vacation home websites, including Airbnb, Booking.com, Vrbo, and TripAdvisor. From apartments and villas to castles and treehouses, HomeToGo will find the perfect accommodation for your next trip worldwide. Founded in 2014 by Dr. Patrick Andrae, Wolfgang Heigl and Nils Regge in Berlin, HomeToGo now operates websites in 23 countries and regions in Europe, America and Asia-Pacific. 
###
 *HomeToGo Methodology
To calculate the search and booking data, HomeToGo examined its own metasearch data for searches and bookings for the last 6 months, specifically those with check-in between Thanksgiving weekend (November 26th) and New Year's Day (January 1st), compared with data from the same period in 2019. The data was collected on October 16, 2020. 
**Coronavirus Travel Advisory
Although many states have recently lifted their 'stay-at-home' orders, people should consider the risks of being in crowded spaces and their ability to self-isolate at their destinations. For information on how to reduce your risk of spreading the virus, please consider the guidelines and recommendations outlined by the CDC here. 
U.S. Media Contact:
Hemsworth Communications
954-716-7614
This message was sent to [email protected].
Hemsworth Communications
1510 SE 17th Street, Suite 200A
Fort Lauderdale, FL 33316