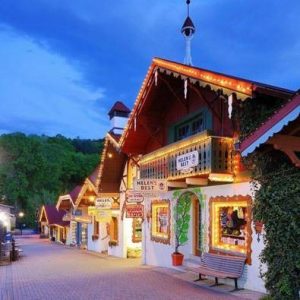 Georgia State Park Invites Guests to a Festive Watch Party on December 21 at 6 p.m.
Helen, Ga. – December 18, 2019 – Unicoi State Park & Lodge is decking its halls for a special screening of Lifetime Movie Network's romantic holiday movie, "Christmas Love Letter," which filmed scenes at the North Georgia property back in April. Airing on Lifetime, the film is set in the charming Alpine-Bavarian city of Helen, Georgia and features Unicoi State Park & Lodge as the backdrop for holiday fun, such as a gingerbread house competition and a formal holiday party. Visitors and locals are invited to cozy up and watch the film in the Lodge's ballroom on its premier night, December 21 at 6 p.m.
"We're excited to show our hospitality onscreen and share our holiday spirit with Lifetime viewers across the country," said Bill Mish, general manager of Unicoi State Park & Lodge. "Helen is a magical place to celebrate the holidays, and we're proud to support the family-friendly destination by offering comfortable accommodations and a free shuttle service to downtown Helen for visitors."
Produced by Sunshine Films, the movie follows the story of a relationship advice columnist who, after receiving an unsigned love letter in a Christmas card, returns to her hometown of Helen to find the writer.
In addition to the special screening that evening, Unicoi State Park & Lodge is hosting a festive "Dr. Seuss Whoville Christmas" event from 2 p.m. to 8 p.m. Families can eat, drink and be merry with an intimate reading of the Dr. Seuss classic, "The Grinch Who Stole Christmas," themed crafts, face painting, a Whoville Feast at the Unicoi Restaurant and a visit from Santa to hear the wishes of each guest.
Guests are invited to unwind after a full day of festivities with a "Bed and Breakfast" package, which includes a cozy overnight stay in the recently renovated lodge and breakfast for two the next morning.
"Bed and Breakfast" package rates start from $125 on weekends. To book with the special offer or package, visit UnicoiLodge.com/Packages-Specials or call (706) 878-2201. For additional information about Coral Hospitality, visit CoralHospitality.com or call 239-449-1800.
*Price based on double occupancy; subject to availability and blackout dates may apply.
Unicoi State Park & Lodge
Located in the Blue Ridge Mountains of Helen, Ga., Unicoi State Park & Lodge is one of two Adventure Lodges of Georgia. Unicoi State Park is home to more than a 1,000-acres of adventure activities, including Unicoi Lake, hiking trails, Anna Ruby Falls, ziplines, fly fishing, an archery and air rifle range, and mountain biking. Accommodations consist of an expansive 100-room main lodge, 30 cabins – including one-of-a-kind barrel cabins – and 82 campsites.  Unicoi State Park & Lodge is managed by Coral Hospitality, a full-service hospitality management and investment company.  
About Coral Hospitality
Founded in 1999, Coral Hospitality is a full-service hospitality management and investment company with three distinctive divisions – Coral Hotels & Resorts, Coral Golf & Country Clubs and Coral Residences & Associations.   A market leader that delivers unparalleled service to guests and generates exceptional financial results for clients and investors, Coral takes a unique, full-service approach to the management of its portfolio of hotels, resorts, golf clubs, residences and spas.  As a result, Coral is consistently ranked in Top 5 in REVPAR growth among independent management companies.  Coral Hospitality…leveraging powerful, world-class partnerships to create experiences that innovate and inspire.    
###
Media Contact: 
Julie Hong, Hemsworth Communications
This message was sent to [email protected]
Hemsworth Communications
1510 SE 17th Street, Suite 200A
Fort Lauderdale, FL 33316