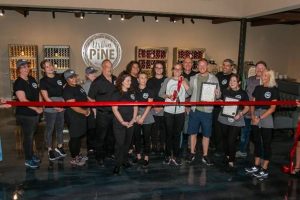 June 10th Ribbon-Cutting Included Several Local Dignitaries; Portion of Proceeds from June 11th Donated to Wood County Plays
TOLEDO, OH – (June 28, 2021) – Urban Pine Winery, a brand-new neighborhood winery located at 3415 Briarfield Boulevard, celebrated its grand opening with a series of events earlier this month. The well-attended festivities took place in mid-June and included a formal ribbon-cutting held in conjunction with the Maumee Chamber of Commerce and the Toledo Regional Chamber of Commerce, as well as a grand opening celebration with a portion of proceeds benefitting Wood County Plays. With nearly 250 guests over the course of the grand opening weekend, Urban Pine Winery made a splash as it formally entered the local community.
"We are completely blown away from the amazing turnout for all of our opening events and during our first few weeks of service," said Jen McAlear, owner of Urban Pine Winery. "We are so grateful to be in a community that shares our excitement and passion for wine. This has been a dream of mine for so long, so it is really wonderful to see it all coming true."
Fostering its commitment to giving back, Urban Pine Winery raised more than $800 in one day for Wood County Plays, a nonprofit organization that designs inclusive playgrounds for all children, regardless of size, mobility or ability. Reshaping the landscape of play, Wood County Plays seeks to build playgrounds for children that aim to improve their physical, cognitive, and social behaviors.
Urban Pine Winery boasts more than 8,000 sq. ft. The winery features a double-sided fireplace, a private event space for up to 50 people, and a large outdoor area. Serving more than 50 different wines, including classics and exclusive varietals, as well as a globally inspired food menu, guests have an array of choices at Toledo's newest winery.
Hours of operation are Tuesday through Thursday from noon to 9 p.m., Friday and Saturday from noon to 10 p.m. and Sunday from noon to 4 p.m. The winery is closed on Mondays.
For more information, visit urbanpinewinery.com or contact (419) 773-4088. Follow on Instagram at @urbanpinewinery or on Facebook.
High resolution photos can be found here.
About Urban Pine Winery
Urban Pine Winery is a neighborhood bistro and wine bar offering dozens of different wine selections, an eclectic food menu and elevated wine tasting experiences unique to the Toledo area. Led by husband-wife team, Jen and Matt McAlear, the winery also offers customized labeling, an exclusive wine club which allows enthusiasts and novices alike to expand their expertise, and more.
Urban Pine Winery is an independently owned and operated franchise location of Waters Edge Wineries, a California-based innovative urban winery system bringing the cultural experience of wine to communities across the country. The winery follows the emerging franchise's innovative approach to making wine production accessible to those in urban areas, while also unveiling the franchise's brand-new design concept which will be rolled out to new stores across the United States.
About Waters Edge Wineries®
California-based Waters Edge Wineries is an innovative urban winery system bringing the cultural experience of wine to communities across the country. Each Waters Edge Winery & Bistro location combines the very best of a winery and wine bar in one versatile model that can be located anywhere, regardless of topography or agricultural factors. Founded in 2004 by husband and wife team Ken and Angela Lineberger, Waters Edge Wineries currently operates 13 Waters Edge Winery & Bistro locations in California, Colorado, Kentucky, Montana, Ohio, Oklahoma, and Texas. The company caters to entrepreneurs who are seeking a fun, exciting career where they can share their passion for wine while creating memorable guest experiences.
For more information on Waters Edge Wineries® or for franchising information, contact 909-GOT-WINE, visit WatersEdgeWineries.com or email [email protected].
###
Media Contacts:
Hemsworth Communications
Lacey Outten or Kylie Rodriguez
954-716-7614 or [email protected]
This message was sent to [email protected].
Hemsworth Communications
1510 SE 17th Street, Suite 200A
Fort Lauderdale, FL 33316