VISIT MACON ANNOUNCES RETURN OF POPULAR MACON BURGER WEEK THIS NOVEMBER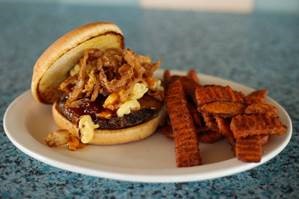 Fourth Annual Celebration Being Launched in Tandem with Georgia Beef Board; Will Feature Innovative Burger Recipes from Macon's Favorite Restaurants with Discounts, Prizes & More   
MACON, Ga. – (October 26, 2021) – Visit Macon is teaming up with the Georgia Beef Board to host its 4th annual Macon Burger Week (MBW)—one of the state's most highly anticipated events of the year. Taking place November 1 through 7 throughout the destination, this weeklong celebration will feature signature limited-time burger creations from the area's favorite restaurants, including 2020 winner Macon Beer Company, as well as Ocmulgee Brewpub, Tommy's Bakery and many others.
"We can't wait to celebrate the return of Macon Burger Week," said Valerie Bradley, Visit Macon's vice president of marketing. "This delicious weeklong event is a wonderful opportunity for residents and visitors to support our local businesses, enjoying some long-time favorites and perhaps uncovering their new favorite dining spot!"
This year, there are 15 participating restaurants in Macon Burger Week, with each featuring an off-menu burger that will exclusively be available throughout the week. Some of this year's options include Ocmulgee Brewpub, Macon Beer Company, Yollah Social Kitchen and Garden, Lazy Susan Tapas Bar and so many more.
Restaurants will have the chance to win several awards including the "People's Choice Champion," which will be selected by guest votes based on taste and overall experience. In addition, "The Cleverly Created Award" will be judged by a cattle industry leader and granted to the most unique and creative entry.  "The Most Beef Sales Award" will go to the restaurant that sells the most beef by the pound.
To take part in the celebration, guests are invited to download the #MaconBurgerWeek passport from the event website. This will serve as the guide to all participating locations and their Burger Week offerings. Upon visiting each participating restaurant and trying their featured burger, guests will receive a dedicated stamp in their passport. At the end of Burger Week, participating diners can send in their stamped passports to be entered to win several great prizes from the Georgia Beef Board. Online voting for the public will begin the week of Macon Burger Week and the winners will be announced the week of Nov. 8 on Facebook.
"The Georgia Beef Board is proud to bring this event to Macon with Visit Macon. Our mission at the Georgia Beef Board is to drive demand for beef and this event is a wonderful way to do just that. MBW gives our community the opportunity to try a variety of beef burgers throughout the week while supporting our restaurant partners as well," said Taylor Evans from Georgia Beef Board. "We love to see the many culinary creations that our local chefs come up with, and we equally love seeing the excitement from our community for this annual event."
To learn more about the event or to download the Macon Burger Week passport, visit www.MaconBurgerWeek.com, or follow the event on Facebook and Instagram at @MaconBurgerWeek. For a full list of participating restaurants, click here.
About Visit Macon
Nestled in the heart of the state, Macon, Ga. is a soul destination known for its restaurants, nature and rich history. Nicknamed the "Cherry Blossom Capital of the World", Macon is home to a diverse culture, soulful music heritage and thriving arts and education opportunities. Located just an hour and a half from Atlanta, this thriving destination attracts visitors looking to enjoy its unique breweries, historical sights and outdoor adventures.
About The Georgia Beef Board
The Georgia Beef Board's mission is to maintain and build demand for beef and beef products within Georgia by enhancing beef's image and satisfying the consumer's needs and wants through an integrated state and national promotion, consumer information, research, producer communication, and industry information program. Funded by the Beef Checkoff, The Georgia Beef Board represents Georgia's 15,000 beef cattle producers who are raising safe, wholesome, and nutritious beef products we love!
###
Media Contacts:
Lacey Outten / Kylie Rodriguez
954-716-7614 or [email protected]