Despite Unique Logistical Circumstances During the COVID-19 Pandemic,
2020 Harvest Producing Top Quality Wines Just in Time for Holiday Season
Fort Lauderdale, Fla. – (December 1, 2020) – Waipapa Bay Wines today announced the release of a new sauvignon blanc vintage, expanding their collection of award-winning wines just in time for the holidays. The 2020 Waipapa Bay Sauvignon Blanc showcases intensely concentrated aromatics and flavors of gooseberry and tropical fruit with a fresh zing. The wine flaunts a signature ripeness and acidity, which is what makes Marlborough sauvignon blanc so unique.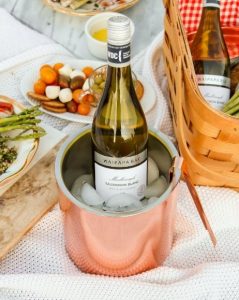 "Although the 2020 vintage will forever be synonymous with the ongoing challenges posed by the global COVID-19 pandemic, we're proud to share that this year's harvest was a grand success. In true Marlborough fashion, the cooler weather allowed for optimal acid retention in our grapes, while the warm spring helped the vines escape any risk of frost, resulting in pristine fruit," said Brent Rawstron, winemaker and vineyard owner. "We are so thankful that we could continue harvest as an essential business and capitalize on a season that delivered stunning wines. Producing top-quality wines is at the heart of what we do, and we're excited to share our 2020 sauvignon blanc with our friends in the U.S. and around the world."
Marlborough is renowned for consistently producing the best sauvignon blanc in New Zealand, and the 2020 Waipapa Bay Sauvignon Blanc is no exception. Having won numerous awards for the 2018 and 2019 Waipapa Bay vintages, the 2020 vintage lives up to the brand's past achievements and has already won bronze recognition from The International Wine & Spirit Competition (IWSC). With fruit grown specifically in Rapaura, one of the first areas to be planted with grapes in the region, this wine features distinct citrus and ripe stone fruit flavors and aromas.
Consumers interested in purchasing a bottle of Waipapa Bay Wines can spot their signature whale tail label at supermarkets, such as Publix, Wegmans, Giant Eagle, Liquor Barn and Lowes Foods. Inspired by its namesake and renowned surf-spot known for whale-watching, the brand is passionate about the preservation of nature and is an active sponsor of Whale Dolphin Conservation (WDC).
For more information, visit WaipapaBayWines.com. Stay up-to-date on the latest Waipapa Bay Wines news by following them on Instagram @WaipapaBayWines, Twitter @WaipapaBayWines, or by liking them on Facebook at Facebook.com/WaipapaBayWines.
About Waipapa Bay Wines
Waipapa Bay Wines are the product of an evolution taking place within New Zealand's viticulture and winemaking, with recent changes seen particularly in the premium grape growing region of Marlborough, known for producing crisp sauvignon blancs with gooseberry flavors and tropical fruit notes. With the Pacific Ocean at the winery's doorstep, Waipapa Bay Wines' grapes thrive in the area's perfect climate, allowing for creation of elegant wines with a signature style carried throughout each bottle. In addition to its award-winning sauvignon blanc, Waipapa Bay Wines' portfolio also includes a rosé, pinot gris and chardonnay. Having been named after the quintessential, laid-back Pacific Ocean surf spot known for its whale-watching, the brand is deeply committed to the preservation of nature and is an active sponsor of Whale Dolphin Conservation (WDC).
About Broadland Drinks
Broadland Drinks is an award-winning international drinks company and a creator of brands that consumers love. For more information, visit www.broadlanddrinks.com.
###
Media Contact (and for samples):
Hemsworth Communications
954-716-7614 or [email protected]
This message was sent to [email protected].
Hemsworth Communications
1510 SE 17th Street, Suite 200A
Fort Lauderdale, FL 33316