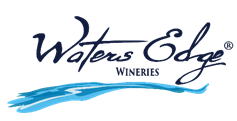 Winery Franchise Concept Connects with Real Estate Innovators
Using Artificial Intelligence, Enhancing Potential for Owner Success
RANCHO CUCAMONGA, CA – (October 2, 2019) – Waters Edge Wineries®, an innovative urban winery system bringing the cultural experience of wine to communities across the country, today announced its partnership with LocateAI to enhance site selection capabilities nationwide. As part of this new relationship, entrepreneurs signing a franchise development agreement with Waters Edge Wineries will now have access to the finest tools for success, including technology to help them select the ideal location for their new wineries.
"Over the past year, our brand has gained incredible momentum, and we are seeing a higher level of interest in our unique concept than ever before," said Ken Lineberger, President and CEO of Waters Edge Wineries.  "Aspiring winery owners are taking notice of Waters Edge an as we continue to expand nationwide, we are deepening our portfolio of services and offerings.  We are pleased to now offer our owners innovative partners to work with, such as LocateAI, who specializes in site selection.  Identifying the right location can mean everything – it plays a significant role in the success of a Waters Edge Winery & Bistro – and LocateAI has the ability to revolutionize that process."
LocateAI relies on proprietary artificial intelligence technology to pinpoint prime real estate locations for concepts. Founded in 2014 by three Stanford Computer Science graduates with professional experience in Big Data, LocateAI innovates the way retail locations are selected by helping clients like Waters Edge Wineries be more analytical in their approach.                                                                            
Traditionally, franchisors and owners within their network rely on a commercial broker to find them the best options on the market. LocateAI improves this process by first identifying Waters Edge Wineries' key customer segments and determining where they generally live, work, and shop. LocateAI does this through licensed anonymized mobile GPS data that is then evaluated with artificial intelligence along with 160,000 other variables including demographics, psychographics, employment, weather, crime, vehicle traffic and more. This insight helps guide franchisees through the site selection process, honing in on the ideal location.
"Our team is confident that through innovative technology, our carefully developed machine learning algorithms and our principal deal experience, the site selection process will be more efficient and strategic to help owners make well-informed decisions when launching their winery business," said Jeremy Shartar, LocateAI's Director of Real Estate. "All this helps franchisees save time, but most importantly we reduce or eliminate the likelihood of opening a bad location."
The Waters Edge Winery & Bistro model is ideal for entrepreneurs who are passionate about wine and seeking a way to share their love and knowledge without being in the agriculture business. Franchise owners receive comprehensive training on the micro-winery tank system and are provided with pre-opening training courses, both hands-on and classroom based, to help prepare for the launch of their winery. The company also offers social media and marketing support to help franchise owners realize success.
Waters Edge Wineries currently operates ten locations in California, Colorado, Ohio, Oklahoma and Texas. This brand currently has franchise agreements signed to expand and open new wineries in California, Kentucky, Montana, Ohio and Texas.
For more information on Waters Edge Wineries or for franchising information, contact 909-GOT-WINE, visit WatersEdgeWineries.com or email [email protected].
About Waters Edge Wineries®
California-based Waters Edge Wineries is an innovative urban winery system bringing the cultural experience of wine to communities across the country. Each Waters Edge Winery & Bistro location combines the very best of a winery and wine bar in one versatile model that can be located anywhere, regardless of topography or agricultural factors. Founded in 2004 by husband and wife team Ken and Angela Lineberger, Waters Edge Wineries currently operates ten Waters Edge Winery & Bistro locations in California, Colorado, Ohio, Oklahoma and Texas.  The company caters to entrepreneurs who are seeking a fun, exciting career where they can share their passion for wine while creating memorable guest experiences.  
About LocateAI
LocateAI, founded by three Stanford University computer data scientists, has created the first location intelligence platform that's powered by Artificial Intelligence, and is quickly becoming the industry standard. Not only is it more accurate, but it is also more cost-effective.
###
Media Contacts:
Hemsworth Communications
Rachel Tabacnic / Lacey Outten 
954-716-7614 or [email protected]
This message was sent to [email protected].
Hemsworth Communications
1510 SE 17th Street, Suite 200A
Fort Lauderdale, FL 33316