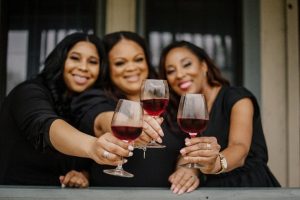 Female Entrepreneurial Trio to Bring Innovative Winery System to Missouri City, TX; Slated to Open Fall 2021 
Missouri City, Texas – (April 22, 2021) – Waters Edge Wineries®, an innovative urban winery system bringing the cultural experience of wine to communities across the country, today announced it has signed a franchise agreement with new owner group, Wine Vibes, LLC, to open a Waters Edge Winery & Bistro location in Missouri City, TX, a growing suburb within the greater Houston area. This location will join 13 others currently open and operating throughout California, Colorado, Kentucky, Montana, North Carolina, Ohio, Oklahoma and Texas. The new location will be owned and operated by a female entrepreneurial trio – Phelicia Colvin and Tamesha Hampton (who are cousins) as well as their close friend, Sheri Price.  Waters Edge Winery & Bistro of Missouri City is planned to open fall 2021, bringing unique and enjoyable experiences to wine lovers in the Lonestar State. 
"We are thrilled to continue our expansion throughout Texas, working with dedicated entrepreneurs like Sheri, Phelicia and Tamesha, who are enthusiastic about providing a unique wine tasting experience to their community," said Ken Lineberger, president and CEO of Waters Edge Wineries. "With these greatly talented women at the forefront, we are confident they will provide local wine lovers and diners with the perfect setting for laughter and cherished moments." 
With a growing passion for wine, the trio first discovered Waters Edge Wineries while pursuing franchise opportunities with a proven track record. Born and raised in Houston, Texas, Price has spent more than 13 years in the finance and banking industry and currently works at a local community bank. Throughout her career, Price has always had a deep appreciation for wine, stemming from wine-focused outings she has taken over the years with her family. Her friend and now business partner, Colvin, joins the franchise concept with nearly 18 years of experience in the oil and gas industry. As a Texas native, Colvin has lived in the greater Houston area for 20 years and is also the co-owner of Smallcakes, a bakery located in Pearland. Rounding out the trio is Hampton, a Houston resident for nearly 20 years, who has spent her career working in the dental and sales management industries. Hampton, Colvin's first cousin, will handle the day-to-day operations for the winery, while Colvin and Price will support her based on their business management experience. 
"By combining our passion for people and wine, Sheri, Phelicia and I knew that opening a Waters Edge Winery & Bistro location would be the ideal business decision for us," said Hampton. "After meeting with Ken and the Waters Edge Wineries team, we knew this franchise concept would offer the valuable resources to allow us the liberty to create our own wine, while receiving unparalleled support as we grow in our local community. We are truly looking forward to opening this exclusive wine experience to our guests." 
Combining elements of the traditional winery experience with the popular wine bar concept, Waters Edge Winery & Bistro locations serve as a lively hub within its communities, offering bistro-style artisanal selections including appetizers, flatbreads, sandwiches, salads and desserts, custom bottle labeling as personalized gifts, private tasting areas for groups, a wine club and more. This gives guests the opportunity to engage intimately with what has historically been a somewhat exclusive lifestyle, limited to select regions. 
As an emerging franchise concept, the Waters Edge Winery & Bistro model is ideal for entrepreneurs passionate about wine who seek a way to share their love and knowledge without being in the agriculture business. Franchise owners receive comprehensive training on the micro-winery tank system and are provided with pre-opening training courses, both hands-on and classroom based, to help prepare for the launch of their winery. The company also offers social media and marketing support to help franchise owners realize success. Currently, there are four Waters Edge Wineries franchise and affiliate locations throughout Texas. Franchise opportunities to open an urban wine franchise remain available throughout Dallas/Fort Worth, San Antonio, and Austin areas. 
For more information on Waters Edge Wineries or for franchising information, contact 909-GOT-WINE, visit WatersEdgeWineries.com or email [email protected]. 
About Waters Edge Wineries®
California-based Waters Edge Wineries is an innovative urban winery system bringing the cultural experience of wine to communities across the country. Each Waters Edge Winery & Bistro location combines the very best of a winery and wine bar in one versatile model that can be located anywhere, regardless of topography or agricultural factors. Founded in 2004 by husband and wife team Ken and Angela Lineberger, Waters Edge Wineries currently operates 13 Waters Edge Winery & Bistro locations in California, Colorado, Montana, North Carolina, Kentucky, Ohio, Oklahoma, and Texas. The company caters to entrepreneurs who are seeking a fun, exciting career where they can share their passion for wine while creating memorable guest experiences.
###
Media Contacts:
Hemsworth Communications
Lacey Outten / Paige Alonso    
954-716-7614 or [email protected]
This message was sent to [email protected].
Hemsworth Communications
1510 SE 17th Street, Suite 200A
Fort Lauderdale, FL 33316