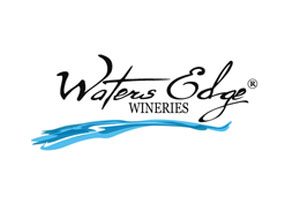 Neighborhood Winery Will Also Host a Comedy Show with Two Comedians Danny Browning and Jamie Utley During Celebratory Month 
ELIZABETHTOWN, Ky. – (September 8, 2021) – Waters Edge Winery & Bistro of Etown, Kentucky today announced its one-year anniversary celebration which will take place on Saturday, September 11 at 11 a.m. For the special occasion, the neighborhood winery will feature live music from three popular local bands, as well as a discounted wine special. In addition, Waters Edge Winery & Bistro will offer a specialty menu of pulled pork, pulled chicken, coleslaw and baked beans, which was also offered during its grand opening. There will also be a special steak dinner offered for guests to enjoy.
"It has been an incredible year thanks to the tremendous support from our community," said Charlie Watkins, the owner of the Etown location. "Working with my daughter, Tiana, has been such a special part of being in business. We also can't thank our hard-working staff enough for all their help and dedication the past year. We can't wait to see what's to come."
The live performances begin at 3 p.m. with solo country music singer and songwriter Felicity. Max Grooves will follow with his favorite Motown, Memphis Soul, Smooth Jazz and Rock and Roll hits. Headlining the evening is Common Wealth featuring local vocalists Matt McDougal and Bekah Wilson.
Throughout the day and evening, the winery will be offering a buy one glass, get the second glass half-off special. Etown features popular wine selections such as a limited-edition Australian Meritage—a full-bodied blend with aromas of blackcurrant, cedar and spice blended gracefully together with flavors of blackcurrant, plum, cherry and spice. Highlighting various regions around the world with each unique wine selection, the winery also offers flights and tastings.
Adding to the anniversary month's festivities, the neighborhood winery will also host a comedy show with Danny Browning and Jamie Utley on Friday, September 17 at 7 p.m. Touring professionally for 20 years, Danny also founded Laughing Dad Entertainment, a company producing comedy fundraisers. Jamie Utley toured on the Monsters of Comedy, starred on Laughs on FOX, and has appeared on The Bob and Tom Show and Fridays with Jim Breuer on Sirus XM Satellite Radio. The event is free to attend.
In addition, Waters Edge Winery & Bistro of Etown will participate in the E-town Wine Fest on Saturday, September 18 for the second year in a row. The festival, which will be taking place at Freeman Lake Park, will have wine, beer, bourbon and live music for guests to enjoy. Tickets are available for purchase online.
The urban winery will also be participating in the South Oldham Rotary Club's 9th Bourbon & Wine Experience at Yew Dell Botanical Gardens on October 1 from 6:30 – 9:30 p.m. To learn more about the event or purchase tickets, please visit their website at https://touroldham.com/event/south-oldham-rotary-bourbon-wine-experience/.
Waters Edge Winery & Bistro of Etown is located at 114 South Mulberry Street. Reservations for the one-year anniversary celebrations are encouraged but walk-ins are welcome as well.  
For more information, visit https://wineryetown.com or contact 270-737-9463. Follow on Instagram at @wew_etown or on Facebook.
About Waters Edge Wineries®
California-based Waters Edge Wineries is an innovative urban winery system bringing the cultural experience of wine to communities across the country. Each Waters Edge Winery & Bistro location combines the very best of a winery and wine bar in one versatile model that can be located anywhere, regardless of topography or agricultural factors. Founded in 2004 by husband-and-wife team Ken and Angela Lineberger, Waters Edge Wineries currently operates 12 Waters Edge Winery & Bistro locations in California, Illinois, Kentucky, Montana, Ohio, Oklahoma, and Texas.  The company caters to entrepreneurs who are seeking a fun, exciting career where they can share their passion for wine while creating memorable guest experiences.
For more information on Waters Edge Wineries® or for franchising information, contact 909-GOT-WINE, visit WatersEdgeWineries.com or email [email protected].
###
Media Contacts:
Hemsworth Communications
Lacey Outten or Kylie Rodriguez
954-716-7614 or [email protected]