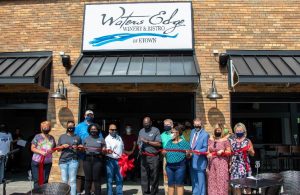 (From Left to Right: Chamber Ambassador Kim Douglas, Kristesha Watkins, Tiana Watkins, Elizabethtown City Councilman Tony Bishop, Charlie Watkins, Elizabethtown Mayor Jeff Gregory, Christine Watkins, Deputy County Judge/Executive Daniel London, Chamber Ambassador President Lisa Matherly, Elizabethtown City Councilwoman Cindy Walker) 
Ribbon Cutting Ceremony Attended by 23 Local Dignitaries; More Than 200 Cases of Wine Sold within First Week of Opening 
ELIZABETHTOWN, KY – (September 22, 2020) – Waters Edge Winery & Bistro of Etown,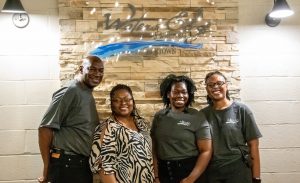 Elizabethtown's highly anticipated new urban winery and neighborhood eatery, is officially open following a weekend of celebratory grand opening events. Led by father-daughter team Charlie and Tiana Watkins, the indoor/outdoor micro-winery features an extensive wine menu with dozens of New and Old World wines, an eclectic food-pairing menu, private event capabilities and more. 
"We are so thankful for the tremendous support we've received from the local community during our grand opening weekend," said Charlie Watkins. "Our vision is to create a destination in Kentucky that offers a unique wine tasting experience which caters to wine novices and experts alike. We look forward to welcoming our friends, neighbors and visitors to enjoy a relaxing atmosphere with high-quality, locally crafted wines!"      
On Thursday, September 10, the winery kicked off the opening weekend by welcoming Mayor Jeff Gregory and more than 23 local dignitaries for an official ribbon cutting ceremony held in conjunction with the Hardin County Chamber of Commerce. The first open-to-the-public event was held on Friday, September 11, where tickets originally sold out within one day resulting in more than 80 guests in attendance. Due to the overwhelming response, the winery extended reservations for Saturday night and hosted more than 200 guests that evening. 
In the first week alone, the winery sold 200 cases of its locally crafted wine. The winery's Sangria selection proved to be one of the most popular items sold. With eight fruit-infused wines available, highlights include the robust "Got Red" featuring flavors of blackberry with a slight tartness and pleasant sweetness, and the refreshing "Cardinal Red" featuring sweet, ripe and juicy raspberry peach flavors. 
All wines are crafted in-house and feature classic selections, as well as lesser-known grape varietals grown in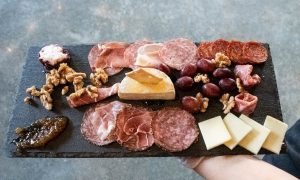 further-reaching vineyards of Italy, France, and New Zealand, along with more local varietals from California and Washington. Wine flights featuring five different pours are available, as well. 
To accompany its extensive wine and beverage menus, food offerings include a selection of globally inspired appetizers, sandwiches, salads, flatbreads, and desserts. Highlights are the "Prosciutto & Fig" flatbread with Blue cheese crumbles, arugula, and Balsamic drizzle, and the charcuterie board which features a carefully crafted selection of artisan meats and cheeses. 
Waters Edge Winery & Bistro of Etown is located at 114 S. Mulberry Street, Elizabethtown, KY. Hours of operation are Monday through Thursday from 11 a.m. to 9 p.m. and Friday and Saturday from 11 a.m. to 11 p.m. The winery is closed Sundays except for private events. 
The location is now offering wine club memberships (https://wineryetown.com/wine-club/). 
For more information, visit https://wineryetown.com/wine-club/ or contact (270) 737-9463. Follow on Instagram at @wew_etown or on Facebook.    
About Waters Edge Winery & Bistro
Located in Elizabethtown, KY, Waters Bistro of Etown is an urban winery offering dozens of different wine selections, an eclectic food menu and elevated wine tasting experiences unique to the area. Led by father-daughter team, Charlie and Tiana Watkins, the winery also offers customized labeling, an exclusive wine club which allows enthusiasts and novices alike to expand their expertise, and more.
Waters Edge Winery & Bistro of Etown is an independently owned and operated franchise location of Waters Edge Wineries, a California-based innovative urban winery system bringing the cultural experience of wine to communities across the country. The winery follows the emerging franchise's innovative approach to making wine production accessible to those in urban areas, while also unveiling the franchise's brand-new design concept which will be rolled out to new stores across the United States.
About Waters Edge Wineries®
California-based Waters Edge Wineries is an innovative urban winery system bringing the cultural experience of wine to communities across the country. Each Waters Edge Winery & Bistro location combines the very best of a winery and wine bar in one versatile model that can be located anywhere, regardless of topography or agricultural factors. Founded in 2004 by husband and wife team Ken and Angela Lineberger, Waters Edge Wineries currently operates 12 Waters Edge Winery & Bistro locations in California, Colorado, Kentucky, Montana, North Carolina, Ohio, Oklahoma, and Texas.  The company caters to entrepreneurs who are seeking a fun, exciting career where they can share their passion for wine while creating memorable guest experiences.
For more information on Waters Edge Wineries® or for franchising information, contact 909-GOT-WINE, visit WatersEdgeWineries.com or email [email protected].
###
Media Contacts:
Hemsworth Communications
Lacey Outten
954-716-7614 or [email protected]
Hemsworth Communications
1510 SE 17th Street, Suite 200A
Fort Lauderdale, FL 33316