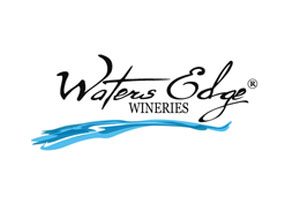 Family-Owned Urban Winery to Open in Fort Bend County, Offering Expansive Wine Selection with Bistro-Style Food Pairings and Community Feel 
RICHMOND, TX – (October 14, 2020) – Waters Edge Winery & Bistro of Richmond, TX, the highly anticipated new urban winery and neighborhood eatery, today announced it will officially open its doors this fall.  Led by husband and wife team Eric and Candice Elliott, the indoor/outdoor micro-winery will feature an extensive wine list with dozens of New and Old World options, an eclectic food-pairing menu, private event packages, a loyalty program and more. 
"We are beyond thrilled to open our doors as we welcome our Richmond neighbors in to enjoy a unique winery unlike any other in the area," said Candice Elliott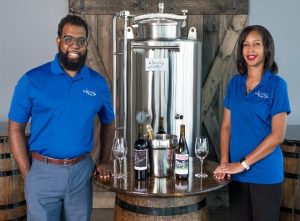 (pictured right with husband Eric). "This has been a challenging year for all and we feel so fortunate to be able to realize our dream of opening this new business – one we believe will be the perfect place for members of the community to spend time together with family and friends, enjoying great wine and a warm, welcoming experience." 
Located in the booming suburb of Richmond, TX, near Aliana, Harvest Green and Waterview Estates, the new winery specializes in making eco-friendly, international wines – all in-house. The menu features classic selections, as well as lesser-known grape varietals grown in further-reaching vineyards of Italy, France, and New Zealand, along with more local varietals from California and Washington. 
In addition to a selection of white and red wines and Sangria, three specialty wines will be featured on the menu, including: 
Mississippi Blues Man – This fruit-forward red blend features aromas of blackberry jam, creamy vanilla and a touch of tobacco. It has smooth tannins intertwined with ripe plum and berry flavors with the perfect amount of toasted oak. 
Prepotente – A red blend exhibiting a bouquet of rich flavors of plum, chocolate and hints of raisins. This wine is known to improve as it ages. 
8 Seconds – A bold, rich red wine accented with a touch of French oak. This wine has zesty aromas of black pepper, deep red currants and a hint of strawberry. 
To accompany its wine and beverage menus, food offerings will include a selection of globally inspired appetizers, sandwiches, salads, flatbreads, and desserts. The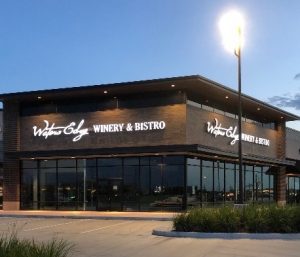 menu will also feature gourmet charcuterie and cheese boards. 
Prior to this venture, the Elliott's pursued corporate professions as an accountant (Candice) and pharmaceutical sales representative (Eric).  As residents of the Richmond area for over 10 years, the entrepreneurial-minded couple identified an opportunity to enhance the neighborhood's social scene with the addition of an urban winery. 
"We are excited to expand our brand's presence throughout the Lonestar state and know that Candice and Eric will do their best to share their love of wine in the Richmond community," said Ken Lineberger, president & CEO of Waters Edge Wineries. "We look forward to helping them grow their business and showcase how urban wineries can help people with a passion for wine create memorable experiences from coast to coast."
 Waters Edge Winery & Bistro of Richmond is located at 4828 Waterview Town Center Dr. Suite 700
Richmond, TX 77407. Hours of operation will be Tuesday through Thursday from 2 p.m. to 9 p.m., Friday from 12 p.m. to 11 p.m., Saturday from 12 p.m. to 10 p.m. and Sunday from 12 p.m. to 7 p.m. The winery is closed Mondays. 
The location is now offering wine club memberships (wewrichmondtx.com/wine-club/). The first 100 people to join the wine club as founding members will enjoy locking in monthly membership dues for life. All members who sign up before the opening will receive a special invitation to join a sneak preview celebration of the location before opening to the public.
For more information, visit wewrichmondtx.com or contact 346-843-2320. Follow on Instagram at @watersedgewinerytx or on Facebook.  
About Waters Edge Wineries®
California-based Waters Edge Wineries is an innovative urban winery system bringing the cultural experience of wine to communities across the country. Each Waters Edge Winery & Bistro location combines the very best of a winery and wine bar in one versatile model that can be located anywhere, regardless of topography or agricultural factors. Founded in 2004 by husband and wife team Ken and Angela Lineberger, Waters Edge Wineries currently operates 12 Waters Edge Winery & Bistro locations in California, Colorado, Kentucky, Montana, North Carolina, Ohio, Oklahoma, and Texas.  The company caters to entrepreneurs who are seeking a fun, exciting career where they can share their passion for wine while creating memorable guest experiences.
For more information on Waters Edge Wineries® or for franchising information, contact 909-GOT-WINE, visit WatersEdgeWineries.com or email [email protected].
###
Media Contacts:
Hemsworth Communications
Lacey Outten / Rachel Tabacnic
954-716-7614 or [email protected]
Hemsworth Communications
1510 SE 17th Street, Suite 200A
Fort Lauderdale, FL 33316