Flexible Lodging Innovator Hosts Ribbon Cutting Ceremony for WaterWalk Atlanta – Perimeter Center
A
TLANTA – June 14, 2023 – Lodging industry innovator WaterWalk celebrated the opening of its first-ever conversion property, WaterWalk Atlanta – Perimeter Center, with a ribbon-cutting ceremony on Monday, June 12. The WaterWalk leadership team was joined by local dignitaries, business leaders and other community members for an afternoon celebration that included commemorative speeches, a donation to Atlanta Habitat for Humanity, traditional cutting of the ribbon, property tours and more.
"Today marks an important day in our brand's history as we combined the vision of our Gen 2.0 model launched earlier this year with an existing property that was in need of strategic upcycling – breathing new life into this property for the community," WaterWalk CEO Mimi Oliver said. "WaterWalk Atlanta – Perimeter Center is providing people the opportunity to easily customize their experience for whatever their lodging needs may be."
Throughout the afternoon, attendees were invited to explore the property's flexible lodging offerings including studios, one-bedroom suites and two-bedroom lofts that are available to 'LIVE' or 'STAY.' A program of remarks featured Oliver along with Adam Forrand, CEO and president of the Sandy Springs Perimeter Chamber. To cap off the event, Oliver presented a $5,000 donation from WaterWalk to Atlanta Habitat for Humanity, which was accepted on behalf of the organization by Jon Jones, senior partner engagement director.
"The opportunity to serve our business community in short- and long-term ways is meaningful," Forrand said. "We come with a grateful heart for the investment that WaterWalk has made to make our community better."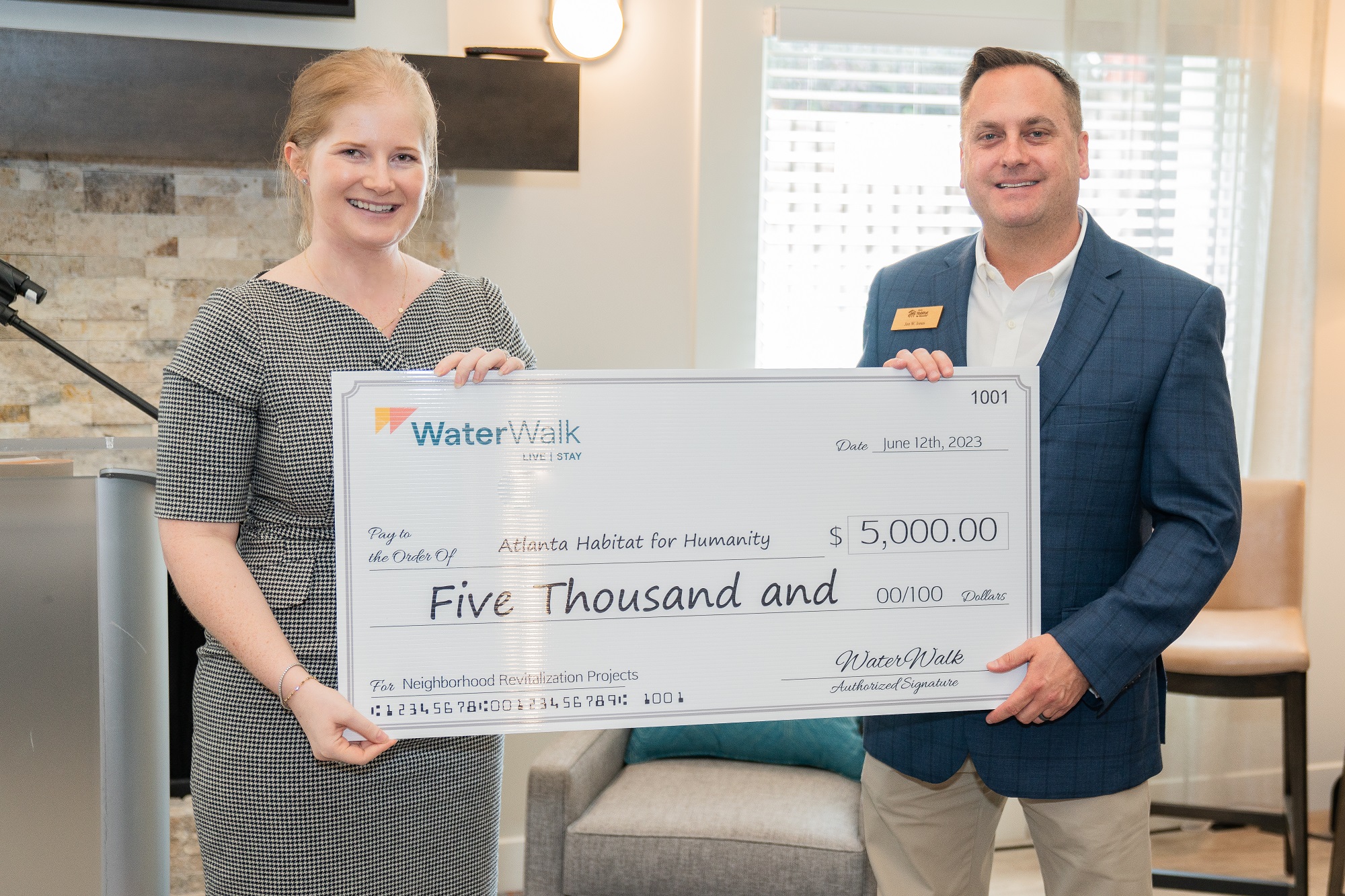 WaterWalk Atlanta – Perimeter Center made its debut following extensive interior and exterior modernizations of the former property in order to generate the upscale amenities of the brand's Gen 2.0 model. Set in the heart of the Sandy Springs business center, WaterWalk Atlanta – Perimeter Center provides guests the best blend of an upscale extended-stay hotel and a place to call home with spacious units that can be personalized. The property boasts 128 rooms – 89 fully furnished 'STAY' units and 39 ready-to-furnish 'LIVE' units.
The opening of WaterWalk Atlanta – Perimeter Center is one of three new properties that WaterWalk has opened this year. Earlier this year, the premier flexible lodging brand opened its doors in Phoenix, Arizona and last month in Meridian, Idaho. Other upcoming openings include Tucson, Arizona (slated to open in fall 2023); Jacksonville, Florida (slated to open in fall 2023); and Huntsville, Alabama (slated to open in winter 2023). With rising demand for unique lodging alternatives, the company plans to double its portfolio size by the end of 2024.
For more information on WaterWalk, visit WaterWalk.com and stay up-to-date on the latest news by following WaterWalk on LinkedIn. For more information or to book a 'LIVE' or 'STAY' at WaterWalk Atlanta – Perimeter Center, visit www.WaterWalk.com/locations/waterwalk_atlanta_perimeter_center.
# # #
Media Images: A selection of photos from the event are available HERE (Credit: WaterWalk).
Press Materials: A complete press kit with pre- and post-conversion photos and exterior images can be accessed HERE.
About WaterWalk
WaterWalk offers a liberated hospitality experience with the nation's most innovative flexible lodging brand. The company was founded in 2014 by the late Jack DeBoer, a hospitality visionary recognized as the pioneer of the extended-stay and all-suite hotel concepts. WaterWalk is unique in that it boasts two accommodations options under one roof, with its signature 'LIVE | STAY model.' This diversified product offering creates the utmost in flexibility and value to consumers and investors alike.
Media Contact:
Hemsworth Communications
[email protected]