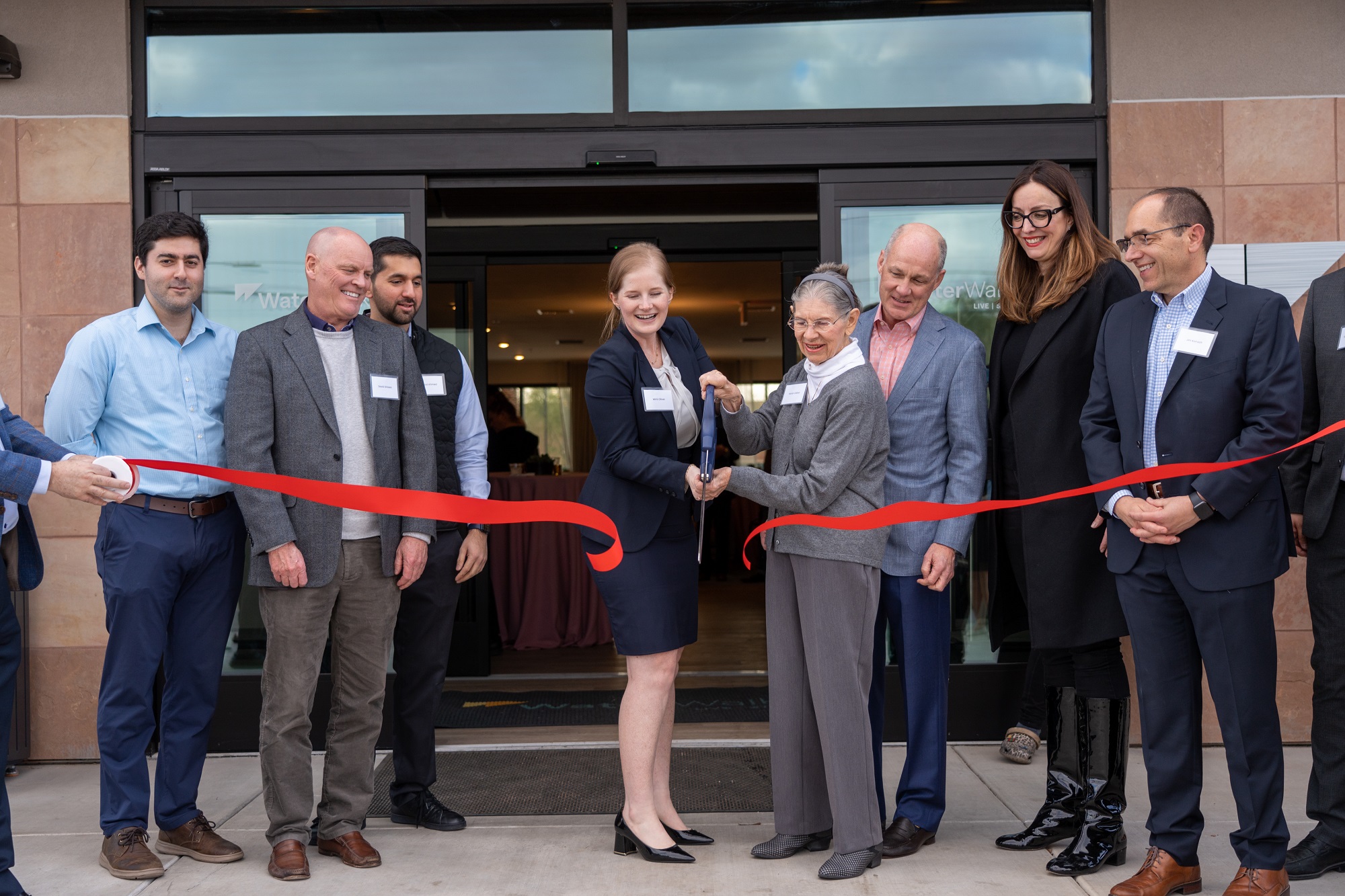 Upscale Extended-Stay Hotel and Flexible Lodging Brand Debuts Next-Generation
Property – WaterWalk North Happy Valley – with Ribbon-Cutting and Special Event
WICHITA, Kan. – March 1, 2023 – Lodging industry innovator WaterWalk recently introduced its first-ever next-generation extended-stay property, WaterWalk Phoenix North Happy Valley, with a ribbon-cutting ceremony and grand opening celebration on Wednesday, February 22. WaterWalk leadership team members were joined by hotel employees and local representatives from the Greater Phoenix Convention & Visitors Bureau, Phoenix Chamber of Commerce and nonprofit Habitat for Humanity for an exciting evening including a ribbon-cutting, Habitat for Humanity check presentation, champagne toast, Southwest-inspired bites, signature cocktails, live entertainment and more.
"We are thrilled to take part in furthering tourism and providing innovative flexible lodging solutions here in Phoenix," WaterWalk CEO Mimi Oliver said. "Jack [DeBoer] was an instrumental part of this project. My grandfather was one of the main people involved in selecting this location and was with us throughout the build of the Gen 2.0 concept. I know he's here with us today in spirit."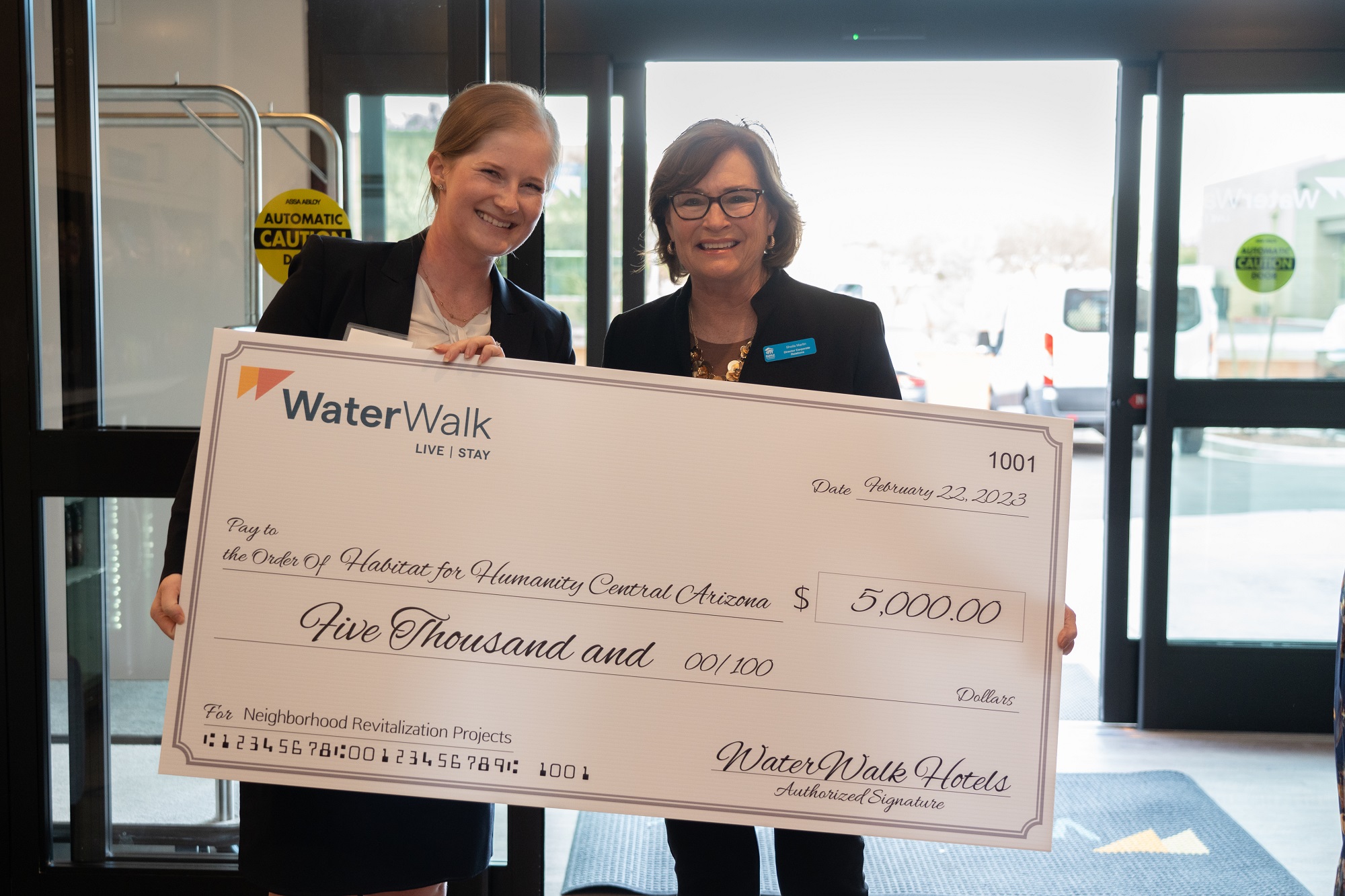 During the celebration, Oliver spoke about the milestone that the grand opening represents for WaterWalk and the legacy of the brand before presenting a $5,000 donation to Habitat for Humanity Central Arizona.
Additional speakers included Curt Moroney, senior business development executive at the Phoenix Chamber of Commerce; Eric Kerr, VP of insights and development at Visit Phoenix; and Sheila Martin, director of corporate relations at Habitat for Humanity Central Arizona.
"Timing could not be better for our region as we continue to grow, evolve and submit our status as a global travel destination," Kerr said. "The energy of this destination is incredible right now, and when you pair all that's happening in Phoenix with this amazing concept on this beautiful property, the future is bright."
Before the ribbon-cutting ceremony, Jim Korroch, president of WaterWalk, shared details on the brand's growth and expansion plans – announcing the additional opening of its Gen 2 properties in Boise, Tucson, Jacksonville and Huntsville, as well as the conversion of a property in Atlanta, Georgia next month.
"As the corporate and leisure travel industries continue to evolve, we're proud to innovate new ways to meet the needs and desires of every type of traveler," Korroch said.
Making the event even more special, Marilyn DeBoer, wife of the late Jack DeBoer, joined her granddaughter Mimi Oliver to officially cut the ribbon. Afterward, attendees gathered in the WaterWalk 'Living Room' and raised their glasses to toast the milestone opening. Throughout the evening, guests explored the property's fully customizable, unfurnished and furnished suites that are available to live or stay. In addition, the evening included delicious Southwestern-inspired bites, a signature sunset cocktail reminiscent of the property's picturesque location and live music from local artist Chris Marcum.
"There's a difference between a member and an active member, and WaterWalk North Happy Valley is already incredibly engaged in our organization and community," Maroney said.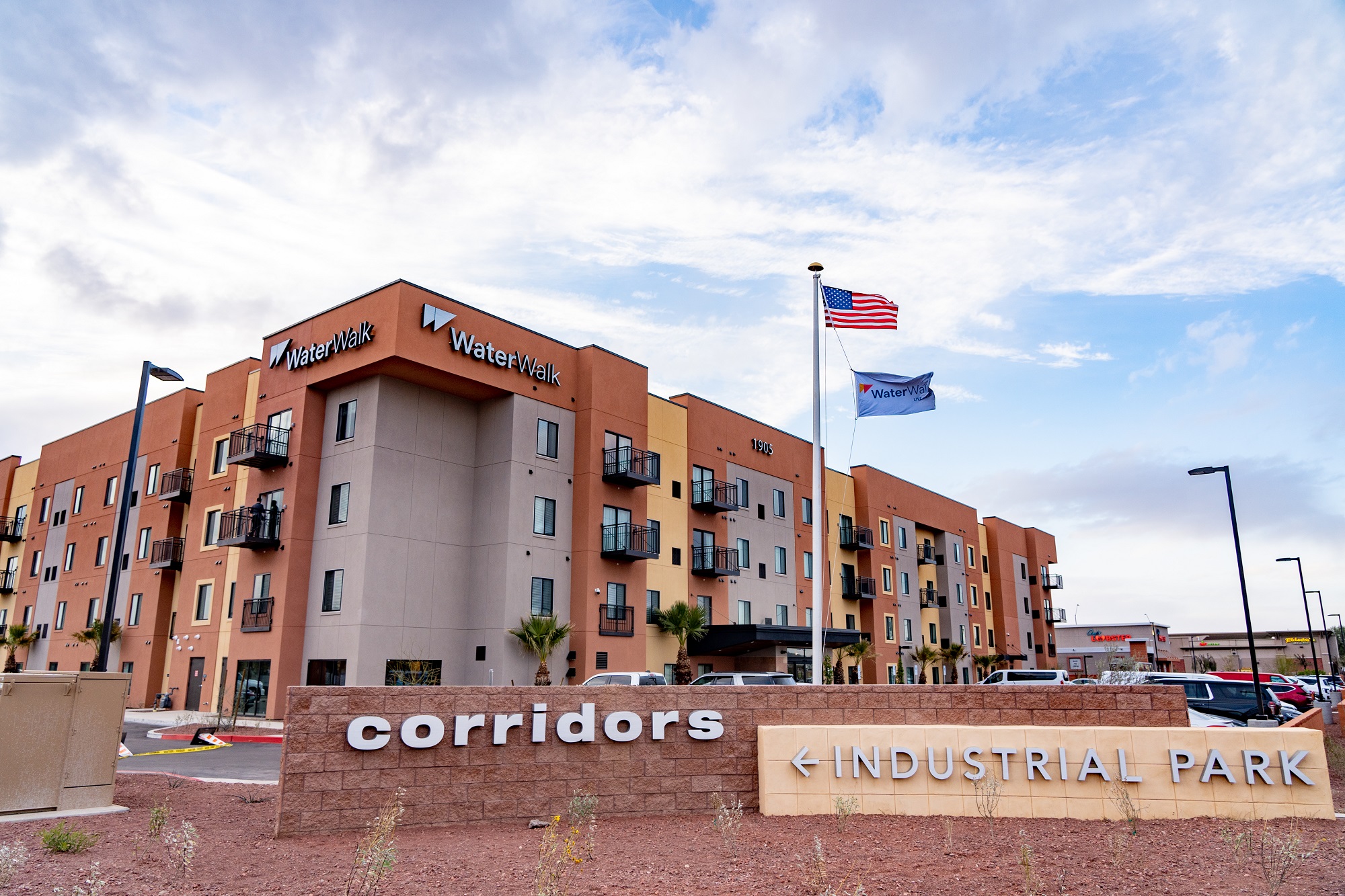 The 126-room property, set directly in the heart of Deer Valley, introduces the reimagined WaterWalk hybrid home approach, providing travelers the best blend of an upscale extended-stay hotel and a place to call home with spacious units that can be personalized. The property also includes a modern fitness center, complete with weight racks, cardio machines and two Peloton bikes, along with a spacious back patio with lounging furniture and fireplaces, a gated pool and a communal cookout area with grills available to guests.
The premier flexible lodging brand's pipeline, which will result in a portfolio that doubles in size over the next 24 months, consists of numerous Gen 2.0 properties being constructed and additional properties under development. This includes properties currently under development in Sandy Springs/Atlanta Perimeter, Georgia (slated to open in spring 2023); Meridian, Idaho (slated to open in spring 2023); Tucson, Arizona (slated to open in spring 2023); Jacksonville, Florida (slated to open in summer 2023); and Huntsville, Alabama (slated to open in winter 2023).
For more information on WaterWalk, visit WaterWalk.com. Stay up-to-date on the latest news by following WaterWalk on LinkedIn. Guests looking to book a furnished STAY or reserve an unfurnished unit to LIVE at WaterWalk Phoenix can visit www.WaterWalk.com/locations/waterwalk-phoenix-north-happy-valley.
# # #
About WaterWalk
WaterWalk offers a liberated hospitality experience with the nation's most innovative flexible lodging brand. The company was founded in 2014 by the late Jack DeBoer, a hospitality visionary recognized as the pioneer of the extended-stay and all-suite hotel concepts. WaterWalk is unique in that it boasts two accommodations options under one roof, with its signature 'LIVE | STAY model.' This diversified product offering creates the utmost in flexibility and value to consumers and investors alike.
Media Images: A selection of photos from the event can be downloaded from Dropbox HERE (Credit: WaterWalk).
Press Materials: A complete press kit and pre-opening interior and exterior images can be accessed from Dropbox HERE.
Media Contact:
Hemsworth Communications
Richard Forbes/Anna Pool
[email protected]