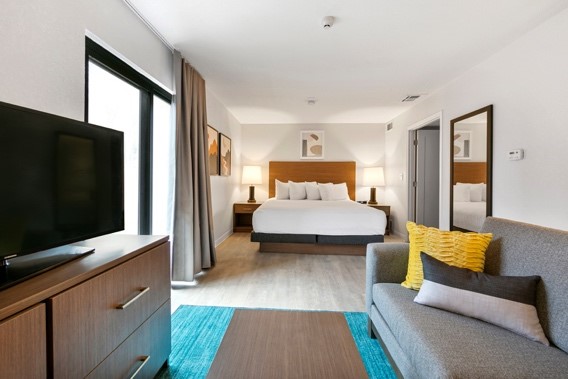 Flexible Lodging Brand Revitalizes Property with Extensive Renovations
ATLANTA – April 17, 2023 – Lodging industry innovator WaterWalk recently introduced its first-ever conversion property, WaterWalk Atlanta – Perimeter Center. The location has undergone extensive interior and exterior modernizations to generate the upscale amenities of the brand's latest Generation 2.0 model. Located at 6096 Barfield Road in Sandy Springs, the newly renovated WaterWalk Atlanta – Perimeter Center features many elevated design elements and amenities, from the units themselves to the indoor and outdoor shared spaces.
"We are thrilled to take part in furthering tourism and providing innovative flexible lodging solutions in Atlanta," said Mimi Oliver, CEO of WaterWalk. "The newly renovated property will be a resource for all types of travelers who are looking to visit Atlanta without compromising on value and scale."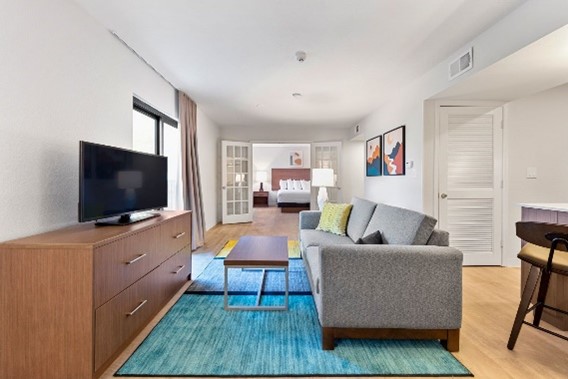 WaterWalk Atlanta – Perimeter Center is set in the heart of the Sandy Springs business center, providing travelers the best blend of an upscale extended-stay hotel and a place to call home with spacious units that can be personalized. The property houses 128 rooms – 89 fully furnished 'STAY' units and 39 ready to furnish 'LIVE' units that range in size from studio to two-bedroom lofts.
"WaterWalk is excited to continue our growth with the renovation and repositioning of WaterWalk Atlanta – Perimeter Center," said Stephen Armstrong, SVP of WaterWalk Brand. "We were able to incorporate our core brand elements and elevate this property with new contemporary kitchens, furnishings, and our brand standard of washers and dryers in every room."
Updates also include new appliances, hard-surface flooring throughout, TVs and upgraded WiFi for guests. The shared spaces of the property have also undergone renovations, with the common area game room and lobby now featuring a bean-to-cup espresso station, new furniture, TV and fireplace. The fitness center has been upgraded with new equipment – including Precor machines and a Peloton bike.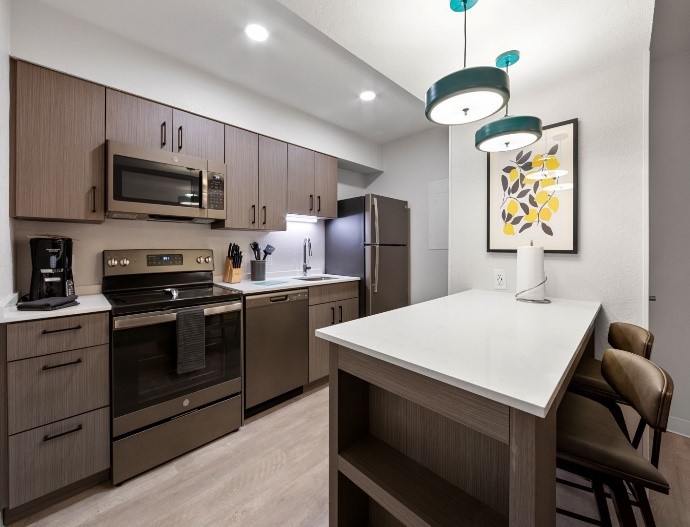 The outdoor space allows for an extension of living space with two barbecue grilling stations, fire pits, outdoor patio seating and a refreshing outdoor pool. Additionally, keeping up with consumer trends, WaterWalk has also included a pickleball court with equipment available at the front desk. Renovations began last summer, and the location is targeting a grand opening at the end of April.
The premier flexible lodging brand's pipeline, which will result in a portfolio that doubles in size over the next 24 months, consists of numerous Gen 2.0 properties being constructed and additional properties under development. This includes properties currently under development in Boise, Idaho (slated to open in spring 2023); Tucson, Arizona (slated to open in summer 2023); Jacksonville, Florida (slated to open in summer 2023); and Huntsville, Alabama (slated to open in winter 2023).
For more information on WaterWalk, visit WaterWalk.com and stay up-to-date on the latest news by following WaterWalk on LinkedIn. For more information or to book a 'LIVE' or 'STAY' at WaterWalk Atlanta – Perimeter Center, visit WaterWalk.com/locations/waterwalk_atlanta_perimeter_center.
# # #
About WaterWalk
WaterWalk offers a liberated hospitality experience with the nation's most innovative flexible lodging brand. The company was founded in 2014 by the late Jack DeBoer, a hospitality visionary recognized as the pioneer of the extended-stay and all-suite hotel concepts. WaterWalk is unique in that it boasts two accommodations options under one roof, with its signature 'LIVE | STAY model.' This diversified product offering creates the utmost in flexibility and value to consumers and investors alike.
Media Images: A selection of before and after photos can be downloaded from Dropbox HERE (Credit: WaterWalk).
Press Materials: A complete press kit and pre-opening interior and exterior images can be accessed from Dropbox HERE.
Media Contact:
Hemsworth Communications
Richard Forbes/Anna Pool
[email protected]